Kenosha, Wisconsin, to Investigate Sudden 'Surge' in Teacher Absences
A sudden spike in teacher absences forced Kenosha, Wisconsin, officials to close schools, but the late Sunday night message didn't reach everyone in time and some students showed up for classes anyway.
Seven schools in the Kenosha district closed on Sunday for the week after a "surge" in employees reporting they weren't coming into work on Monday, the district said. Some saw it as a coordinated effort to push back on in-person learning, and Tanya Ruder, chief communications officer for the district, told WTMJ-TV absences that aren't considered "legitimate" will be investigated.
The teachers union, however, said the surge in teachers calling out sick highlighted how "untenable" and "dangerous" the situation is.
"Given the number of positive cases confirmed in several buildings after the first week back, it is clear that in-person instruction will further contribute to community spread and will have harmful, and potentially fatal, consequences for educators, students, and families," the Kenosha Education Association said in a statement to WISN-TV. "Some staff are living in their basements to keep their families safe and preserve their livelihoods."
Last Friday, school officials announced that Indian Trail High School, one of the seven that moved to virtual learning on Monday, had a positive coronavirus case, forcing staff and students who were exposed to self-quarantine for 14 days. Nearly 120 students and 10 teachers were asked to quarantine, WISN reported, and two other schools also had positive cases.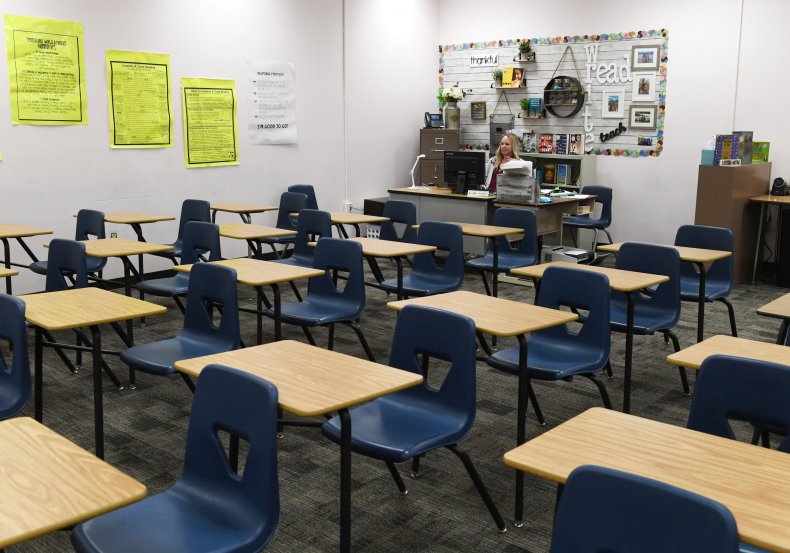 Notifying parents at 10 o'clock the night before schools were closing wasn't the district's "preferred" method of communication, a spokesperson told WISN. However, the district wanted to relay information to people as quickly as possible to give them time to plan. Some students, having not received the message, arrived at school but were sent home.
When teachers call out sick they aren't able to teach virtually, so classes will either be taught by a substitute or a certified staff member from other areas in the district, or classes will be combined, the district said in a Facebook post.
Some commented on the post that this was inevitable with in-person learning, especially after the news broke last Friday about the positive cases. Others took a more cynical view.
"Just remember some of these call-ins are just to go virtual. Sad kids stuck in the middle," one person commented.
Other comments suggested teachers planned to call in sick, despite not being ill, in order to force schools to close. Some people commenting on the district's Facebook post expressed frustration over the sudden absences, as it puts a burden on parents, some of whom noted they'd been going into work themselves. In a statement to WTMJ, the union acknowledged the inconvenience the absences caused, saying they were "sympathetic" to parents.
"We also know educators in this community are deeply distressed by being forced to enter unsafe buildings that put our students, themselves and the community at risk of spreading and contracting COVID-19," the union said.
Newsweek reached out to the Kenosha Unified School District and the Kenosha Education Association for comment but did not receive a response in time for publication.