Kensington StudioCaddy Is a Charging Station for One Person's Devices—Not a Family's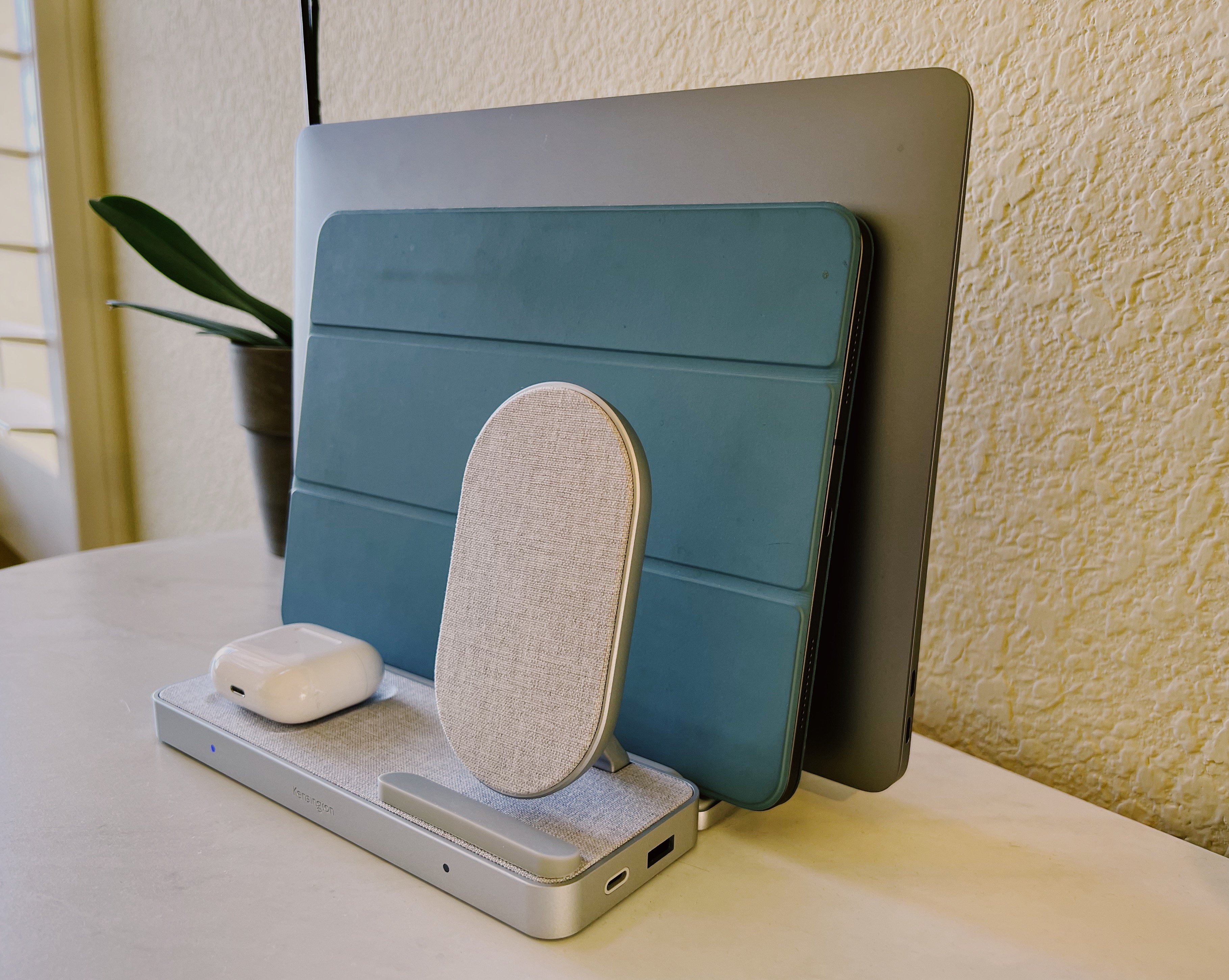 Where do you put your MacBook and iPad when you're done using them? In my house, it's on any surface that's nearby—a table, a couch, a chair or sometimes even on the floor. In case it needs to be said, this is a terrible way to live.
I wish there were more considerations for compelling computer charging stations that also could help with organization. One newer option from Kensington is the StudioCaddy with Qi Wireless Charging for Apple Devices. It's obviously targeted at Apple products, but don't worry—it can be used with most other brands, as well.
The StudioCaddy creates a spot for a laptop, tablet, phone and earbuds, but it also offers them the ability to recharge while sitting neat and tidy. It's a good start, but this product isn't quite the docking solution for a family, each with their own devices. It's more of an idealized way for one person to give their electronic devices a home base while not in use.
TL;DR
Pros:
The solid metal frame is extremely sturdy
Break-apart, magnetic design offers some versatility
Cons:
May not hold all your devices
Power cables are still visible and messy
Premium price
Buy at Amazon.
Computer Organization
The StudioCaddy can hold four devices and is made up of two parts that magnetically hold together. The back can accommodate a MacBook or similarly thin laptop as well as an iPad or most any other tablet. The front piece has a divot meant for AirPods to charge wirelessly and a phone stand positioned ideally for an iPhone. The frame is metal and feels really solid. In fact, it turned out to be much heavier than I expected. The magnetic connection between the two parts feels a little weak, but it's probably as strong as it needs to be.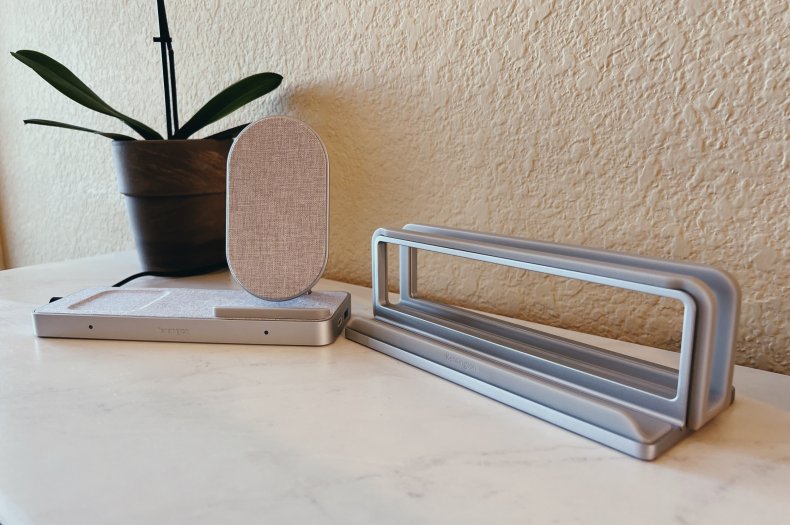 The StudioCaddy is an alluring product in promo pictures. For the target audience, it instantly speaks to a desire to have a charging station for their multiple devices. I immediately saw how it could help my own situation. In practice, however, it's not as helpful as it seems.
My first question after some time with it is, Where is this product designed to rest? Almost certainly, it was intended for a desk or work surface. Yet it seems a bit strange to have such a heavy focus on wireless charging for two devices that I would probably be using alongside my laptop and iPad during the day. I'm not quite sure when I would ever have all four device areas occupied like the promo shots show. Maybe I would put them all there at night, but the product is a little too big for most nightstands.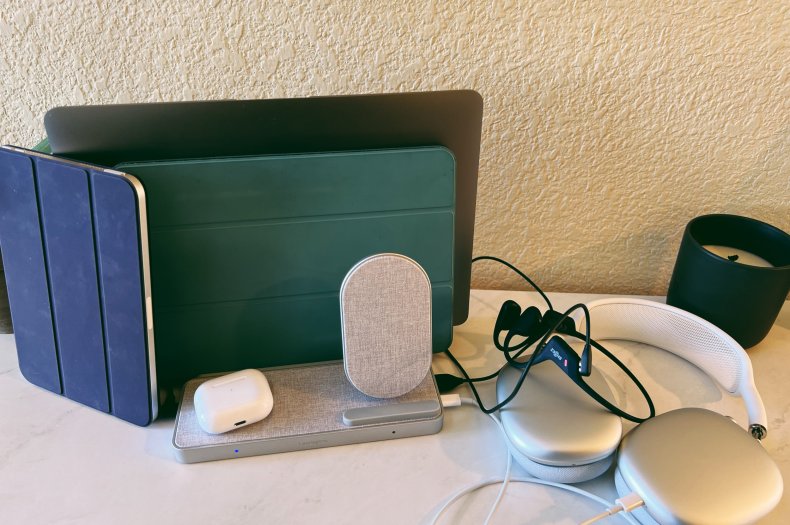 Which devices go in it and where you keep the dock is more of a logistics question than an actual problem with the product. My biggest concerns were the limited number of slots to hold devices and the power.
There's a large brick that plugs into the front part of the StudioCaddy to power the two wireless chargers and two additional ports on the side. The USB-C port provides 20 watts of power while the USB-A port can provide 12 watts.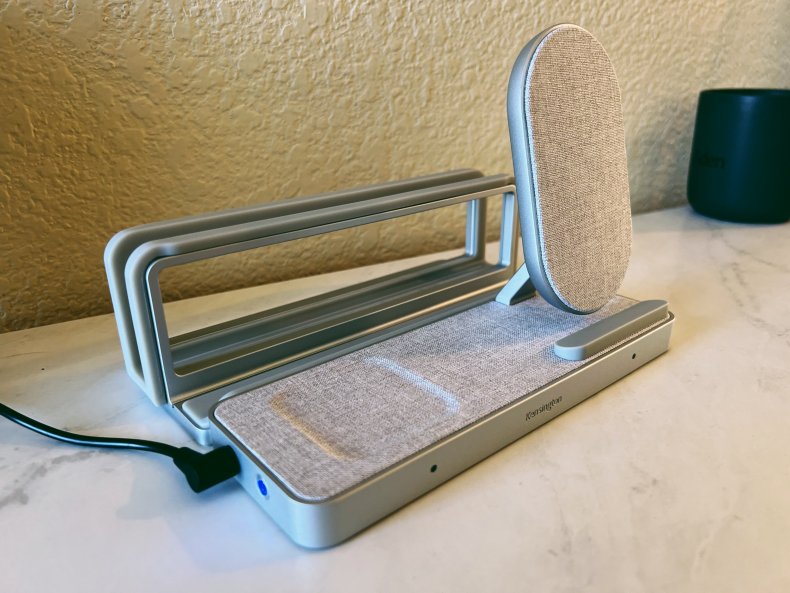 This is quite slow for a MacBook Pro that is sitting in the caddy closed, being used with external peripherals—clamshell mode. For overnight charging, the lower wattage should be fine. Utilizing the side ports can introduce plenty of clutter, though. I wish Kensington would have included some short cables in the box to keep things tidy, but you'll need to supply your own cables for the side charging ports.
I charged my laptop on the side of the StudioCaddy because I really liked having a dedicated place to put at least a few devices once I was done using them for the day—despite this being nearly as messy as if I weren't using a dock. I rarely used the phone or AirPods charging in real-world situations, but I had to keep that part around because it had the power ports.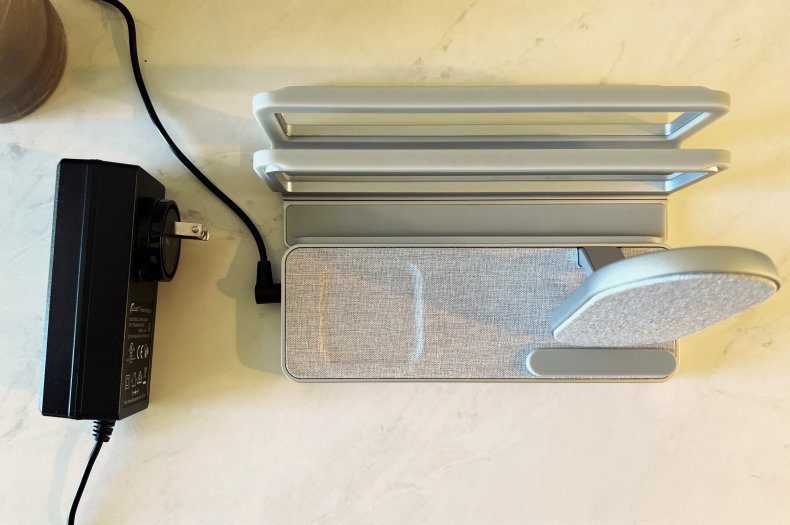 Even though there are plenty of things I would change about this caddy, I do like the idea that Kensington was going for—enough so that I sincerely hope this product gets a second version with some major changes.
Should You Buy the Kensington StudioCaddy?
At just under $180 retail, the StudioCaddy is mostly an unrealistic fantasy. It can hold and charge electronics just fine, but there are too many compromises, including being limited to four specific devices, that make it ill-suited for a lot of homes or desks.
A four-device organizer with limited power options should be perfectly executed in order to price at around $180. And this one is not perfect. The value just isn't there.
I had seen the StudioCaddy deeply discounted at one point; at less than $70, the flaws are much less glaring. This is the type of accessory a lot of people desperately need, even if they haven't realized it yet. As each person accumulates more devices, there should be a place to store and charge them. The StudioCaddy is one option to consider, but you should really try to find it on sale.
Buy at Amazon for $179.99.
Newsweek may earn a commission from links on this page, but we only recommend products we back. We participate in various affiliate marketing programs, which means we may get paid commissions on editorially chosen products purchased through our links to retailer sites.