Dispatches From Farageland: 'This Is a Magic Day in British Politics'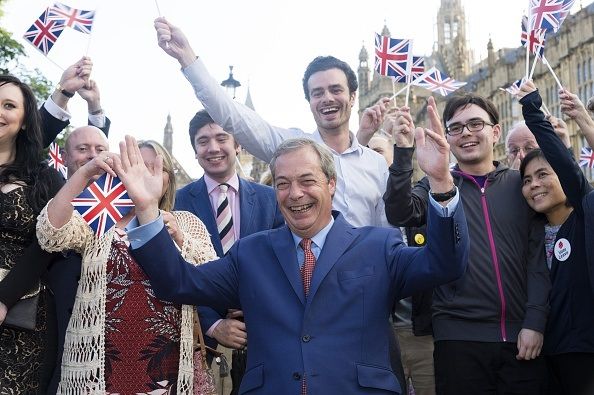 In the biggest referendum decision of a generation, the British public has opted to withdraw its European Union membership.
The nation voted for Brexit by a margin of 51.9 percent to 48.1 percent, prompting the resignation of Prime Minister David Cameron.
The message was clearer in the Euroskeptic county of Kent, with 59 percent of voters opting to leave the single market.
At 4 a.m. in Margate, UKIP Leader Nigel Farage's stomping ground, cheers erupted from the Winter Gardens theater and echoed across the floor of the count. The Leave campaigner's jubilant figurehead had addressed his supporters live across the country and declared that the dawn was breaking on an independent United Kingdom.
"This is a magic day in British politics," Conservative MP for South Thanet Craig Mackinlay told Newsweek amid the hugs and fist pumps. "We are very proud, traditional people here in Kent and this has opened Pandora's Box. I wish every election was like this, we had a fire in our belly for this one.
"Those who voted Remain did so to fit the status quo. It is those who voted Leave, who took a chance and in some cases went against their party's consensus, who voted passionately."
In Thanet, 46,047 people voted to Leave against 26,065 people who voted to Remain. The result was predicted almost exactly by local polls.
But Ashford, Canterbury, Dartford, Dover, Maidstone, Medway, Tonbridge and Malling, Sevenoaks, Swale, and Sheppey also voted to leave the EU. Gravesham delivered the biggest Leave majority in Kent of 30.8 percent, with 35,643 votes to 18,876 for Remain, and Tunbridge Wells was the only town in the county to vote for Remain.
There is no doubt, even for Euroskeptic Kent, that the result was surprising.
"I did not want to get my hopes up," Margate councillor Jeff Elenor said. "I knew we could expect a Leave result here in Thanet but I thought there would be more of a divide across the county.
"This is a fantastic result. A triumph for the U.K."
As Leave results came flooding in one by one, the reality began to sink in and conversation turned to what Brexit truly means for the people of Kent. News of the pound plummeting reached the south-east's coastal pockets, and Mark Carney, the Governor of the Bank of England, later confirmed there would inevitably be a period of uncertainty.
"Some market and economic volatility can be expected as this process unfolds," he said in his statement.
"But we are well prepared for this. The Treasury and the Bank of England have engaged in extensive contingency planning and the Chancellor and I have been in close contact, including through the night and this morning."
Mackinlay echoed the sentiment, and said he was confident about the future of Britain's economy.
"There will be uncertainty for a few hours but I'm absolutely sure the markets will be back to normal soon," he said. "Everyone will see the world has not caved in on us and that the opportunities outside of a stifling EU are better for Britain.
"The impact on South Thanet is a positive one, particularly for fisherman who I have long been fighting for.
"Now they no longer have to suffer as part of a failed EU policy where the French get a quota twice as big.
"That's just a small part of what we're getting back and we'll start to see these benefits coming through to Thanet and Kent as a whole very quickly."
In terms of business in the county, Clive Stevens, executive chairman of Kent accountancy firm Kreston Reeves, which has offices in Canterbury, Chatham and Sandwich, said there would be no immediate "material impact."
"The sun still rises tomorrow and we will all go to work," he said in reaction to the news. "The impact is in the longer term."
Kent Invicta Chamber of Commerce chief executive Jo James said some business people in Kent would be pleased while others would be "resigned to it."
"All companies will expect swift, decisive, and coordinated action from the government and the Bank of England to stabilise markets if trading conditions or the availability of capital change dramatically," he said.
"Businesses need action to maintain economic stability, a timeline for exit, and answers to their many practical, real-world questions about doing business during and after this historic transition."
Daniel Hannan, Conservative MEP for the South East, said he was very proud to be British.
"The vast majority of people I met wanted to bring some control back," the leading Euroskeptic said. "They are grown up enough to understand that [curbing] immigration cannot be done immediately."
He said he expected a "phased repatriation of power" and it was critical not to rush into things.
"We do not want to act precipitately but with the agreement and support of our allies."
Of course, Britain voting to leave the European Union has seismic political ramifications-but it also carries a huge personal cost. Many Europeans have made Kent their home and are feeling less welcome following the Brexit result.
"I would not have met my husband, who is French, if Britain had not been in the EU," Jade Beaumont, 31, tells Newsweek.
"He is devastated, and we do not know what the future looks like for our children. We are not well-off people, and the austerity that will follow as a result of Brexit is going to be felt directly by us. Not by Farage and not by all the old, middle-class people of who voted to leave."
French-born professional magician Etienne Pradier, who lives in the Kent village of Wye and has performed in front of dignitaries including David Cameron and Prince Charles, says he has mixed feelings about Britain leaving the EU.
"I have lived here for 35 years so I feel more British than European," he said. "This is a shock for me."
Pradier described conversations he had had with a fellow parent at the school gates this morning, who was Dutch but had also been in the U.K. for several decades.
"She said she'd never felt like a foreigner at the school gates before. Maybe this is the start of something bigger.
"My personal feeling is that this is very bad for everything but we have to respect what the people have voted for."
Italian Barbara Biscardi, 30, owns Vesuvius, a restaurant in Maidstone, along with her brother. She moved to the U.K. in 1997.
"I was a little bit shocked," she said. "I never thought we would be out. I think it's caused a lot of uncertainty over their [her staff's] pensions. There has to be a lot more communication from the other governments to let the people living here know where they stand."
Biscardi's business also uses many ingredients that come from Italy.
"It might take a little bit longer or could be more expensive to import," she said. "I am hopeful for the future. We chose this country because we believed it was filled with people who make intelligent choices.
"I'm not scared for the the future, but I'm anxious to find out what will happen in the first few months."
Despite the uncertainty, there appears to be an optimism in Kent that we have not seen from other parts of the country. The county's scepticism over Europe is antithetical of its seemingly unwavering confidence in Westminster. As Farage said last night "the EuroSkeptic genie is out of the bottle" and while no one knows what the outcome will be, the Kent majority truly believes it has put one positive step forward.