Kent State Graduate Who Carried AR-10 Rifle on Campus Will Host Open-Carry Rally at University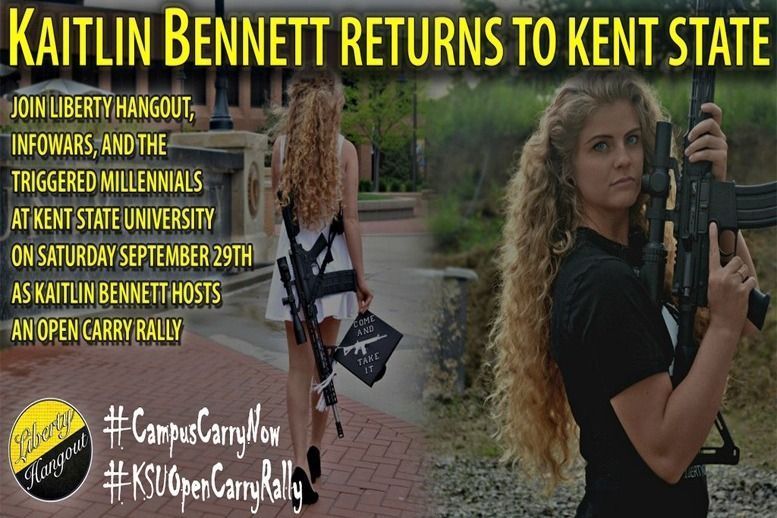 The Kent State graduate student who went viral for carrying a rifle on campus will host the open-carry rally at the Ohio university in September.
Kaitlin Bennett, 22, will host the open-carry rally at Kent State University on September 29. Bennett turned heads and went viral after she posted graduation pictures of herself on social media carrying an AR-10 rifle on the Ohio campus.
Bennett tweeted about the rally on Sunday, along with a GoFundMe page to help raise money for the upcoming rally. So far, the fundraiser has raised $975 of its $3,000 goal.
"On September 29th, I will be returning to Kent State to host an open carry rally. We plan on bringing out a great lineup of speakers, and appreciate any help we can get to make this the greatest gun rally of the year!" Bennett tweeted.
Bennett said during an interview with Fox & Friends in May that she had a lot of negative backlash for the photos, blaming the negative reactions on "blatant racism."
"It's been crazy," she said. "I was not expecting the blatant racism that's been thrown at me, the outright death threats."
During the interview, she said people were saying she was an example of "white privilege" since it was easy for her to bring a rifle onto campus
"They are saying that I have white privilege for going out on campus with my AR-10," Bennett said. "They are saying this all has to do with me being white that I was able to do this. I think that's very insulting to minorities, I don't think that anything would happen to them."
A spokesperson for Kent State University told Newsweek in an email that this is the second time she will be hosting the event and had led a similar event in April. The university does not allow students, faculty, and staff members to have a gun on campus, according to its website.
"Kent State University was recently ranked the safest big college campus in Ohio and 25th safest in the country, according to the National Council for Home Safety and Security. The university has a full-time, certified police force of more than 30 sworn officers who protect the campus. These officers are visible, well-trained and on duty 24/7 in support of students, staff and faculty," the statement read. "State law allows visitors to openly carry outside on our campus, and we anticipate a safe and peaceful event similar to the one that took place in April."
Newsweek has reached out to Bennett for comment on the rally but did not hear back in time for publication.