Kentuckians Pound on Polling Station Windows To Vote After Waiting Hours
Jefferson County voters in Tuesday's Kentucky elections banged on the doors of the Kentucky Exposition Center demanding to be allowed inside to cast their ballots after the doors were locked as they stood in line. The Kentucky Exposition Center was the only polling place available for registered voters in the county which encompasses Louisville, a city with 600,000 residents.
Kentucky's primaries have been notable as both Republicans and Democrats seek to unseat current House Majority Leader Mitch McConnell, who is running for his seventh term. Democrats Charles Booker and Amy McGrath are in contention for McConnell's Senate seat. Although in-person voting was still available in Kentucky, many voters choose to vote by mail because of the threat of community spread coronavirus. Because of the time spent counting mail-in ballots, some counties are not expected to release final tallies until the end of June.
Polls closed as expected in Louisville at 6 p.m., but some voters who were still waiting in line as the door shut demanded to be let in.
When contacted for comment by Newsweek, a spokesperson from the Kentucky Board of Elections was not immediately available for comment.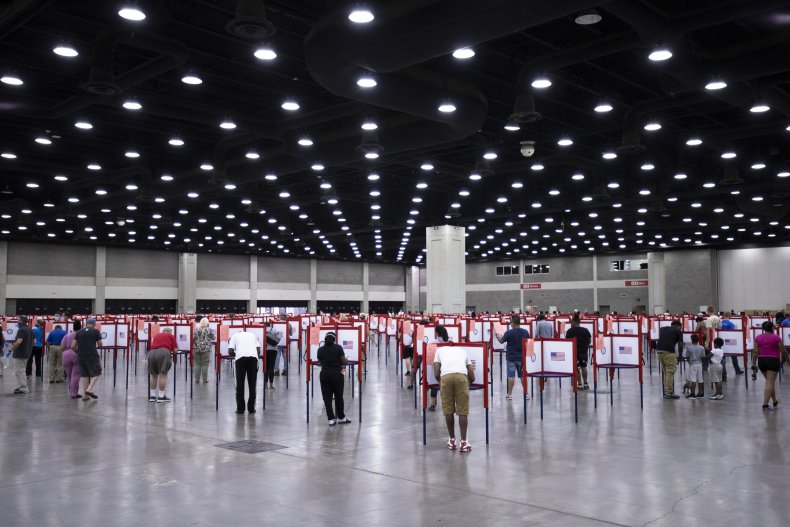 Both the campaigns of Booker and McGrath filed injunctions with Kentucky courts to keep polling places open longer. Booker implored voters to stay in line in a Tuesday tweet. "You deserve that," Booker said. "It is your right."
However, the request to keep polling places open until 9 p.m. was denied by Judge Annie O'Connell. In her ruling filed Tuesday, O'Connell said there was not enough traffic congestion to justify the request. However, anyone who had been inside the polling place at 6:30 p.m., and had not yet cast their ballot, would be allowed to vote.
Kentucky cut its number of polling places from over 3,000 to less than 200 over fears of a surge in coronavirus cases. Both lawmakers and observers decried the move, saying it would disenfranchise Black voters. Roughly one-fifth of Jefferson County's residents are Black.
Lawmakers in Kentucky attempted to have more polling places opened for elections in a June lawsuit filed by registered voters and Louisville State Representative Jason Nemes. In the filing, the plaintiffs said that only having one polling place per county would lead to suppression of voters.
Senior U.S. District Court Judge Charles R. Simpson III ruled against the suit, saying that having just one place to vote per county was not against the constitution.
"While it may seem intuitive that, when it comes to polling places, more is better," Simpson wrote on Thursday, "that is not a call for this Court to make, unless we first find a constitutional or statutory violation."
Celebrities and lawmakers decried the state's decision. Basketball player LeBron James tweeted about Kentucky's decision on Saturday, calling it "SYSTEMIC RACISM and OPPRESSION."
Former South Bend, Indiana Mayor Pete Buttigieg tweeted Monday that "there is no excuse for electoral dysfunction or voter suppression, especially when it harms Black and brown voters."
Correction 6/30/20, 4 a.m. ET: This article was updated to state Amy McGrath is a Democrat.