Kentucky AG Says His Office Received 'Critical' Ballistics Report in Breonna Taylor Case, Will Meet With FBI
Almost six months after police shot and killed Breonna Taylor inside her Louisville, Kentucky apartment, federal authorities completed a ballistics report that the state's attorney general, Daniel Cameron, described as "critical" to moving her case forward on Sunday.
Cameron, whose office is pursuing an investigation into the shooting in coordination with the Federal Bureau of Investigation (FBI), discussed the report's implications during an appearance on CBS News' Face the Nation Sunday morning. Its completion comes as protesters continue to rally in Louisville and across the U.S., seeking justice for Taylor's family and expressing increased frustration over an absence of legal actions taken against officers involved in her death.
Echoing Florida Congresswoman Val Demings' comments during her own Face the Nation appearance earlier on Sunday, Cameron told CBS correspondent Margaret Brennan that carrying out a "thorough and fair" investigation is his first priority. Cameron made similar remarks about the case in response to public calls for the Louisville officers' arrests in June.
"That's what we've been conducting here in the Commonwealth," the attorney general said Sunday. "And I can announce to you today, as part of those efforts, early this week we have received that ballistics report."
The FBI's ballistics report, which should provide more information about how the shooting took place, is a "critical component" of the ongoing investigation into Taylor's passing and officers' conduct, Cameron continued. When plainclothes police entered Taylor's apartment on a "no knock" search warrant after midnight on March 13, they did not record the raid using body-worn cameras.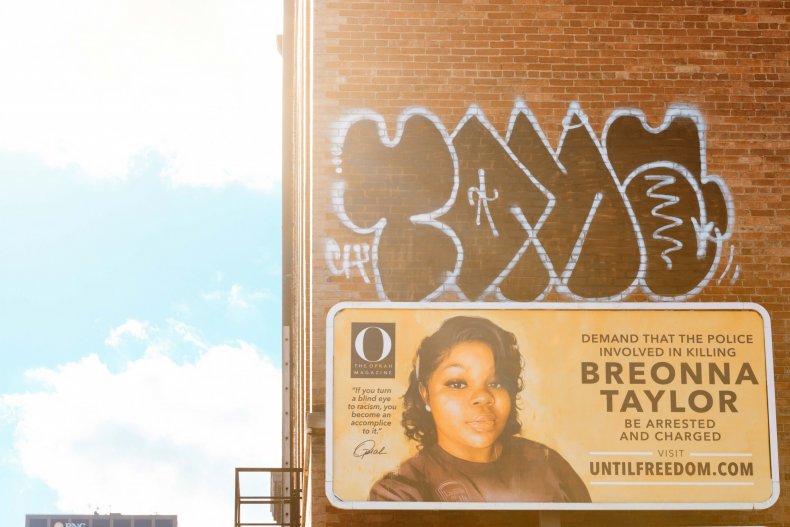 As a result, footage of the events that preceded Taylor's death from multiple gunshot wounds does not exist. Individuals presiding over her case, including Cameron, say the lack of footage presents challenges to swift adjudication. Millions of public voices argue there is already enough known information about the shooting to hold officers Jonathan Mattingly, Brett Hankison and Myles Cosgrove criminally accountable.
Benjamin Crump, one of the lawyers representing Taylor's family, reacted to news of the completed ballistics report during a subsequent Face the Nation interview following Cameron's on Sunday. Crump, a recognized civil rights attorney, also represents Jacob Blake and the families of George Floyd and Ahmaud Arbery in their respective cases against police who critically injured or killed Black civilians during widely publicized shootings this year.
"That is welcome news, since Breonna Taylor was executed in the sanctity of her own home by this no knock warrant that was dangerously executed," Crump told Brennan in reference to the ballistics report. "We've been told when they get the ballistics report, that's what they needed to ramp up investigation and finally give [Taylor's loved ones] answers the they so desperately want, and the community so desperately needs to try to heal."
"At this point, we are hoping that this conclusion will be sooner rather than later, because justice delayed is justice denied," Crump finished.
Newsweek reached out to Crump for additional comments but did not receive a reply in time for publication. Meanwhile, Cameron's office said it did not have further comments beyond Sunday's interview. The office directed Newsweek to a tweet posted by Cameron following his Face the Nation appearance, in which he noted that "additional analysis" is required before taking any action related to the ballistic report's findings. Cameron also said his "does not plan to make an announcement this week" about the investigation's developments.
Update: This story was updated at 1:30 p.m. ET to include the response from Cameron's office.