Who Is Amy McGrath? Veteran Fighter Pilot to Take on Mitch McConnell in 2020 Senate Race
The retired U.S. Marine pilot Amy McGrath has ended months of speculation and announced she will take on Republican Majority leader Mitch McConnell in the 2020 Senate race for Kentucky.
Her name had been touted as a contender for a while following reports that McConnell's counterpart, Senate Democratic leader Chuck Schumer, was encouraging her to run.
In a video that was posted on YouTube on Tuesday morning, the former Lieutenant Colonel ended the speculation by officially throwing her hat into the ring.
In the film, she described how she once wrote a letter to McConnell when she was 13, telling him how she wanted to be a fighter pilot, at a time when women were excluded from combat missions.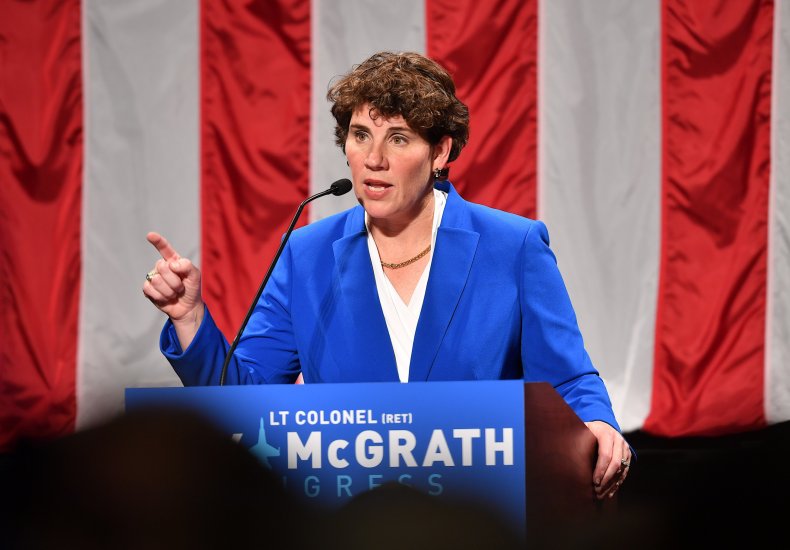 She lamented that he "never wrote back."
"I'm Amy McGrath, and I've often wondered, how many other people did Mitch McConnell never take the time to write back (to) or even think about?"
The three-minute film featured people who also apparently sent missives to McConnell, including a steel worker who lost his job, and a diabetic woman worried about her health care, and did not get a reply.
Born 44 years ago in Cincinnati, Ohio, McGrath grew up in Edgewood, Kentucky, the youngest of three children. She graduated from the United States Naval Academy with a BS in political science.
She became the first female Marine to fly an F/A-18 on a combat mission and served for 20 years in the Marine Corps, flying 89 combat missions, including bombing Al-Qaeda and the Taliban. She was inducted into the Aviation Museum of Kentucky's Hall of Fame, according to the Cincinnati Enquirer.
She retired from the Marines in 2017 and moved back to Kentucky, before she ran a strong campaign against Andy Barr in the state's 6th Congressional District, even though she lost.
McGrath, a mother of three, had been in the frame for a 2020 Senate run for some time. However as the Courrier Journal noted, she had been portrayed as being too liberal for Republicans.
She told MSNBC on Tuesday morning: "I think many Kentuckians feel that we have a problem with getting health insurance for many Americans, so we need to fix that first.
"I'm not doing this because, like I said, I want to be some politician. I'm doing this because I care about my country, and I care about Kentucky."
In her video, she has made a virtue out of her relative political inexperience against McConnell who has served in the Senate since 1985.
She describes him in her YouTube film as being elected "a lifetime ago" and someone who "year by year, turned Washington into something we all despise."
In a statement to Newsweek by McConnell's campaign manager, Kevin Golden said: "Amy McGrath lost her only race in a Democratic wave election because she is an extreme liberal who is far out of touch with Kentuckians.
"Comparing President Trump's election to 9/11, endorsing a government takeover of healthcare, and calling the wall "stupid" is a heckuva platform that we will be delighted to discuss over the next sixteen months," he added.
This story has been updated to include a statement from Senator McConnell's campaign team.