Dem Challenger Amy McGrath Outraises Mitch McConnell as Polling Shows Tight Race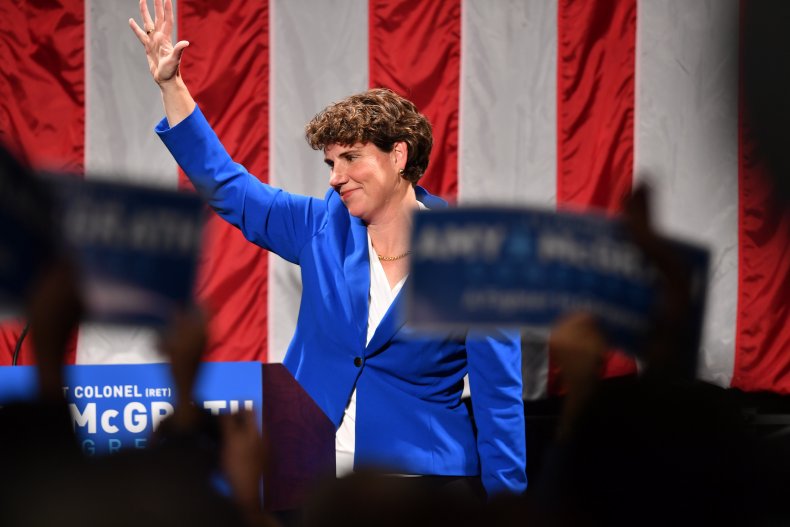 Ahead of Kentucky's June 23 primary election, leading Democratic contender Amy McGrath pulled in $11.3 million to her Senate campaign from April to early June, outraising her prospective opponent, Senate Majority Leader Mitch McConnell, by $4.1 million.
McGrath's campaign now has $19.3 million in cash on hand, according to a report filed with the Federal Election Commission, compared to the McConnell campaign's war chest totaling $15.4 million. The two candidates spent roughly identical sums over the course of the reporting period: $6.7 million.
But McGrath's victory in the quickly approaching primary is not a foregone conclusion. She is facing a formidable challenge from Charles Booker, a state representative who has earned the endorsements of Vermont Senator Bernie Sanders, New York Congresswoman Alexandria Ocasio-Cortez, and Kentucky's two largest newspapers.
Perhaps in recognition of Booker's increasing profile, McGrath, a former Marine Corps fighter pilot, sniped at her primary opponent after he announced his own fundraising haul.
"Congratulations Charles on your fundraising," she wrote on Twitter. "Now you will have the resources to actually provide health insurance to your staff and pay your interns $15/hr like we do."
There has been scant polling of the Democratic primary, though Politico reports that some private polling has provided her with a comfortable lead. Prospective general election polling has shown McGrath running neck and neck with McConnell.
One survey conducted in late May by the firm RMG Research put McGrath at 41 percent among registered voters, just ahead of McConnell's 40-percent placement but still within the margin of error.
Democrats and Republicans in the survey indicated comparable support for their parties' respective candidates. But McGrath's edge appeared to come from independents and voters with other partisan affiliations, who broke for her 33 percent to 22 percent for McConnell.
McGrath previously ran for a central-Kentucky House of Representatives seat in 2018, raising her national profile as she mounted an unlikely challenge to incumbent Republican Andy Barr. Barr skated by with a 3-point victory.
On Friday, McGrath's campaign sought to join a federal lawsuit against the governor, secretary of state and county elections officials over the state's plan to reduce in-person voting, balanced by an expansion of absentee voting, for the primary election.
Governor Andy Beshear announced in April that because of COVID-19, absentee ballot access would be expanded to all of Kentucky's registered voters, where a recognized excuse would normally be required. Absentee ballots would have to first be requested through a secure online portal. Election Day polling sites would be operating in a limited fashion.
"As has been seen in the other states that have restricted the number of polling sites, it is expected that lines in the populous Kentucky counties that are only providing a single voting location will be excessively long, leading many who intended to vote in-person to abstain from voting at all," McGrath's motion stated.
The filing noted several instances in which county elections officials appeared unprepared to ensure all likely voters are given ample access to the ballot box. Fayette County Clerk Don Blevins, for example, anticipated seeing as many 120,000 voters during the primary, though only around 46,000 absentee ballots had been requested as of early June, according to the suit.
In Jefferson County, approximately 47,000 absentee ballots had been requested despite an anticipated influx of 130,000 voters.
In these and other counties, only one in-person polling site has been designated by elections officials.
"These are not mere impositions, but significant violations of the constitutional rights of all involved," McGrath's filing stated.