Kentucky Bar Defies Mask Order: 'We Are Americans—We're Going to Do What We Want'
As novel coronavirus cases in the U.S. surpass 3.3 million, a local bar owner in northern Kentucky, where a statewide mask mandate was issued earlier this month, was seen declaring, "We're not wearing any masks...we want to have fun," cheered on by nearly two dozen maskless customers in a viral video shared on his social media account.
In a Facebook Live video, Patrick Townsend, the owner of Town's End Bar and Grill in Florence, part of the Greater Cincinnati area, said: "What we're saying right now is, f*ck you, we're not wearing any masks. We are Americans—we're going to do what we want and we want to have fun."
The video also showed roughly 20 customers standing in a line with arms linked alongside each other, Cincinnati's WXIX-TV reported. The video has been taken down by Townsend, who claimed he usually removes his videos the day after they are posted, WXIX-TV reported.
Under a statewide executive order issued last week by Kentucky Gov. Andy Beshear, face coverings are required in public, including indoor and outdoor spaces, where a physical distance of at least six feet cannot be maintained from those not within a household. The order went into effect on July 10 at 5 p.m. local time and was to be in effect for 30 days from then.
Townsend apologized for the use of profanity in his video, noting, "My language was very, very abrasive, and if you heard that I'm very sorry." But he stood by his stance against the mask order, adding, "It is a basic intrusion of our civil liberties," he told WXIX-TV.
"Before he [Beshear] has complained about President Trump trying to control what the states do," Townsend said. "Well, he's doing the same thing with all the county commissions and mayors. Let them do their job," he added.
Despite Townsend's position against the mask order, he said: "We're going by the book," with bar employees wearing masks, hand sanitizers available at tables for customer use and tables outside the bar placed six feet apart, WXIX-TV reported.
"My number one priority in life is to protect my family. That is the number one thing for me. Not to make money, not to do anything, but to protect my family and I feel like he [Beshear] is taking that right away from me," Townsend noted.
The governor has said his current mask order remains in effect, Beshear confirmed to WXIX-TV.
Beshear's mask requirement has been challenged by Kentucky Attorney General Daniel Cameron, who questioned the legality of the order. Earlier this month, Scott County Circuit Judge Tina Foster granted a restraining order requested by Cameron against the enforcement of the governor's pandemic-related restrictions at Evans Orchard & Cider Mill in Georgetown.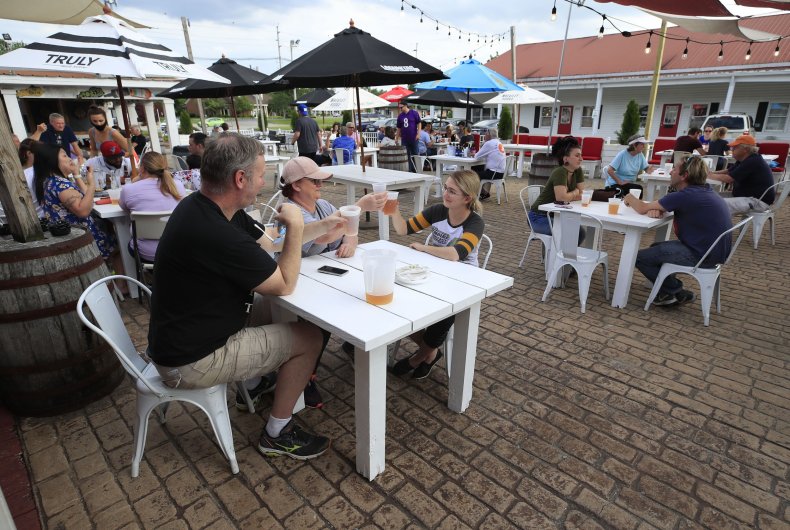 The mask order was issued after the restraining order was granted. Cameron has asked Foster to review whether Beshear's "most recent executive order requiring face coverings complies with the current temporary restraining order stopping enforcement of COVID-19 executive orders that are not in compliance with state law," WXIX-TV reported.
At a Friday press briefing, Beshear noted the mask mandate is an administrative agency regulation, not an executive order, claiming it is "separate and apart" from Foster's restraining order, which has been appealed by the state, the governor confirmed.
"You don't write restraining orders like this," Beshear said. "It's very bizarre. It's not legal. It's not the AG [Attorney General] vs. the governor. It's the people of Kentucky vs. the coronavirus. And anyone who makes it harder to defeat the coronavirus, that costs lives.
"I want to do the right thing to protect our people, and I will go through any courts I have to to do that," he added.
There are 19,653 confirmed cases in Kentucky, as of Tuesday. The state has seen several spikes in cases throughout most of the outbreak, according to data compiled by Johns Hopkins University.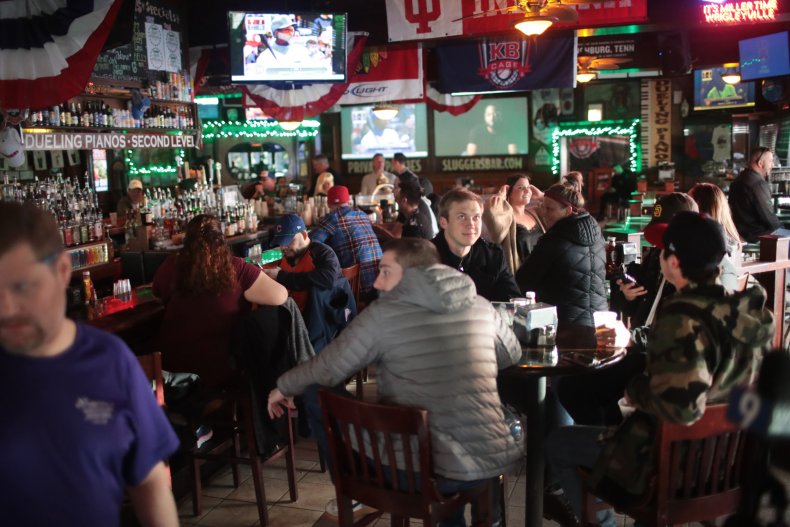 An official stay-at-home order was never issued in Kentucky but many non-essential businesses were ordered to be closed from March 23 under an executive order and a state of emergency was declared. Various safety guidelines were issued for shops that were allowed to be open.
Over 13.1 million people across the globe have been infected since the virus was first reported in Wuhan, China. More than 7.2 million globally have reportedly recovered from infection, while over 573,200 have died as of Tuesday, according to the latest figures from Johns Hopkins University.
The graphic below, provided by Statista, illustrates the surge in COVID-19 cases in the U.S.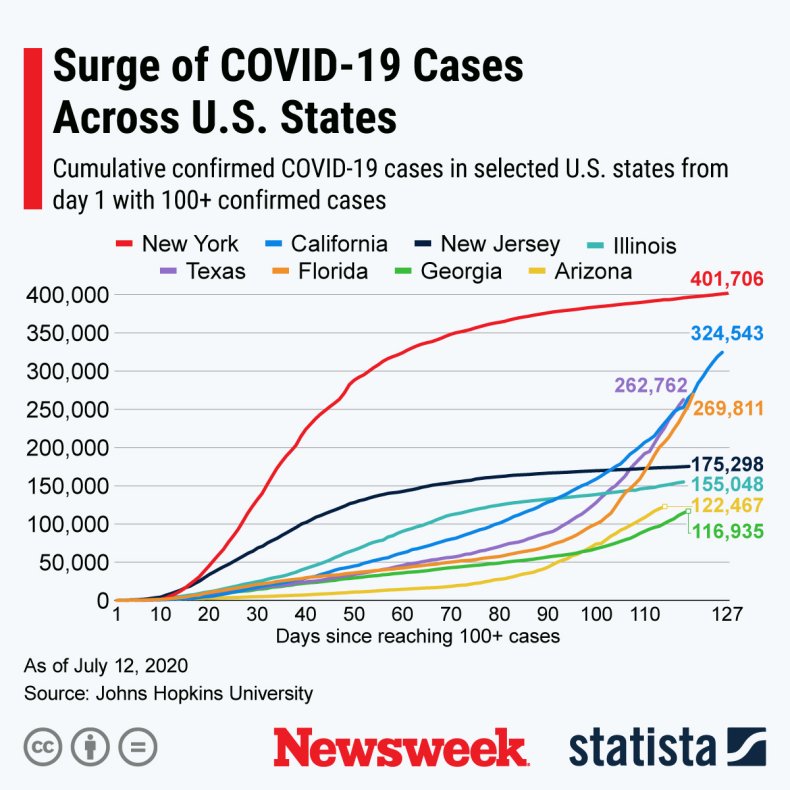 The graphic below, provided by Statista, illustrates the spread of new COVID-19 cases across the U.S.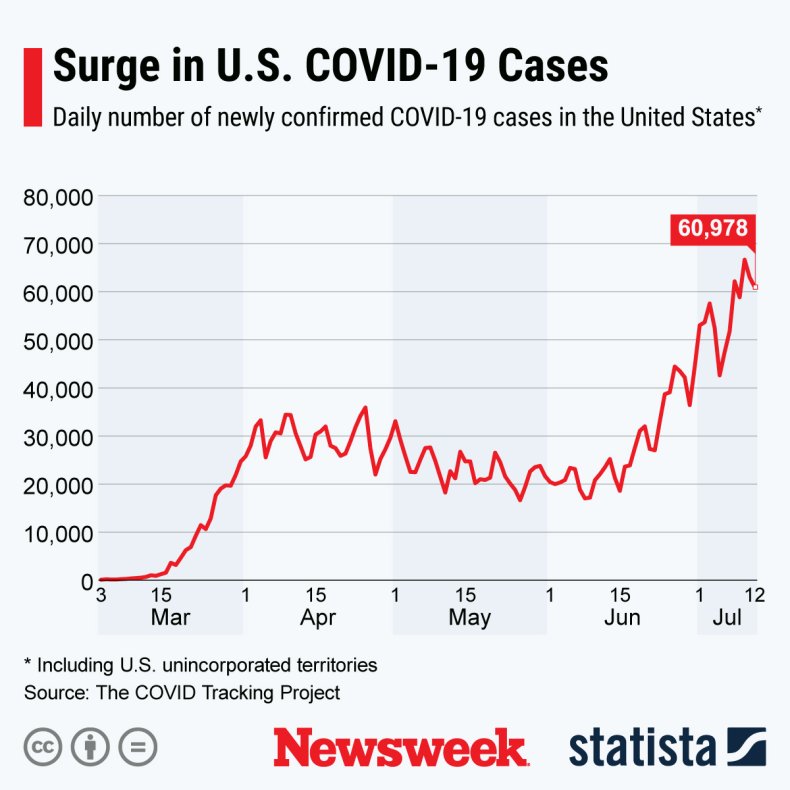 The graphic below, provided by Statista, illustrates the countries with the most COVID-19 cases.