'Kentucky Can Do Better Than Mitch McConnell': Democrat Amy McGrath Endorsed by One of Kentucky's Largest Newspapers
One of Kentucky's largest newspapers has endorsed Democratic nominee Amy McGrath for Majority Leader Mitch McConnell's Senate seat.
The Lexington Herald-Leader's endorsement said that, after the presidential election, the Senate race is one of the most important contests for the "future health of our democracy."
"During his 36 years in office, McConnell has made it perfectly clear that his only passion is the pursuit of power, his own and that of the Republican Party," the newspaper's editorial board wrote. "For that reason alone, we would endorse his opponent."
The endorsement added, "Luckily for voters, McGrath, a former fighter pilot and public servant, would make an excellent senator who would actually put the needs and interests of Kentuckians above her own."
Although the Herald-Leader endorsed McGrath's opponent, Charles Booker, during the state's Democratic primary in June, it now says that McGrath is ready to take on the challenges caused by McConnell's failure to address economic, educational and health care concerns.
The newspaper addressed McGrath's promise for criminal justice system reform in the state, where the fatal shooting of Breonna Taylor occurred. McGrath has said that reform would ensure that a killing like Taylor's in Louisville "never happens again" by enforcing a national registry for police so that officers with a bad record can't move from city to city. She also wants investment in mental health responders and to encourage communities to create new police training programs to teach de-escalation and address racial bias.
McGrath, a centrist Democrat who served 20 years in the Marines, has also vowed to help the state recover from the devastating effects of the coronavirus, which she says McConnell failed to do time and time again.
"We have people going to work right now and have been throughout this coronavirus because they have to make ends meet," she told the Herald-Leader editorial board. "Because there's not paid family leave and they don't know how they'll pay for health care, they don't know how they'll pay for food on the table. We've got to do this better, and it starts at the top."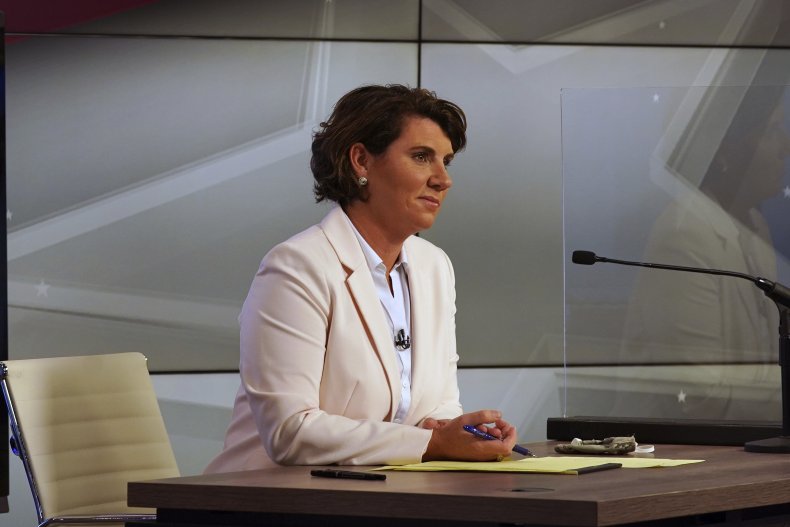 The newspaper also attacked McConnell's push to confirm Amy Coney Barrett to the Supreme Court, noting that his only priority is a conservative high court and a conservative federal judiciary, instead of bringing relief to Kentucky during the coronavirus crisis.
During a debate between McGrath and McConnell on Monday night, McGrath attacked her opponent for the Senate's delay in approving a new economic relief bill, which the House and Senate have been unable to agree on since May. Instead of giving Kentuckians the relief they needed, the Senate "went on vacation," she said.
That moment during the debate made the rounds on social media because of McConnell's laughter while McGrath spoke about the failure to pass a relief package. She later used that reaction as part of a campaign that aired Friday.
On Thursday, McConnell rejected a $1.8 trillion proposal from President Donald Trump, saying that he had no plans to bring any packages between $1.8 trillion and $2.2 trillion (an amount the Democrats have proposed) to the Senate floor. This reflects the pushback from multiple GOP members against Trump's proposal.
Instead, the Senate majority leader said he hopes to put a $500 billion relief proposal on the floor before Election Day.
"If things are going well for you, Senator McConnell is your guy," McGrath told the Herald-Leader. "Are you better off than you were six years ago? Are you better off than you were 36 years ago? Because for so many Kentuckians, they are not."
Newsweek reached out to McConnell for comment but did not receive a response in time for publication.