Kentucky Clerk Kim Davis Mocked on Billboard in Hometown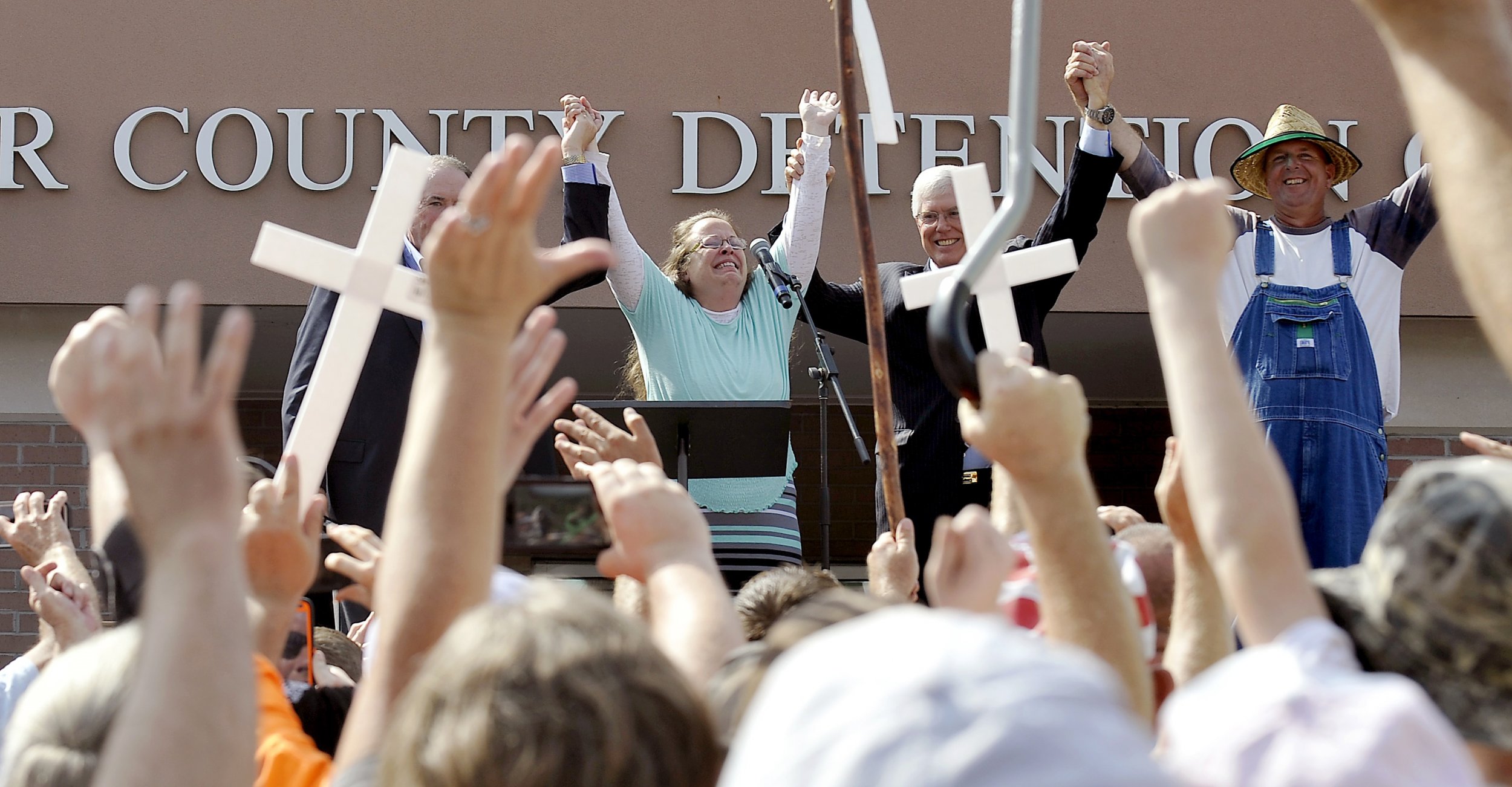 Kim Davis, the Kentucky clerk who refuses to issue same-sex marriage licenses and was jailed as a result, has not been greeted warmly by all of her neighbors as she returned to her hometown.
Since the U.S. Supreme Court in June legalized gay marriage in all 50 states, Davis, 49, has denied issuing licenses to same-sex couples in Rowan County. In her position as county clerk, Davis is required to issue marriage licenses. She says gay marriage is against her religious beliefs.
A billboard defending gay marriage has been placed in Rowan County. It reads: "Dear Kim Davis, the fact that you can't sell your daughter for three goats and a cow means we've already redefined marriage." The sign notes it was paid for by Planting Peace, a global nonprofit organization. The message appears to reference a scripture from the Bible that says women can be sold into marriage as slaves.
The group wrote in a statement that Davis has become the face of the anti-gay movement.
"The intent of the billboard is to expose this narrow interpretation by Davis and others that they use to defend their discrimination against the LGBTQ community," the group wrote in a statement. "It is important and relevant to call this out, because these messages and actions are not simply about a political or religious debate. There are LGBTQ youth across the world who are taking their lives at an alarming rate because of these messages from society that make them feel broken or less than."
Earlier this month, a federal judge said Davis was in contempt of court for going against legal orders. As a result, she was jailed, but she was ordered released after five nights.
On Friday, Davis's lawyer filed an appeal. He argues the judge overstepped his bounds by including all couples in his ruling, instead of just the handful of individuals who previously filed lawsuits against his client. Davis, who said her time in jail was worth it, believes licenses should not be issued in her county until her case is resolved.
Davis argues that an accommodation should be made for her religious beliefs. She won't step down from her position, nor violate her conscience, said her attorney, Matt Staver.
While Davis was behind bars, her deputy clerks, excluding her son, issued licenses to gay couples. What Davis will do when she returns to work on Monday remains in question. In freeing her, the federal judge wrote that she must not interfere—directly or indirectly—with her deputies in issuing licenses to all legally eligible couples.
Two Republican presidential candidates, former Arkansas Governor Mike Huckabee and Senator Ted Cruz of Texas, are among the individuals supporting Davis. "Praise God that Kim Davis is being released. It was an outrage that she was imprisoned for six days for living according to her Christian faith," Cruz said in a statement after her release.
Clerks in other states, including Alabama, Mississippi and Texas, also have tried to avoid issuing gay marriage licenses. But Davis's case was the first major challenge to the Supreme Court's landmark decision.