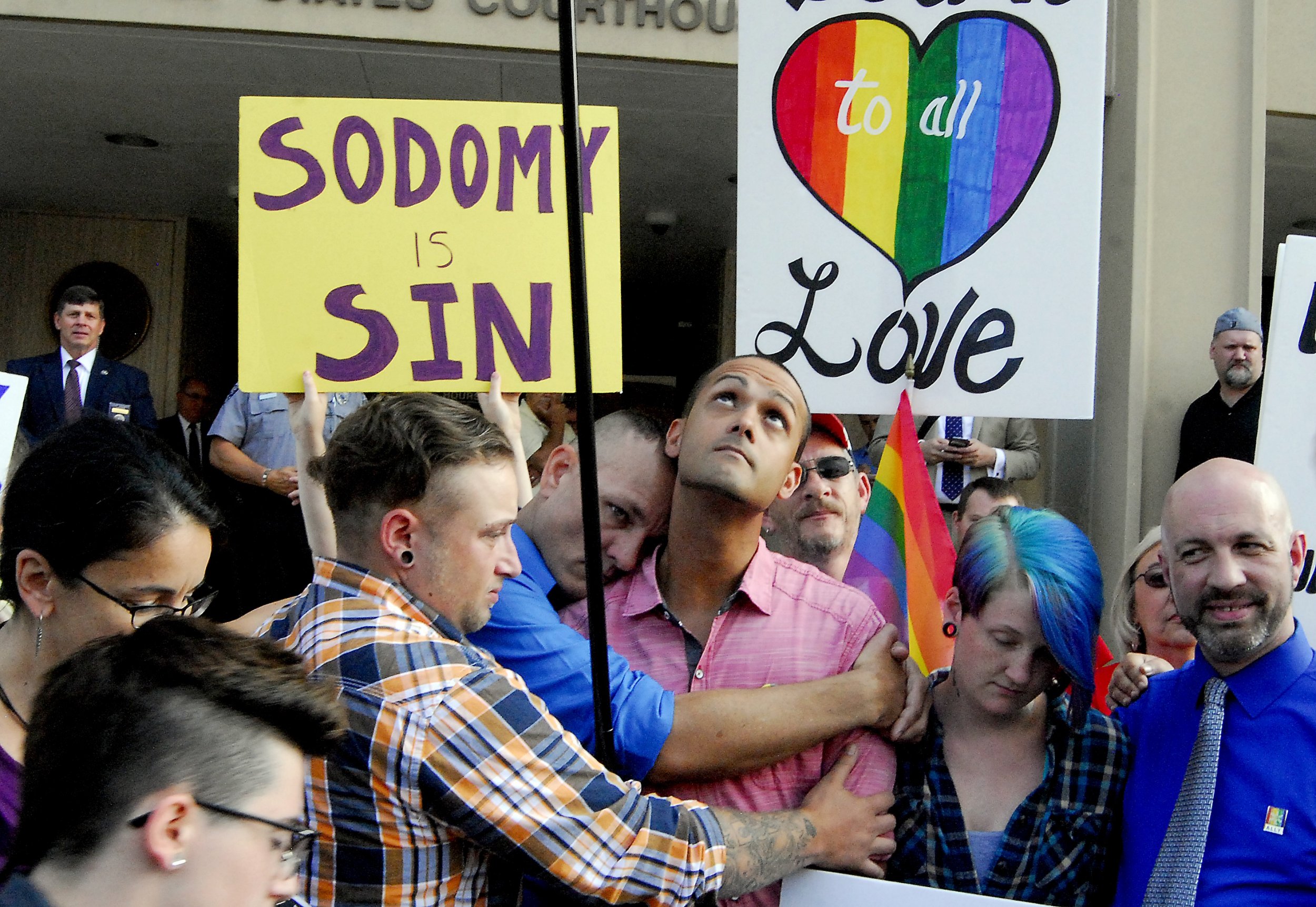 Updated | A gay couple on Friday morning received the first same-sex marriage license to be issued in Rowan County, Kentucky, a day after its clerk, Kim Davis, went to jail for refusing repeatedly to issue the legal document.
William Smith Jr. and James Yates, who have been a couple for almost a decade, received their license by 8:15 a.m., the Associated Press reported. The issuing of their marriage license ended a months-long standoff between gay couples and Davis's office. Two other gay couples also received their marriage licenses by the early afternoon hours.
Since the U.S. Supreme Court in June legalized gay marriage in all 50 states, Davis has denied licenses to same-sex couples because she says gay marriage is against her religious beliefs. On Thursday, a federal judge said Davis was in contempt of court for going against legal orders. Last month, an appeals court ruled that she must issue such licenses.
Davis's attorney, Mat Staver, said the licenses issued by deputy clerks on Friday aren't valid because they don't include her signature. (But the Rowan County attorney and the couples' lawyers said the licenses are valid.)
Staver, founder and chairman of Liberty Counsel, said Friday in a statement: "Last night Kim Davis was incarcerated in a jail cell while the rest of us slept in our comfortable beds. While it is not new that some people are imprisoned, it is stunning to realize Kim is there because of her faith in God and her convictions about marriage,"
Davis, who has been divorced three times, is among several clerks across the U.S. who won't issue marriage licenses, but she was the first to be sued. The American Civil Liberties Union (ACLU) filed a lawsuit alleging that Davis unconstitutionally denied marriage rights to same-sex couples.
Her husband on Friday told reporters that his wife was in good spirits after spending the night behind bars. He also said she doesn't plan to resign from her position as county clerk. She could remain in jail for a week.
Deputy clerks at her office risk facing jail time if they don't issue licenses to same-sex couples.
Davis's case is the first big challenge to the Supreme Court's landmark ruling. Other states where clerks have tried to avoid issuing gay marriage licenses include Alabama, Mississippi and Texas.
This story has been updated to include developments from the course of Friday.