In Photos: The Kentucky Derby Through The Years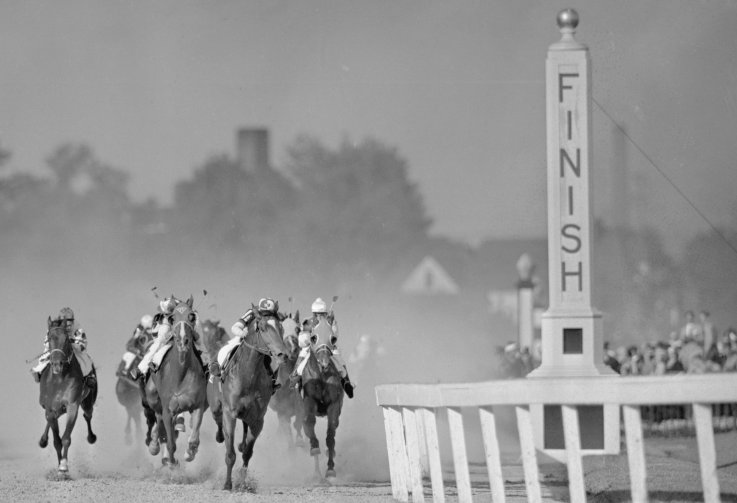 The Kentucky Derby is the premier horse racing event in America, and our longest-running sporting event, dating back to 1875.
On May 4, Churchill Downs will host the 145th running of the Kentucky Derby. Plenty of history, pageantry and tradition will be on display—from draping the winning horse in a garland of roses to donning a colorful hat and sipping mint juleps.
Related: Kentucky Derby 2019: Post Positions, Favorites and More Facts to Know
The idea for the Derby began in 1872, when Colonel Meriwether Lewis Clark attended England's Epsom Derby and was inspired to create a racing event in the States of the same caliber. Clark's uncles, John and Henry Churchill, donated land in Louisville, and he went about raising funds for a permanent racetrack.
On May 17, 1875, the Louisville Jockey Club sponsored the very first Kentucky Derby.
That first year, 10,000 spectators cheered as 15 three-year-old Thoroughbreds raced one-and-a half miles on the track. A chestnut Thoroughbred named Aristides was the winner: Ridden by 19-year-old jockey Oliver Lewis, Aristedes finished in just over 2 minutes and 37 seconds, earning a purse of $2,850.
Over the decades, the distance of the course—and the purse—has changed, and new traditions have been added. In 1894, a grandstand was added to accomodate growing crowds. The following year, Churchill Downs famous twin spires were added.
In 1919, Sir Barton won the Derby and took what would come to be known as the Triple Crown of Thoroughbred Racing—winning the Kentucky Derby, the Preakness Stakes and the Belmont Stakes.
The Derby continued gaining popularity, continuing through even the Great Depression and World War II. In 1952, it was televised nationally for the first time, drawing an estimated 10-15 million viewers. In 1973, Secretariat wons with the fastest finishing time to date, completing the course in 1:59:40.
Today, the first Saturday in May continues to be the biggest day of the year for horseracing fans. Below, take a pictoral walk through the history of the Kentucky Derby.