For some avid racegoers, the Kentucky Derby is the high point of the year. The women show off their hats and don a favorite dress, the men sport a suit fit for the occasion and head to Churchill Downs to place their bets. For others, a Saturday trip to Louisville, Kentucky, isn't in the cards, but they'll still be watching on the television.
A sporting event steeped in a rich history, the Kentucky Derby began in 1875 with a 1.5-mile race. Over the years, there have been multiple changes to the event, including shortening the distance to 1.25 miles. In 1949, local fans were able to watch the race for the first time. In 1952, an estimated 10 to 15 million viewers tuned in for the first nationally televised race. In 2019, viewers can also watch the race live on their computers, phones and tablets.
What Time is the Kentucky Derby?
The main attraction horses won't race until 6:50 p.m. EDT, but the day's events begin far before the horses run. Beginning around 10 a.m. EDT, attendees can place wagers. At about 5:08 p.m. EDT, Jennifer Nettles from the country band Sugarland will sing the national anthem.
At about 6:33 p.m. EDT, the jockeys will mount their horses and take to the track. After the singing of "My Old Kentucky Home," the race will begin.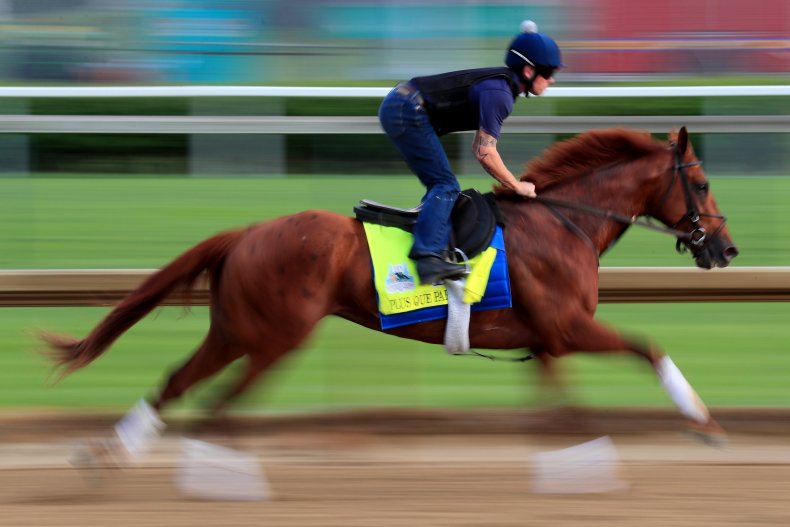 How to Watch or Live Stream the Kentucky Derby
There are multiple ways for racing fans to enjoy Saturday's spectacle from beyond the of the Churchill Downs racetrack.
Beginning at 12:30 p.m. EDT, NBCSN, owned by NBC Sports, will broadcast programming dedicated to "Kentucky Derby Prep," including the Kentucky Derby red carpet. At 2:30 p.m. EDT, coverage will switch over to NBC's main channel and conclude at 7:15 p.m. EDT, slightly after the race is over.
For fans who are interested in the betting aspect of the event, between 5 p.m. EDT and 5:30 p.m. EDT, NBC Sports will host a betting Derby Special.
Broadcast on local NBC channels, fans can also tune in via the NBC Sports app and NBCSports.com. The NBC app is available for download on both compatible cell phones and tablets. However, both options may require a subscription or a valid login with a cable service provider.