Is the Kentucky Derby Cancelled? Here's What We Know
The Saturday, May 2, Kentucky Derby has been cancelled and rescheduled for September.
Held annually on the first Saturday in May at Churchill Downs in Louisville, Kentucky, the Derby has been the preeminent thoroughbred horse race for more than a century. On March 17, it was announced that the 146th Kentucky Derby would be rescheduled for Saturday, September 5. The postponement—due to the ongoing coronavirus pandemic—is the first since 1945.
Churchill Downs, which describes itself as "the world's most legendary racetrack," has held the Kentucky Derby every year since 1875.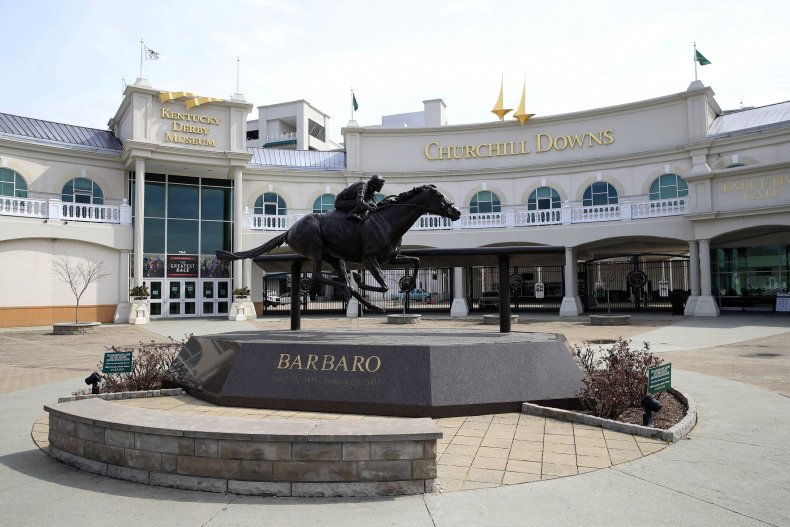 Instead of the two-kilometer horse race, this year, the Derby will be celebrated as the Kentucky Derby At Home, with a bevy of streaming events presented in partnership with NBC Sports. The day-long Kentucky Derby party will raise $2 million for COVID-19 relief efforts.
The KYDerby At Home streaming event will begin at 9 a.m. on May 2, with cocktail workshops, virtual tours, recipes and kids' crafts scheduled for throughout the day.
The Kentucky Derby celebration will begin on NBC at 3 p.m. on May 2, opening with American Pharaoh's 2016 Kentucky Derby Triple Crown run, followed by a computer-simulated race, which will pit 13 Triple Crown winners against each other.
You can find the full schedule and streaming details here.
"For many fans around the country, the first Saturday in May has become a part of their family's yearly traditions," President of Churchill Downs Racetrack Kevin Flanery said in the announcement. "While we eagerly look forward to the 146th Kentucky Derby this year on the first Saturday in September, we will celebrate the annual excitement of our traditional date with our fans and community by offering ways for us to join together for a great cause."
Churchill Downs and Kentucky Governor Andy Beshear have been in talks about reopening its racetrack, training center and stables and will open under stringent guidelines beginning Monday, May 11. The measures, meant to allow for reopening while mitigating the potential spread of COVID-19, include spectator-free racing.
"There will be no fans for racing," Beshear said at a Wednesday press conference. "I will tell you this is one of the most detailed plans that we have seen about specific security checks that everybody has to go through."
Measures include limiting access to the stables to essential caretakers and trainers, a ban on fans, guests and media at the track, plus regulations on congregating and separation between race clockers and other officials.
"The health and safety of our horsemen, staff and community remains paramount," Flanery said on the Churchill Downs website. "Strict compliance with our comprehensive COVID-19 Action Plan and social distancing guidelines is our responsible duty to effectively contain the virus."