Kentucky Derby 2018 Facts: Official Flower, First Race, Length
Each year, the first Saturday in May brings the running of the Kentucky Derby, and this year's race will mark the derby's 144th anniversary. The race—known for big hats, betting and mint juleps—takes place at Churchill Downs in Louisville, Kentucky, with a field of 20 horses. Millions watch the race every year.
The draw for the horses' starting position at the gates was completed Tuesday, and the final preparations and training were in the works ahead of Saturday's race. Before the race, often called "the most exciting two minutes in sports," on Saturday, here are seven facts about its history and past winners.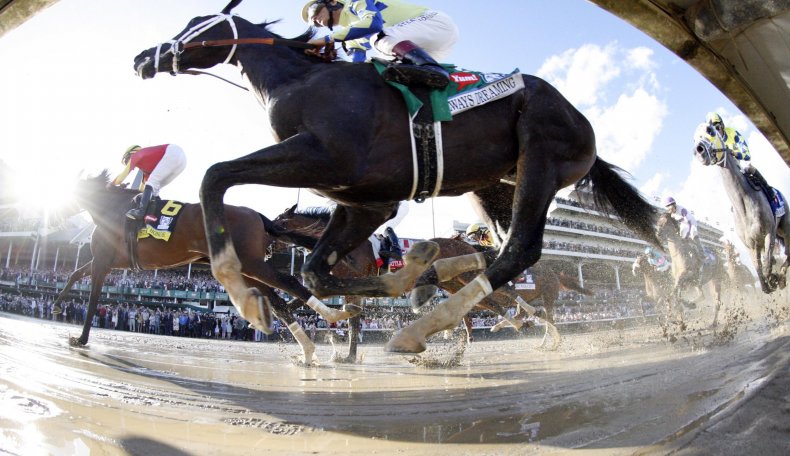 Seven Facts About the Kentucky Derby
1. The first Kentucky Derby was run May 17, 1875, and was started by the Meriwether Lewis Clark, the grandson of William Clark of the exploring duo Lewis and Clark, according to the Derby.
2. The race is sometimes called the "Run for the Roses," and the rose has become synonymous with the Kentucky Derby. The winner of the race gets a garland of red roses, and the red rose was made the official flower of the derby in 1904, according to the Derby.
3. There's a Kentucky Derby Museum at the Churchill Downs racetrack. It includes interactive exhibits and a walking tour, according to the museum's site.
4. The race is just one and a quarter mile on the racetrack, according to the official Derby site.
5. In 2013, an estimated 120,000 mint juleps were made at the track, where more than 2,000 gallons of bourbon were used, according to the derby.
6. There have been 12 Triple Crown–winning horses, including the 2015 winner American Pharoah, the Los Angeles Times reported. To win the Triple Crown, a horse has to win the Kentucky Derby, the Preakness Stakes and the Belmont Stakes.
7. Only three fillies have ever won the Kentucky Derby: Winning Colors in 1988, Genuine Risk in 1980 and Regret in 1915, according to the derby.