The Kentucky Derby will return Saturday, as the horse-racing community looks to move past last year's winner failing a drug test and dying seven months later.
The 148th Derby will take place at Churchill Downs in Louisville, Kentucky, with 20 colts lining up at the starting gate. Famed horse trainer Bob Baffert will be absent following last year's scandal regarding his winning horse, Medina Spirit. While he may have a more subtle presence at the event, organizers and horse-racing enthusiasts are proceeding as normal.
Derby organizers posted a video of the careful assembly of the "Garland of Roses," which will be draped over the neck of the winner.
Trainers and jockeys also continued to prepare for the event. Kevin Kerstein, a spokesman for the race, posted a video of Epicenter, a leading contender, running along a track.
Zandon is the 3-1 morning-line favorite, reports ESPN. The dark brown colt won the Grade 1 Blue Grass as well as other races and is owned by Jeff Drown, CEO of a Minneapolis contracting company.
"He's been training really well and to come back and show the type of horse we thought he was all along, it's very gratifying," Drown said, following the Blue Grass, according to the Louisville Courier Journal. "What a fantastic run."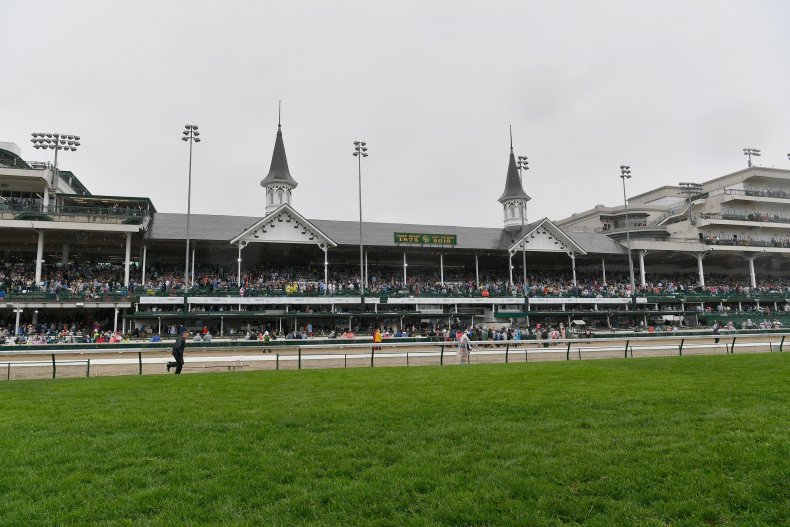 Baffert was banned from multiple horse tracks, including Churchill Downs, after his horse Medina Spirit tested positive for a restricted anti-inflammatory steroid after winning the 2021 Derby. The 3-year-old colt was stripped of the title and later died that year from a heart attack.
Baffert has denied wrongdoing and has gone to court seeking to block penalties.
While Baffert won't be present at the Derby, his fingerprints will be at the race. Trainer Tim Yakteen took over horses Taiba and Messier from Baffert and they will run Saturday. Some in the racing community have suggested the two horses means Baffert's presence will be felt at the race.
"And [there are] two horses trained by a guy named Tim Yakteen, who is, I guess you could say, is subbing in a way for a trainer that's famously not here at this Kentucky Derby, Bob Baffert," Randy Moss, a horse-racing analyst for NBC, said in a media call, according to the Los Angeles Times.
Yakteen shrugged off the comments, telling the Times, "All I know is the horses are in my barn and I'm moving forward with them."
Taiba, who has the same colors as Medina, is considered competitive after winning races early on, including the Santa Anita Derby, reports Sporting Life.
"He showed just how special he is," jockey Mike Smith said of the chestnut horse after Santa Anita, according to the Courier Journal. "He belongs with anyone. He just recovers really well. I'm not getting any younger. As I get older, I have felt that something special is going to happen. This just may lead to that. The sky's the limit."
About the writer
Jake Thomas is a Newsweek night reporter based in Portland, Oregon. His focus is U.S. national politics, crime and public health. He has won numerous awards while covering government, social services and a wide range of other topics for publications in Oregon and Washington. Jake joined Newsweek in 2021 after previously working as a contract reporter for United Press International and a staff writer at Salem Reporter. You can get in touch with Jake by emailing j.thomas@newsweek.com. Languages: English, intermediate Spanish.