Kentucky Gas Explosion Kills At Least One, Moreland and Hustonville Evacuated
At least one person has died after a suspected gas leak caused a massive explosion in Kentucky.
Residents around Lincoln County shared images and videos of the huge blast, which occurred in the early hours of August 1. The Lincoln County Sheriff's Office believes a gas line rupture was the cause of the explosion.
The Lincoln County Coroner's Office has confirmed at least one person is dead, reports WKYT.
Residents of Moreland and Hustonville have also been evacuated as a precaution. It is unclear how many people have been evacuated, or if there are any more injuries.
In a statement, the Perryville Kentucky Fire Department said: "All individuals that have been evacuated due to the fire, New Hope Baptist Church has opened their doors. All are welcome to shelter there until access to your homes is restored.
"Initial report is that a gas line ruptured in Lincoln County, south of Junction City. Please do not travel to this area or attempt to get anywhere close to the scene. The roadway needs to stay open for emergency responders."
Soifa Nunez was one of those who shared video footage of the blast on social media. "You could hear it explode and feel the heat off of it," she tweeted. "It finally stopped shaking the house."
Local resident Anthony Wireman tweeted a picture of smoke rising form the flames, adding: "There is the biggest fire I've ever seen in Danville right now. I have no idea what it happening but I'm miles away and it's massive."
WKYT Chief Meteorologist Chris Bailey said that the explosion was so large it was picked up on the weather radar. "Winds are light so the smoke from the massive explosion in Lincoln County is drifting east. Radar continues to pick up on our smoke plume," Bailey added.
Several other people also shared images showing smoke bellowing into the air for miles around.
Tim Adams, who lives around one mile away from where the blast took place, told WHAS11 it felt like the "entire world shook" when the blast occurred, adding. there is a "definite gassy smell" near his home.
Lincoln County Emergency Management Director Don Gilliam told WKYT: "It was impressive. It's tragic. We hope it doesn't get worse."
This is a developing story and will be updated as more information becomes available.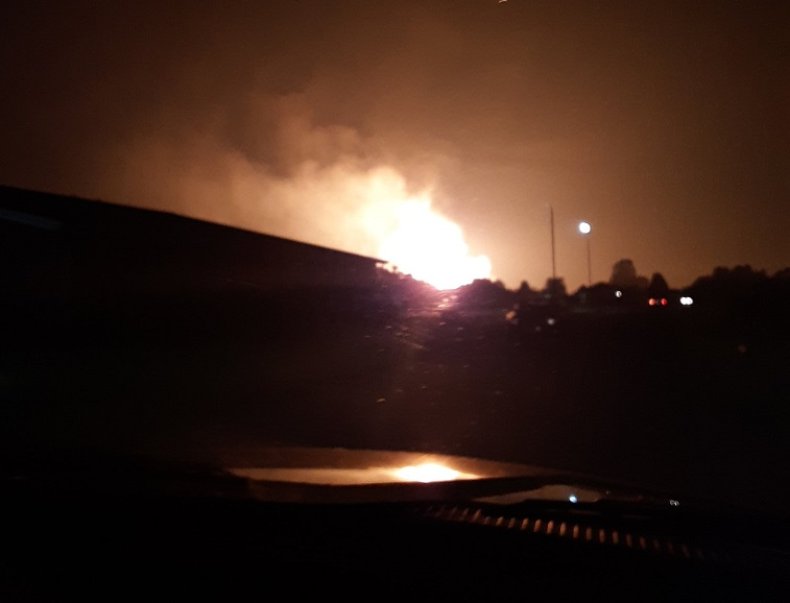 Kentucky Gas Explosion Kills At Least One, Moreland and Hustonville Evacuated | U.S.