Kentucky Gov. Reports 1 in 4 COVID Cases Is a Child, Says U.S. Going to 'Lose More Kids'
Governor Andy Beshear of Kentucky warned that more kids will be lost nationwide to the coronavirus as the state's child positivity rate soars to 25 percent.
Beshear announced at a press briefing Thursday that 1 in every 4 COVID cases in Kentucky is a child.
"One in every 4 positives—we had almost 5,000 yesterday—1 in every 4 is a kid under 18 years old," the governor said. "That's why we're seeing those schools closings. That's why we're seeing more kids in the hospital. That's why we're ultimately going to lose more kids nationwide and we hope not here in Kentucky."
In August 2020, the percentage of kids in Kentucky testing positive for the virus was 11.8 percent. Last month, that statistic spiked to 24.5 percent.
Records were set last week for the number of cases and hospitalizations in Kentucky. The state is reporting more residents in the ICU with the virus and more people on a ventilator than at any other point in the pandemic.
Beshear noted Thursday that a 27-year-old recently died from COVID-19, which he said is a sign that the Delta variant is attacking younger people.
One pediatric doctor said during the briefing that unlike the beginning of the pandemic, children are now getting just as sick as adults.
"So, spreading like wildfire," Beshear said. "It's infecting our kids, it's closing our schools."
At least 30 school districts in Kentucky have had to temporarily stop in-person instruction this year due to the virus surge. Some of the schools have already had to close twice.
Lawmakers held a special meeting Wednesday to brainstorm possible solutions and ways to provide relief for schools that face COVID-19 outbreaks and closures, the Lexington Herald Leader reported.
Beshear said Thursday that what the state has in place right now for school districts facing outbreaks isn't enough.
"All I care about is that it works, that a school that has a big COVID outbreak, that the kids are still learning the next day," he said.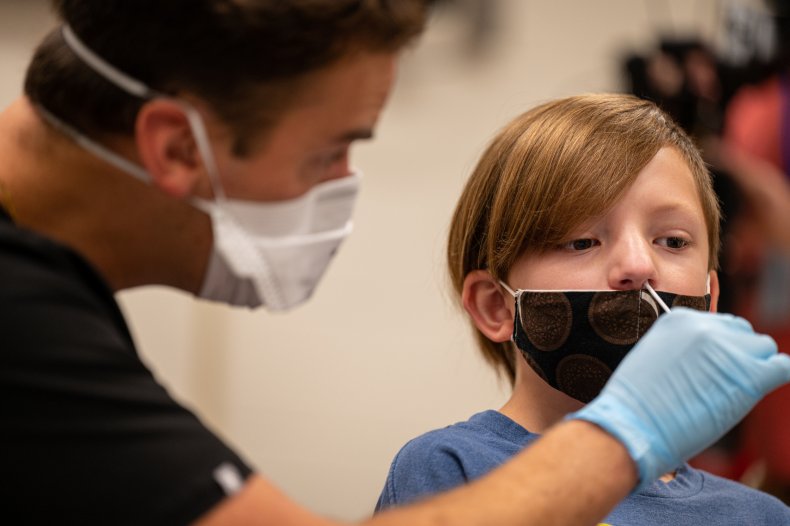 Child COVID-19 cases are up not just in Kentucky but across the county.
The American Academy of Pediatrics reported Monday that for the week ending August 26, children accounted for 22.4 percent of reported weekly COVID-19 cases.
The academy said child cases have "increased exponentially," with more than a five-fold rise in the past month. The country has seen cases spike from 38,000 the week ending July 22 to more than 200,000 the past week.
Roughly 4.8 million children have tested positive for COVID-19 since the onset of the pandemic.
"At this time, it appears that severe illness due to COVID-19 is uncommon among children," the academy said. "However, there is an urgent need to collect more data on longer-term impacts of the pandemic on children, including ways the virus may harm the long-term physical health of infected children, as well as its emotional and mental health effects."
Newsweek reached out the Kentucky Department for Public Health for comment, but didn't receive a response before publication.