Democrat Andy Beshear May Be Kentucky's New Governor, But State Republicans Are 'Fully in Charge'
Democrats claimed victory in Kentucky on Tuesday night after Andy Beshear was elected governor in one of the most highly-contested races of the 2019 election cycle. But celebrations may be premature, as Beshear's power is likely to be severely limited by the state's Republican legislature.
"The legislature, if it so chooses, can basically make any governor irrelevant in Kentucky," Scott Jennings, a GOP strategist, told Newsweek. Jennings has worked on four presidential campaigns and as a senior adviser for a super PAC for Senate Majority Leader Mitch McConnell.
Beshear narrowly defeated Republican incumbent Matt Bevin in the gubernatorial race. With 100 percent of precincts reporting, Beshear had a lead of 5,333 votes out of more than 1.4 million counted Tuesday night, according to The Associated Press. The race was a huge blow to President Donald Trump, who rallied for Bevin just a day before the election.
But even with Beshear's victory, Republicans still control both chambers of the state legislature and will be able to easily pass bills regardless of opposition from their Democratic colleagues. When that legislation gets to Beshear's desk, he can choose to veto it, but his veto isn't exactly permanent.
In Kentucky, a simple majority is all that's needed to override a gubernatorial veto. Since Republicans have a supermajority in Kentucky's state House and Senate, they will have the ability to cancel Beshear's blockage.
"He is truthfully the last Democrat standing in Frankfort," Jennings added. "Republicans are fully in charge of policy and if [Beshear] wants to have a meaningful impact he's going to have to do outreach to them, work with them and play a little bit on their turf."
The incoming governor signaled in his victory speech on Tuesday night that he was willing to reach across the aisle and work together. He said that voters in Kentucky sent a "message that says our elections don't have to be about right versus left, they are still about right versus wrong."
Beshear will have the option to move forward with the more progressive aspects of his agenda that are unlikely to gain any support from Republicans, like abortion rights and legalizing gambling, through executive action. The Democrat has already vowed to use executive power to restore voting rights to residents with felony convictions.
Even on that point, Jennings was dubious. "There is some executive action, it's possible. But the vast majority of things that happen in Kentucky are done by the legislature whether the governor likes it or not," he told Newsweek.
Still, state Democrats are looking forward to having Beshear in charge. Russell Lloyd, the Louisville Democratic Party chairman, told Newsweek that he was "excited" to see Beshear lead on progressive issues like expanding Medicaid and legalizing marijuana.
"It's not that he can pass everything himself. But he can help us make those campaign issues in the next election in the event that Republicans continue to act outside of the best interests of their constituents. He can make it very difficult for them to run a re-election," Lloyd said.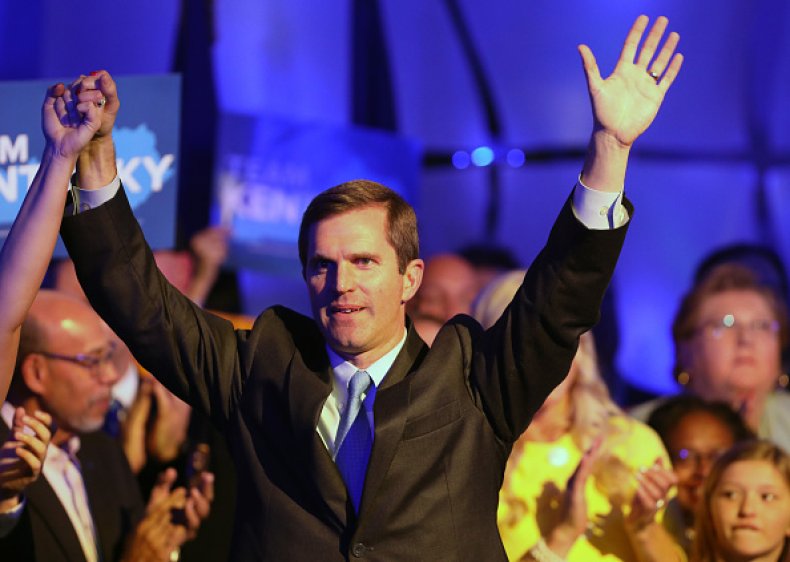 Attempts to limit an incoming governor's power, especially when the executive is of a different political party than the state's legislative majority, has become a popular trend in American politics over the past few years.
After the 2018 midterm election, Republican lawmakers in Michigan rushed to pass legislation that would limit the influence of newly-elected Democratic Governor Gretchen Whitmer. The same happened in Wisconsin, where former Governor Scott Walker signed a flurry of bills just before leaving office that restricted the power of the incoming Democratic governor and attorney general.
In 2016, Pat McCrory, North Carolina's outgoing Republican governor, signed a law stripping executive powers from his successor. The move was immediately met with backlash and even prompted protests at the state capitol.
No such laws have been introduced in Kentucky as of press time, but lawmakers still have a few months before Beshear takes office.
While Beshear has been declared the winner of Kentucky's gubernatorial election, Bevin has refused to concede. The Republican incumbent has claimed that there were "reports of irregularities" in the voting process. On Wednesday Bevin called for a recanvass in the race for governor.