Kentucky Man Catches 50-Pound Catfish in Front Yard During River Floods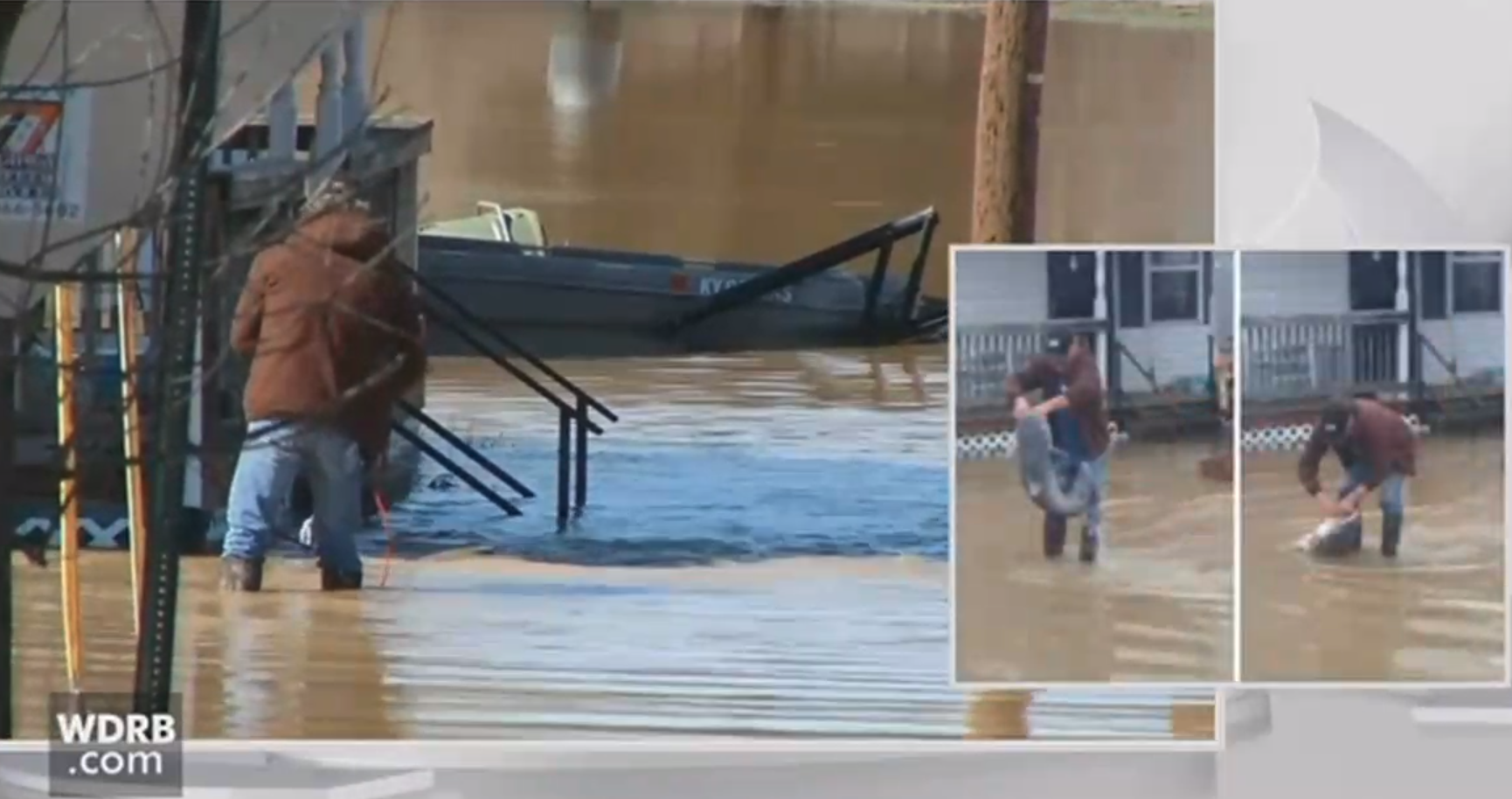 The Salt River in Bullitt County is flooding, but a Kentucky man has turned the natural disaster into an opportunity.
Bullitt County's constable Robert Watkins took advantage of the floods and caught a colossal catfish in his front yard over the weekend.
Watkins' friend, Chris Fegett, posted a photo of the constable holding the 50-pound catfish outside his home in Shepherdsville, Kentucky, to Facebook on Sunday. The post has now been shared over 62,000 times.
"Anytime the river gets up to where it's at, we'll go out. Me and a buddy of mine will go out in it and we'll set limb lines," Watkins told WDRB-TV.
He added: "We'll hang lines out of the tree. Then we'll give it four or five hours and go back and run them and see what we got. Normally, the Salt River is good for them big cat[fish]… we'll do it every time the river gets up."
Watkins' house is situated next to the Salt River Bridge. The rising water engulfed his entire yard over the weekend—creating the perfect conditions for front yard fishing.
Watkins said the catfish weighed around 55 or 60 pounds. "That scale we had wasn't no good. We had a 50-pound digital scale from Walmart, but it just—it maxed out. It wouldn't go no higher," he told WDRB-TV.
The constable claimed the fish was far from the largest he had ever caught. "In 2011, we got 16 of 'em in three days that was bigger than that. We got 'em up to 95 pounds," he said.
Watkins has since released the catfish back into the water, allowing it to swim another day. "We don't eat none of them big ones," he said.
Cities in Northern Kentucky and Cincinnati were hit hard by floods and severe storms over the weekend which left homes completely swallowed by water and caused roads by the river to close. On Sunday, the Ohio River hit 60 feet in Cincinnati. The National Weather Service announced that portions of the river had reached its highest since 1997.