Kentucky Man Plays Piano Tune Amid Rubble of Home Destroyed by Tornado in Touching Clip
Jordan Baize felt compelled to sit at his piano in what used to be his home.
Baize was among myriad victims impacted by the tornadoes that ravaged Kentucky this past weekend. He lives with his two children, Max, 9, and Annie Grace, 5, in Bremen, Kentucky about 100 miles away from Mayfield.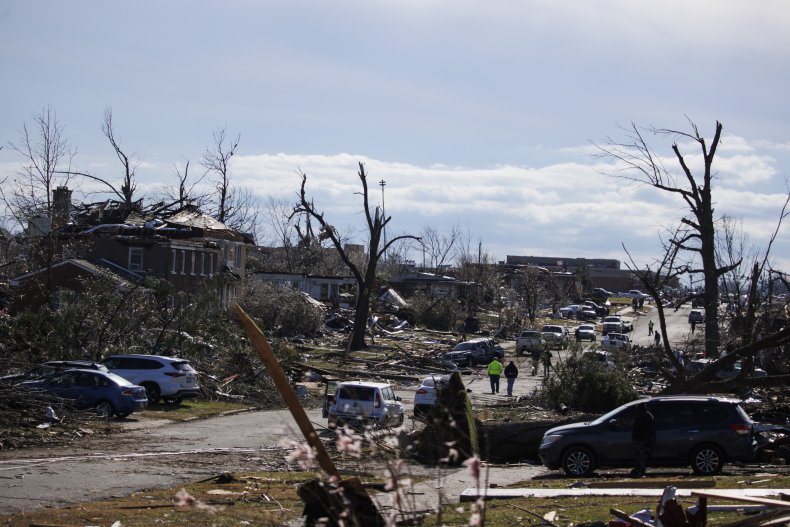 He said storms and even tornadoes are not uncommon, but he recalled one particular text alert as "ominous." That was when he, his children, his ex-wife and her husband piled into the basement and covered themselves with a king-sized mattress.
The tornado lasted less than a minute, he said. It actually ripped his front door off his hinges and temporarily blocked his basement door from opening.
"It got very real very quickly," he said.
Baize's sister, Whitney Brown, posted on Facebook on December 11 that her family was safe. Then, she shared a story of how she was standing in what was formerly Baize's bedroom during the aftermath, packing anything that could be salvaged.
Then, she "heard the most beautiful sound." It was music.
She walked to discover her brother sitting at a piano, playing There's Something About That Name by Bill and Gloria Gaither. She filmed him playing in a space that used to be surrounded by walls and a roof.
"Everything around him was broken," Brown wrote. "The piano had water damage, it had missing keys, and he didn't know I was filming. But still, he used his gift to glorify his God the best way he knew how."
Her post has been liked over 51,000 times and shared over 95,000 times. It has received over 7,000 comments of appreciation, including some from former teachers and many from complete strangers.
Baize told Newsweek that he was in somewhat of a daze following the touchdown of the tornado; having difficulty to focus and pack belongings.
As he was surrounded by ruin, he felt inclined to play his piano again to see if it would work.
"It was just a moment for me," Baize said. "I didn't know I was being filmed; I didn't know I was being watched."
He chose the song because of the reference to kings and kingdoms. His 13-acre property has been in his family for numerous decades. "My mother, when she was a kid, climbed those trees," he recalled.
As someone who attempts to avoid the spotlight and stay behind the scenes, he said the attention the video has received is worth it due to the attention it has gotten his community. It has also exemplified his faith.
"It's something that typically I wouldn't be a fan of," he said. "But because I've been given the platform to talk about how faith has sustained me, it's been worth it."
On Thursday, he said at least 11 people have died in his community. Prior to the tornado, the population was fewer than 300 people. He said friends of his have lost everything, from big homes to children as young as 5 months old.
He plans to live in an upstairs apartment in an office building in his town while his home is rebuilt over the course of the next few months.
"We're doing well. I think we're good," he said. "Not sleeping as well as I'd like. I think it's probably nervous energy. So much has been going on.
"We have it so much better today than our friends and neighbors. Our house is destroyed but I know where it is."