Two Kentucky Marinas Destroyed As Tornadoes and Severe Thunderstorms Batter State: 'Mother Nature Lets Us Know Who's in Charge'
Two marinas in Kentucky have been heavily damaged after the area was struck by severe storms and tornadoes. The Marshall County Emergency Management Agency praised emergency services on two separate occasions for their response to the extreme weather which has battered the county over the past few days.
On Saturday the agency posted photos to Facebook showing severe damage caused to the Kentucky Dam Marina as a result of the storms. The agency also noted that trees had been blown over and electrical lines were down throughout the county.
On Monday the Marshall County Emergency Management Agency posted another set of photos showing damage caused at the Moors Marina in the port village of Gilbertsville.
"Again, Mother Nature lets us know who's in charge. A repeat of Friday night but a different location," the agency said in a statement. "Outstanding response support tonight. Lots of major damage at Moors Marina. I won't name all response agencies due to omitting one, but multiple local agencies and numerous surrounding counties sent resources to our request for assistance."
The Moors Marina and Resort confirmed that their harbor took a "brutal hit" from the possible tornado but that there is no major damage to the rest of the resort.
"All lodging, the campground, and Ralph's Harborview Bar & Grill are still open," a spokesperson added on Facebook. "The marina store is fine, as well, but will be closed tomorrow. Everyone is accounted for and safe. We will be sure to keep you updated."
There is still no confirmation that a tornado touched down in that area, although several tornado and severe thunderstorm warnings were issued in southeast Missouri, southern Illinois and western Kentucky as of Sunday night, reported KFVS.
The Graves County Sheriff's Department said areas near Clear Springs and Symsonia are said to have taken the most damage as a result of the storms.
In a statement, the department also thanked the McCracken County Sheriff's Department for sending deputies to the Symsonia area after an initial report of a tornado on the ground near Clear Springs, which has still not been confirmed.
The National Weather Service said that two brief EF1 tornadoes did touch down in Simpson County and Allen County in Kentucky on June 21.
One woman was injured after being struck by lightning at the Murray State University campus on June 23. She is currently being treated at the Murray Calloway County Hospital, reports WPSD.
The National Weather Service said several areas including North Texas, Tennessee and Ohio could see severe thunderstorms over the next few days.
An NWS forecast said: "Strong/severe thunderstorms associated with wind damage and hail will continue over parts of north Texas into parts of the Arklatex this evening (June 24). A few severe storms will also occur in the Ohio and Tennessee Valleys with a severe storm or two also possible in the central High Plains."
Several flood warnings are also in place across Illinois, Kentucky, Missouri and Tennessee as a result of the storms.
The graphic below, provided by Statista, illustrates the global cost of extreme weather events.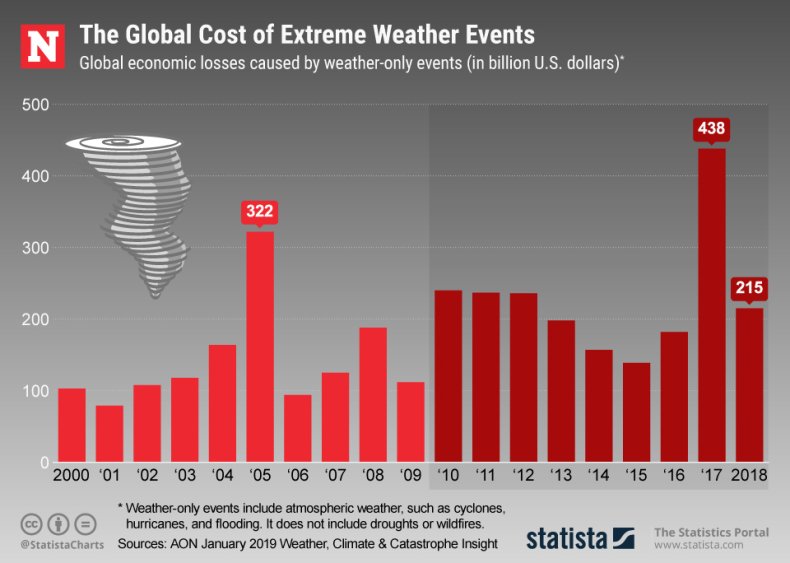 This article was updated to include an infographic.