Kentucky's Largest Newspaper Endorses Charles Booker to Face Mitch McConnell in Senate Race
Kentucky's largest local newspaper has backed State Representative Charles Booker to face Senate Majority Leader Mitch McConnell in the November race for his seat.
The Courier Journal said on Wednesday that Booker was the type of "change agent" needed in Kentucky as it endorsed him to win the local Democratic Senate primary.
The newspaper also said the state lawmaker had the "commitment and vision" to transform the country, on top of "several well-crafted ideas" that locals needed to consider before casting their votes.
In its editorial board endorsement published last night, the Courier Journal said: "Our informed choice is clear: Charles Booker is the kind of political leader and change agent that our commonwealth needs. We believe he is worthy of the Democratic nomination.
"The Kentucky state representative, born and raised in Louisville's West End, has the background, experience, commitment and vision to help transform our state and nation. He brings a perspective and several well-crafted ideas that Kentucky voters need to consider as we approach November's general election."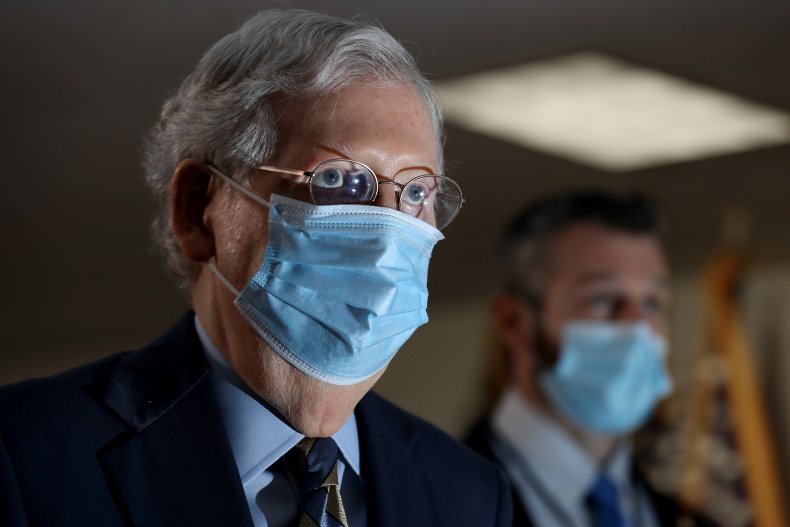 The Kentucky newspaper also praised the candidate for being out on the frontline with local protesters against police brutality, saying he "consistently appears as a community member" instead of a campaigner on the stump.
"Booker's vision for Kentucky and the United States is bold, progressive, positive and passionate," it added. "We believe he's the strongest in this field of Democrats in Kentucky's June 23 primary and encourage voters to look closely at his record and vision for our commonwealth."
Newsweek has contacted the Booker campaign for comment. This article will be updated with any response.
The Courier Journal Editorial Board revealed it was endorsing Booker in the Democratic Senate primary days after another candidate, Amy McGrath, polled ahead of McConnell.
A survey conducted by RMG Group found that McGrath, a former Marine fighter pilot, was backed by 41 percent of state voters, while McConnell was backed by 40 percent.
When voters were told that McGrath backed the idea of congressional term limits, unlike the Senate majority leader, her lead over McConnell grew to 15 percentage points.
The Democratic challenger has also outpaced the GOP incumbent's fundraising efforts, with her campaign raising $12.8 million to McConnell's $7.5 million in the first quarter of this year.
Explaining its decision not to endorse McGrath, The Courier Journal Editorial Board wrote: "While Amy McGrath has broad support, as evidenced by her successful fundraising, she has not shown the progressive ideas and bold leadership necessary to move our state forward.
"She has been overly moderate, measured and cautious throughout this campaign, focusing more on her military service (which we applaud and sincerely respect) or her motherhood than offering a sweeping vision for the commonwealth—especially in these turbulent times."
The newspaper added that her campaign message was too moderate and cautious, and later said it had been "unimaginative and uninspiring" thus far.