Kentucky Police Apologize For Tweeting Anal Rape Joke During Super Bowl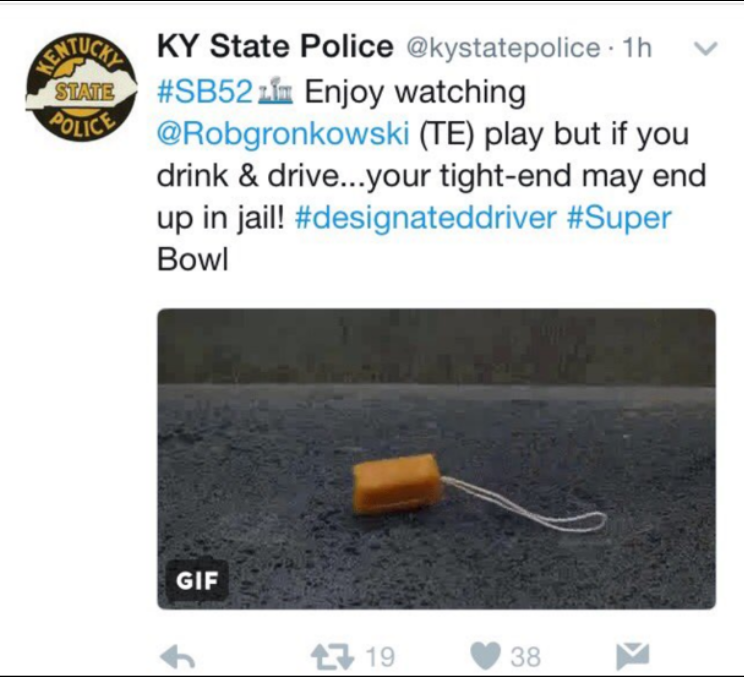 An apology was issued by the Kentucky State Police last night, after they faced backlash for a controversial joke about prison anal rape that was posted to their Twitter page during the Super Bowl on Sunday.
According to the Kentucky Courier Journal, the Kentucky State Police tweeted an anti-drink driving joke alongside a slow-motion GIF of a bar of soap hitting the ground to it's 51,000 followers yesterday.
"Enjoy watching Rob Gronkowski (TE) play but if you drink & drive ... your tight end may end up in jail! #deignatedriver" the tweet said.
The implication being that if you drink and drive you may end up in prison where you would have to ensure you "don't drop the soap," a vulgar reference to anal rape.
After the joke was tweeted on Sunday, Kentucky Secretary of State, Alison Lundergan Grimes, asked the Kentucky State Police to apologize to all victims of sexual assault.
"Rape & sexual assault are not joking matters. Citizens expect & deserve better of law enforcement. An apology to victims everywhere from @kystatepolice is needed," Grimes wrote in a tweet.
Kentucky Courier Journal reported that the tweet was deleted later that same evening after the paper asked the station to comment on the joke.
Kentucky State Police also issued a public apology on their Twitter page, claiming that the tweet was "made by an individual" and "does not represent KSP".
The statement read: "Making light of sexual assault in never acceptable, and we apologize for the distress this tweet caused, particularly to the victims of these heinous crimes," the statement said. "KSP is committed to protecting against sexual assault and fighting for justice for victims."