A lawsuit has claimed that Kentucky's Department of Criminal Justice Training, the government agency responsible for training police officers statewide, used racist materials in their online training courses.
Department employees who complained about the materials were retaliated against for whistleblowing, the lawsuit alleges. Though the lawsuit was filed in August, details of the training materials have only recently come to light.
The online course to train recruits allegedly used slides that contained images from the Black hip-hop cultural website Nappyafro.com. One slide on human trafficking allegedly used the term "Gorilla Pimp" next to a picture of a shirtless Black man. The slide allegedly described the "Gorilla Pimp" as violent, unsophisticated, limited in social skills and focused on "survival needs."
Another slide detailing signs of a trafficking victim allegedly used images mostly of Black men. The slide said that women might "act intimidated or frightened" around such men, or refer to the men as their "boyfriend."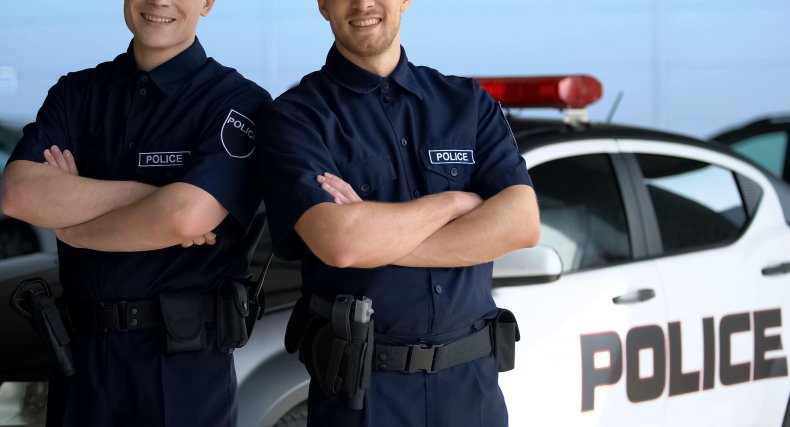 Another slide allegedly referred to a "Romeo Pimp" and contained an image of a Black man smoking what appeared to be drugs. Allegedly, under the Black man's picture were the words "Daddy True."
Former employees of the state's Department of Criminal Justice Training who filed the suit considered the images "derogatory and racist," WDRB reported. One woman who reported the images to the department's equal employment opportunity office said that she was demoted soon after, court documents stated.
Emails between concerned department employees and department supervisor, Patrick Miller, showed that Miller had concerns about the training materials.
"It adds little training value for the social repercussions that could occur from our using it," Miller wrote in a January 5 email. "Also, it appears that the use of Black people are predominate in the slides. The question asked to me is can white people not be pimps? Are we stereotyping through our use of photographs?"
Despite his concern, Miller said that he and his department were "not looking at it from the law enforcement perspective per se but from what would occur if this individual slide were to be shown to the media."
A spokesman for the Department of Criminal Justice Training, Kelly Foreman, said that all training images are continuously inspected to remove objectionable content. Foreman said the images in question were only used once in a training that involved seven people. Foreman added that the photos were removed in February 2021 before the materials became widely available for online training.
However, April O'Dea, one of the former employees named in the lawsuit, said that Foreman's assertions are untrue. O'Dea said that she and fellow plaintiff Ashley Peercy were stripped of all their job duties and called b*tches by a deputy commissioner after raising concerns about the materials.
O'Dea also said that after telling a supervisor about the materials, she received a July letter stating that her concerns were deemed "either unfounded or unsubstantiated."
The lawsuit accuses the department and the state's Justice and Public Safety Cabinet, of crafting "a plan to terminate, demote, isolate and/or marginalize" whistleblowers who reported discrimination and other misconduct. The lawsuit was filed against the cabinet, the aforementioned department and other departmental officials.
Newsweek contacted Kentucky's Department of Criminal Justice Training for comment.