Kentucky Public Forum on Police Accountability Interrupted by Racial Slurs
A virtual public forum hosted by the Lexington-Fayette Urban County Council in Kentucky on Wednesday was interrupted by several individuals who called in to comment on council matters and deployed racial slurs instead.
The public forum took place one day after the council held a meeting on police accountability, during which the council said it ran out of time to open the floor to public comments.
Vice Mayor Steve Kay apologized for the trolling comments, saying the council was unable to avoid them due to the "unusual situation" surrounding the meeting, which was held virtually due to continued pandemic concerns. Though the council was able to mute speakers once they began using slurs, they were unable to prevent them from popping up without blocking citizens who were interested in contributing to the debate on police reform.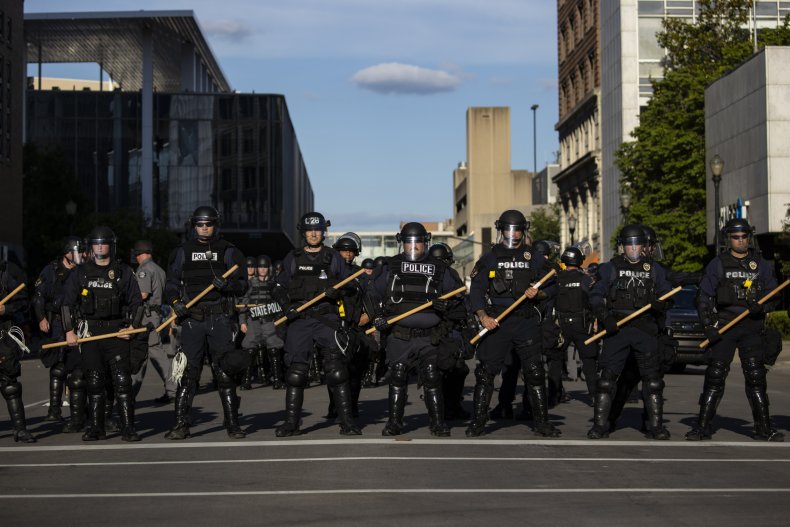 "It's a little disheartening to take part in a community forum where people can say such things and not have their faces shown," one public commentator who identified himself as a black man and a member of the LGBTQ+ community said. His comments came after a series of callers used racial, homophobic and anti-Semitic slurs. The callers' ability to comment without accountability "kind of gives it the OK," he said.
"To have their crude, disgusting remarks be broadcast throughout the entire city, I want you to know it's just as—if not more—easy for people that harbor similar negative and hurtful intent to infiltrate the police department and government," the man said.
The Lexington Police Department was investigating the callers who used slurs, the Lexington Herald-Leader reported. Lexington police also confirmed it had investigated a bomb threat made against protesters during the public forum. None of the reported threats were credible, police said.
Several of the individuals who called in and ended their comments by delivering slurs voiced support for the police and criticized the protest movement that has swept across the nation since the death of George Floyd, a 46-year-old black man who died while in police custody in Minneapolis on May 25. Two other black Americans who died after confrontations with law enforcement in Kentucky—Breonna Taylor, who was fatally shot in her apartment in March, and David McAtee, who was killed in a gunfight between protesters and the Kentucky National Guard on June 1—have made Kentucky a hot spot for the movement.
"These protests are very unnecessary. I think the police should increase their budget," a commenter early in Wednesday's public forum said before using racial slurs.
In a statement to Newsweek, council member Jennifer Mossotti, who represents Lexington's 9th District, described the callers who used slurs at Wednesday's meeting as "despicable."
"The handful of attention-seeking individuals who attempted—unsuccessfully—with their hateful, juvenile and shameful behavior to undermine the pressing and important work of Lexington's City Council to hear and address legitimate grievances and concerns are despicable," Mossotti said.
"Ultimately, they failed to derail the proceedings. In the end, every legitimate voice participating in the meeting was heard last night. Most important, the council's conversations with constituents and the community at large will continue in the essential effort to foster meaningful ongoing dialogue in our city," she said.
Council member Josh McCurn, who represents Lexington's 2nd District, agreed with Mossotti and said the slurs used during the public forum do not represent his beliefs or that of the city as a whole.
"The vulgar, racist comments made are condemning, appalling and not what I or Lexington stands for," McCurn told Newsweek.
"We Lexingtonians take pride in our community strength," he added. "We strive to better one another and leave no one behind. The peaceful protests that have been occurring are admirable and appreciated. Freedom of speech is a key in which our country was founded upon, and I'm thankful for those exhibiting their voices while publicly but peacefully."
According to the Herald Leader, the racist remarks made during the public forum were a focus for protesters who took to the streets in Lexington Wednesday evening.
"I stand here tonight broken, hurt, frustrated and angry," one protester told the paper.
This story has been updated to include responses from Lexington-Fayette Urban County Council members Jennifer Mossotti and Josh McCurn.