Kentucky Rep. Thomas Massie Says He Does Not See 'Articulate' People Among George Floyd Protesters
Republican Kentucky Representative Thomas Massie said in a Thursday interview that he doesn't believe there's a prevalence of racism among police and added that he hasn't seen "an articulate person" among the racial justice protesters demonstrating against police brutality.
During June 4 episode of The Tom Roten Morning Show, a West Virginian conservative AM talk radio program, Massie was asked if there needs to be systemic change among police and if racism is prevalent in police departments.
"I don't think it's prevalent," Massie said, adding that he thinks police "have a few bad apples here and there" with the vast majority of them being "patriotic," "pro-Second Amendment" and "pro-Constitution."
"Occasionally you have a few bad apples, and then the media tries to conflate those circumstances and those actors with every policeman and I think that's wrong," Massie said.
"What we do need nationally is to relook at our educational system," he continued, saying of the protesters, "A lot of them are just violent looters, and lawless criminals at this point because they are engaging in violence."
"Most of them are young and I just wonder, who are their parents and what did they teach them?" he asked. "And how did they get educated to believe that this is an appropriate response?"
"Contrast it to, you know, what Martin Luther King Jr. did. You know, isn't there an articulate person among the group who are upset with the way things are going that could step up to the microphone and speak for all the people? I'm not seeing that person."
Massie has not yet responded to Newsweek's request for comment.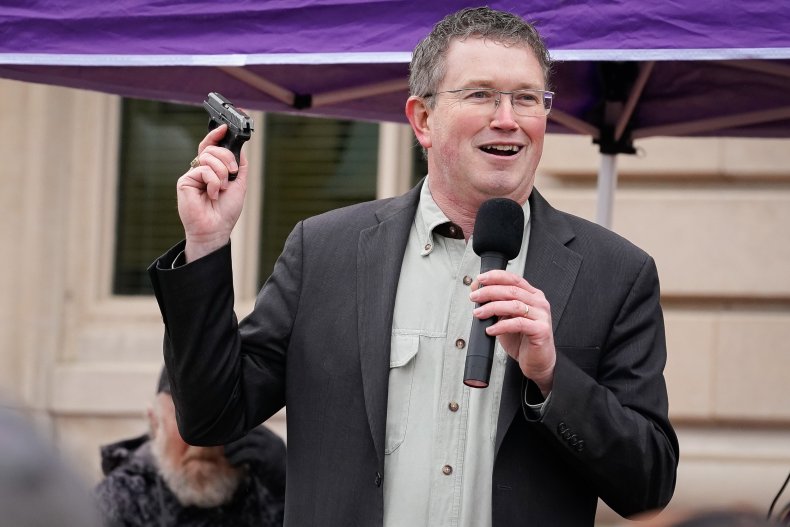 Although Massie quoted Martin Luther King Jr., "articulate" is a word that is often used as a racial dog whistle when applied to black people. While Massie didn't call the protesters black, the protests he criticized are specifically targeting police violence against black people.
"The word ['articulate'] perfectly conveys, to quote George Bush, the 'soft bigotry of low expectations.' It literally comes down to that. When people say it, what they are really saying is that someone is articulate ... for a black person," said Anna Perez, former deputy assistant to President Bush and communications counselor to former national security adviser Condoleezza Rice, to The New York Times.
Lastly, many scholars have noted that racial disparities in policing stems from systemic issues and failures to create police accountability rather than just isolated incidents of a few rogue officers.
Paul Butler, a former federal prosecutor, a law professor at Georgetown University and author of the 2017 book Chokehold: Policing Black Men, said in his experience working with police officers in trials that he doesn't think racial disparities in policing are because of "a few bad apples," but rather from a pervasive and decades-long culture that encourages legal authorities to prosecute black citizens more harshly than their white counterparts.