Kentucky Governor Andy Beshear announced on Thursday that at least three individuals died in the state, following heavy rainfall and flooding.
The National Weather Service (NWS) in Jackson, Kentucky, issued a flash flood warning on Thursday morning for several areas across the state.
"Doppler radar indicated thunderstorms producing heavy rain across the warned area. Between 1 and 3 inches of rain have fallen. Additional rainfall amounts up to 1 inch are possible in the warned area. Flash flooding is ongoing or expected to begin shortly," the NWS said in the advisory.
During a press conference on Thursday afternoon, Beshear announced the number of deaths and said that the state's National Guard members are currently working to rescue residents stranded on the roof's of their home. "They see a number of people in Breathitt County alone on the roof, even we have some people in trees waiting for rescue," the governor said.
The flash flooding in Kentucky comes shortly after several parts of the U.S. faced a wave of extreme heat that caused several fatalities. As the state experienced flash flooding, numerous images and videos of the severe weather's damage were posted across social media.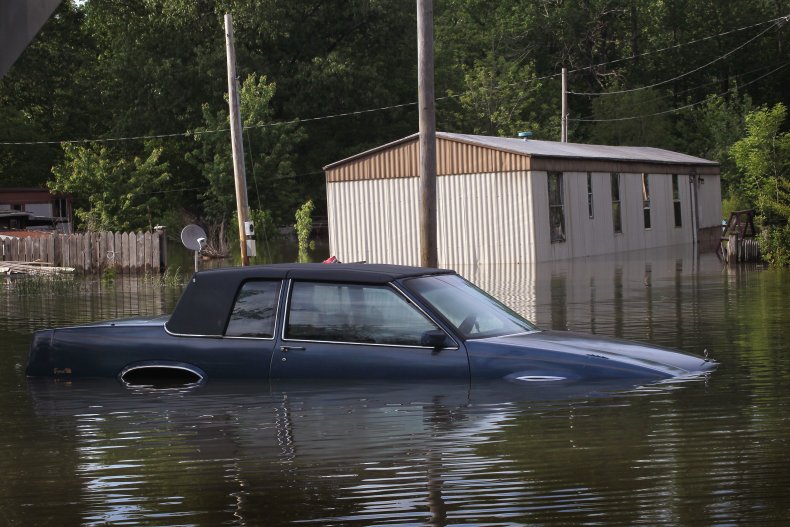 Twitter user Wx Chasing-Brandon Clement shared a drone video of the flooding seen in the state, with several houses appearing to be partially underwater. "Drone shots of the #flooding in #Kentucky after it the water has receded several feet," the tweet said.
Matt Jones of Kentucky Sports Radio shared a video of a school in the city of Buckhorn.
"This is Buckhorn School. I have spoken here before and they were some of the most kind people I have ever met. Absolutely heartbreaking," Jones wrote as a caption to the video, which showed the school partially underwater and floodwaters moving through the area.
Twitter user Vince Waelti shared several photos of the damage caused by the flooding and wrote, "This is a true catastrophe near Hazard, Kentucky. Major flash flooding. Houses and cars floated away, many occupied. Posting only the lowest damage photos out of respect for anyone viewing, as should anyone. Take my word, this is a disaster area."
Ryan C. Hermens of the Lexington Herald-Leader in Kentucky also shared similar photos of the flood damage "near Wolverine in Breathitt County, Kentucky."
In a tweet on Wednesday night, Kentucky Governor Andy Beshear encouraged residents to be "weather-aware," amid the flash flooding and heavy rainfall.
During a press conference on Thursday morning, Beshear said that the state is "currently experiencing one of the worst, most devastating flooding events in Kentucky's history."
"The situation is dynamic and ongoing and most places we are not seeing receding water, in fact in most places it has not crested yet. What we're gonna see coming out of this is massive property damage. We expect a loss of life," Beshear said. "Hundreds will lose their homes, and this is gonna be yet another event that it's going to take not months, but likely years for many families to rebuild and recover from."
Newsweek was directed to Beshear's comments made during the press conference after reaching out to his office.
Beshear also noted that thousands are currently without power in the state and his office has activated the state's National Guard and well as signing a state of emergency to assist with those currently in need.
Update 7/28/2022, 1:57 p.m. ET: The story and headline have been adjusted to reflect the number of deaths reported in Kentucky due to flash floods.