Kentucky Says It Needs Money for Safe 2020 Elections After McConnell's Stimulus Plan Omits It
As Majority Leader Mitch McConnell's stimulus relief package continues to fumble in the Senate, Kentucky's top election official says the federal government has to provide more aid to safeguard the 2020 election.
Ben Chandler, the chair of the Kentucky Board of Elections, wrote in an op-ed for the Lexington Herald-Leader Tuesday that lawmakers in Washington D.C. must act now in order to "preserve integrity of and faith in our electoral process."
"Fair, accessible elections are the lynchpin of our democracy. With Congress currently considering another round of federal relief, it is vital they allocate adequate funding to our nation's election officials if we are to ensure the integrity of the ballot and the security of our democracy," he wrote.
But the Health, Economic Assistance, Liability Protection and Schools (HEALS) Act unveiled by Senate Republicans on Monday afternoon doesn't include any further election assistance. The bill is largely focused on jobs, liability protections and schools.
"We've already appropriated an awful lot of money for election assistance," McConnell said during a press conference. "What we're not going to do is federalize the American election system, which is basically conducted in every single state in very different ways."
Newsweek reached out to McConnell's office for comment on Chandler's op-ed but did not receive a response by publication.
House Democrats, on the other hand, set aside $3.6 billion in election aid for state and local governments as part of their Health and Economic Recovery Omnibus Emergency Solutions (HEROES) Act. Democrats also called for a nationwide vote-by-mail option and a guarantee of 15 days of early voting. The legislation was deemed "dead on arrival" in the GOP-controlled Senate.
So far, the only aid that has been given to states for adjusting election processes amid the coronavirus health crisis was the $400 million including in the Coronavirus Aid, Relief and Economic Security (CARES) Act passed back in March. Experts said at the time that the amount was not "nearly enough" to help states prepare for November's voting.
Chandler said in his op-ed that the CARES aid was a major reason why Kentucky's primary elections, which were switched to a heavily vote-by-mail system due to the COVID-19 outbreak, ran relatively smoothly last month. But with more polling locations expected to be open this fall and the need for more protective equipment for workers and voters, the cost is going to much greater. Earlier this month, Kentucky Secretary of State Michael Adams put out an "SOS call" for workers to staff polling sites.
"During the best of times, Republicans and Democrats should work side by side to serve the greater needs of this nation. In difficult times, cooperation and bipartisanship become nothing short of a moral imperative," wrote Chandler, who served as a congressman from the Commonwealth for nearly a decade.
Kentucky's ballot will not only include President Donald Trump and Joe Biden but also McConnell. The top Republican is running for his seventh term in the Senate against Democrat Amy McGrath.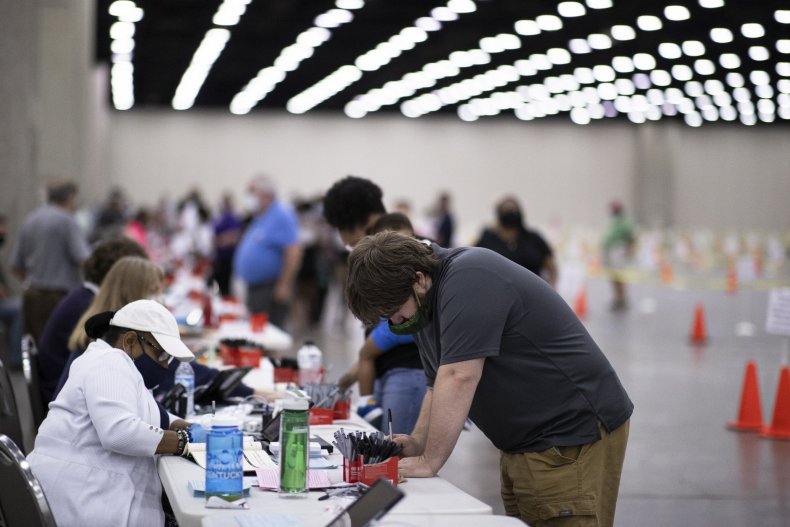 Kentucky officials aren't the only ones asking for more federal assistance ahead of November 3.
Election officials from Iowa, Georgia, Ohio and other states testified during an Election Assistance Commission (EAC) summit earlier this month that funds were running out.
"Clearly we welcome more resources, the goal here is we want more stable and consistent funding, because we have COVID, we may be facing COVID in the next elections," Iowa Secretary of State Paul Pate testified, according to a report from The Hill.
The Brennan Center for Justice at New York University estimated earlier this year that states would need a total of $4 billion to address new challenges to elections such as buying sanitizing equipment and preparing for an influx of mail-in and absentee ballots.