'Liberal Lunatic': Kentucky School Superintendent Decries Governor's Mask Mandate
A school superintendent in Kentucky has hit out at Governor Andy Beshear's reintroduction of a statewide mask mandate at schools, calling the Democrat a "liberal lunatic" in a voicemail left for parents.
Jimmy Dyehouse, of Science Hill Independent Schools, vented his frustration after Beshear imposed a mandate requiring Kentucky students and school staff to wear masks inside buildings and on buses for at least 30 days, regardless of their vaccination status.
Beshear announced the mask mandate on Tuesday, a day before students at Science Hill school were due to return to classes. The decision was made as more and more children are being hospitalized with COVID-19 amid a surge in Delta variant infections.
Health officials in Kentucky said more than 660,000 children aged 11 and under were still not eligible for the vaccine, while only around a third of children aged between 12 and 17 had received their first dose.
On the same day that Beshear's mandate was announced, parents in Pulaski County received a voicemail from Dyehouse in which he criticized the governor and apologized to those who may not want their children to cover their faces in school.
Masks had previously been recommended for students but not required.
"As you already know and probably have already heard, this liberal lunatic that we have up in Frankfort has signed another executive order mandating masks for all students and adults in school," Dyehouse said in the voicemail.
"What this means is the professional opinion of your superintendent doesn't matter. The opinion of your school board doesn't matter."
Dyehouse added: "And you as parents, your opinion doesn't matter because I know exactly how you all feel about your children wearing masks. And believe me, I'm as frustrated as you are over this. Starting in the morning, all students will have to wear masks on the bus and inside the building, as well as adults inside of our buildings will have to be masked tomorrow.
"We're hoping this will be fought in court this week and we'll get this overturned. I'll let you know as soon as I hear something further. I'm sorry. Thank you."
This graph, provided by Statista, shows which states are enforcing or banning mask mandates in schools.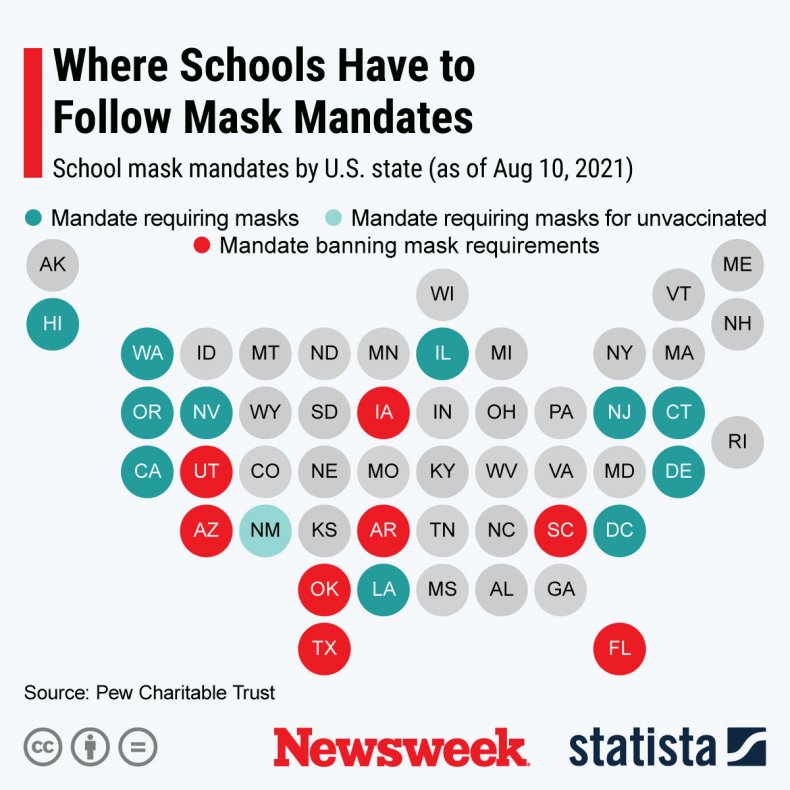 Speaking to the Louisville Courier Journal, Dyehouse said he had heard about Beshear's mandate while he was driving. He immediately pulled over and recorded the message, he added.
"We're very small here—440 students—a real community-oriented school. So my parents don't have to listen to a voicemail to know how I feel about anything. All my parents have my number," he said.
Dyehouse added that many parents had thanked him for taking a stand, especially as the district, which includes Science Hill, a town of about 900 people, only had 10 coronavirus cases at the peak of the pandemic.
"I think I said things in that voicemail that a lot of people want to say," he said. "I know there's frustration with superintendents across the state. So many of them want to voice their opinion and maybe they're afraid to.
"But I'm tired of being told what to do … by someone in Frankfort or somebody mandating that we do things a certain way, or to do things just like Fayette County or Jefferson County. I'm not at those schools."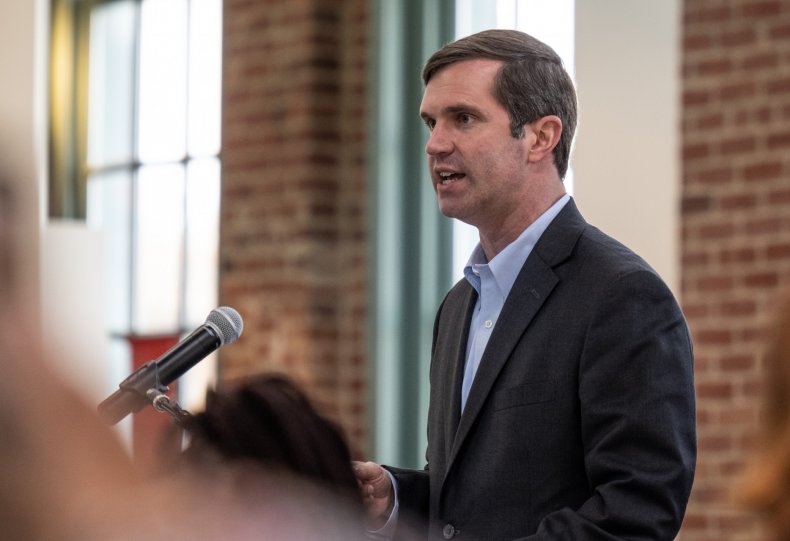 Dyehouse also told the Lexington Herald Leader that his frustration over the mask mandate was not politically motivated.
"It wasn't a political comment at all. Had it been a Republican governor in office, I would have been upset with that governor as well and that decision. Because I think it was the wrong decision," he said.
In a statement to Newsweek, Beshear said: "Calling people names does not help protect Kentuckians or set a good example for our children.
"This step is necessary to protect lives, to keep children in school, because many are not yet vaccinated, and to continue growing an economy that is on fire.
"Every public health leader and the CDC support this decision. Our private sector businesses and the Kentucky Chamber of Commerce support it. Our teachers and other professionals who walk in to our schools each day to provide our children the education they deserve support this requirement.
"Not one of the politicians who oppose this step has even acknowledged the severity of the Delta variant or that some of our hospitals are already full. I'm putting the lives of our people and the education of our children over politics—they should as well."
Beshear has announced that there were 2,961 new COVID-19 cases in Kentucky on Wednesday, the highest daily number since January 23. Of these new cases, 611 were children aged 18 and under.
Dyehouse has been contacted for further comment.
Update 8/12/21, 9:55 a.m. ET: This article was updated to add a statement from Governor Andy Beshear.