Kentucky School Principal's Facebook Post on COVID Prompts Investigation
A viral Facebook post by a middle school principal in Lexington, Kentucky that apparently disregarded the COVID-19 pandemic quickly prompted an investigation and a public apology, the Lexington-Herald Leader reported Friday.
In the post published on November 4, Mike Hale, principal of Winburn Middle School, criticized a Biden presidency by suggesting gas prices, taxes and unemployment rates would surge—while apparently dismissing the coronavirus outbreak as a way to "blame" President Donald Trump.
"One good thing from the election is that COVID cases should rapidly dissipate after January since we can't blame Trump any longer," Hale wrote last week. "BUT, don't complain when gas prices soar to $8.00 per gallon, health insurance premiums are unaffordable, payroll taxes hit an all time high, unemployment numbers skyrocket, energy costs are beyond belief and first responders are considered enemies."
He added: "At least we can rest at night knowing only the major cities in this great union controls the country - I know that makes me feel better! Good luck America!"
A permanent substitute teacher at Winburn, Ruthie Martinez, died in September due to complications linked to COVID-19, as well as Fayette County Public Schools bus driver Eugenia Weathers.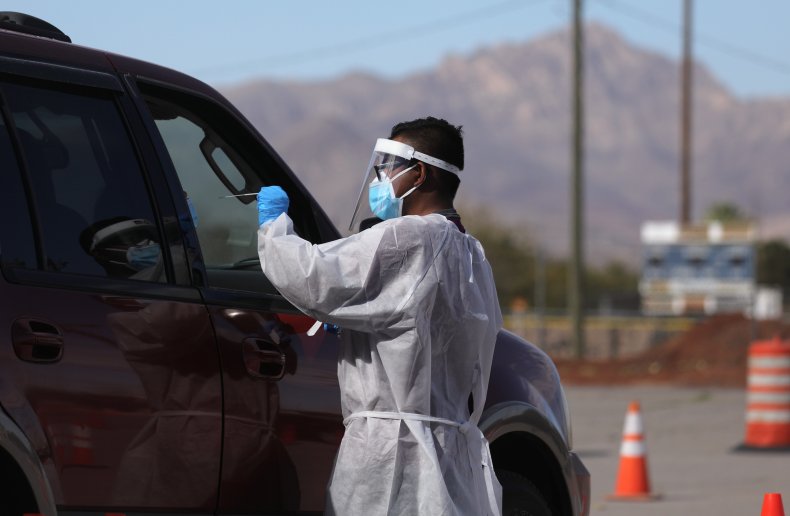 Hale apologized on Thursday in a letter to families, noting the gravity of his post.
"It was never my intent to disgrace, embarrass or bring negative attention to Winburn Middle or FCPS," Hale said. "I understand the gravity of my comments and plan on working relentlessly to make WMS a school of excellence."
"I understand why the comments I made in the post have led some stakeholders to have reservations regarding the dedication to implement and adhere to the safety procedures and protocols for staff and students related to a possible return to in-person learning in January," he continued.
Hale also outlined the safety precautions Winburn Middle and FCPS are taking to combat the spread of the virus, including strict guidelines for wearing masks, social distancing, cleaning protocols and limiting the number of employees in a common space.
Hale's social media comments, however, prompted a district investigation into the incident. FCPS Superintendent Manny Caulk said in a statement to Newsweek that employees' social media posts "do not reflect the views of our school district."
"Our district continues to mourn the passing of Winburn Middle School teacher Ruthie Martinez and bus driver Eugenia Weathers due to COVID-19, and celebrate their dedication to the students of our community," Caulk said. "It is not the position of the Fayette County Public Schools that the spread of this highly contagious virus will dissipate because of an election result."
"The only thing that will stop COVID-19 is strict adherence to guidance from our public health officials and/or a vaccine," he added.
"Science and social studies are key components of our core curriculum, and as such, Fayette County Public Schools is guided by facts, while encouraging respectful discourse of opposing political views and supporting the First Amendment rights of students, staff and families."
Minority students make up 77 percent of Winburn Middle's student body, with the majority being Black and Hispanic/Latino students, according to Public School Review. The Herald-Leader reported that nearly 76 percent of students are economically disadvantaged.
Hale has served as principal since July 2019.
His social media post comes as the U.S. sees record-shattering cases of COVID-19 across the country. More than half a million cases were added to the soaring number of new cases since Monday as many states issue stricter safety guidelines in order to combat the spread of the virus.
In a statement last week, Hale made a public apology in a statement to the Herald-Leader.
"I did not intend for my statements to be divisive and I would like to apologize to anyone the post has offended," he said. "I know COVID is real and I meant no ill will or ill intent to anyone. I understand the gravity of the words spoken by people in leadership positions and I now realize as a leader you are always in the public eye."
Newsweek reached out to Hale for comment, but did not receive a reply in time for publication.
Updated 1:41 PM ET, with additional comment from FCPS Superintendent Manny Caulk.