Kentucky Senator Rand Paul Tests Positive for Coronavirus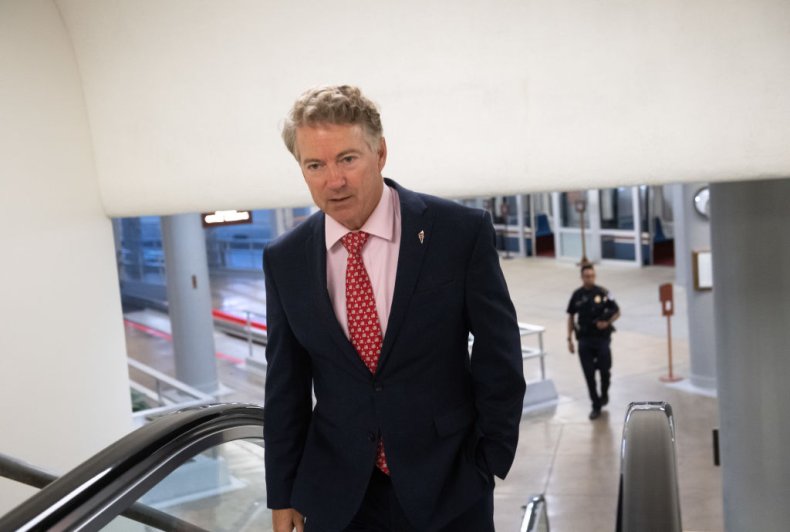 Kentucky Republican Senator Rand Paul tested positive for the coronavirus, his Twitter account announced Sunday, reportedly making him the first known senator to have the disease.
"Senator Rand Paul has tested positive for COVID-19," read the tweet. "He is feeling fine and is in quarantine. He is asymptomatic and was tested out of an abundance of caution due to his extensive travel and events. He was not aware of any direct contact with any infected person.
"He expects to be back in the Senate after his quarantine period ends," the tweet continued, "and will continue to work for the people of Kentucky at this difficult time. Ten days ago, our D.C. office began operating remotely, hence virtually no staff has had contact with Senator Rand Paul."
Two other members of Congress, Reps. Mario Diaz Balart of Florida of Ben McAdams of Utah, has also tested positive for the coronavirus, the Associated Press reported.
Upon the news about Paul's diagnosis, Utah Senator Mitt Romney responded, as C-SPAN reported: "Very, very unhappy to hear that Rand Paul has been diagnosed with COVID-19. Wish him the very best. He's compromised given health conditions he's had in the past, so we'll be praying for him...all the senators are going to seek medical advice..."
Late Sunday afternoon, Romney's office announced on Twitter that the senator has been ordered by a physician to self-quarantine after being in recent contact with Paul:
The Senate is currently in session Sunday to discuss legislation in response to the pandemic.
In an op-ed published this past Friday in The Hill, Paul, a doctor and the junior senator of his state, urged "aggressive but prudent actions" concerning the Senate working towards a coronavirus relief package. He called for a payroll tax holiday, an expansion of the unemployment system to cover those severely impacted, and for banks and lenders to defer payments on loans in order to help individuals and businesses.
"As counties, states, and the federal government spring into action, it is incumbent upon all of us to keep a watchful eye on both our liberty and our wallets," he wrote. "We don't have an unlimited supply of either of those. They must be preserved while responding to any crisis. In the past, times of crisis have been times of danger for both. We saw erosion of our liberty after 9/11 with the Patriot Act and expansion of FISA courts. We saw an erosion of our dollar and expansion of our debt with the bailouts after the 2008 Great Recession.
"There is no doubt surrounding the severity of those crises or of this one. The question is, how do we act with prudence to help those who will be truly in need? And how do we protect our nation's future with an already burdensome $23 trillion debt?"
NPR reported that Paul was one of several Republican lawmakers who opposed a $100 billion House emergency stimulus package in response to COVID-19 last week, after the Senate rebuffed his moves concerning spending on the bill. The Senate greenlit the measure 90-8.
His proposal had called for the end of American military operations in Afghanistan and the requirement of a social security number regarding a child tax credit,
"I ask my colleagues to stop wasting money in this time of crisis," said Paul at the time. "Stop being a rubber stamp for wasteful spending — do your jobs and prioritize our precious resources. It is our job and our responsibility to conserve our resources."
On Sunday evening, President Donald Trump tweeted this message about Paul: "My friend (always there when I've needed him!), Senator@RandPaul, was just tested "positive" from the Chinese Virus. That is not good! He is strong and will get better. Just spoke to him and he was in good spirits."
Updated 9:30 PM ET with President Trump's tweet.