Kentucky Supreme Court Sides with Gov. Beshear Over COVID Lockdown Orders
The Kentucky Supreme Court has ruled in favor of allowing the COVID-19-related executive orders of Democratic Governor Andy Beshear to stand, despite lower court rulings that had declared the orders had exceeded his legal authority.
The Supreme Court's unanimous ruling effectively voids all prior lower court rulings against Beshear's orders and allows lower court cases currently in progress to proceed so that the high court may review the lower courts' "finding of fact and conclusions of law."
There is no set timeline on how long the lower court findings will take to issue or how long the Kentucky Supreme Court will need to review them.
"Given the need for a clear and consistent statewide public health policy and recognizing that the Kentucky legislature has expressly given the governor broad executive powers in a public health emergency," the state Supreme Court has allowed Beshear's orders to stand, according to the ruling.
The orders include one requiring face masks in all public places for the next 30 days, regulations on child daycare centers requiring groups of no more than 10 children to remain separate from other children all day, and restrictions forbidding groups larger than 50 people to meet.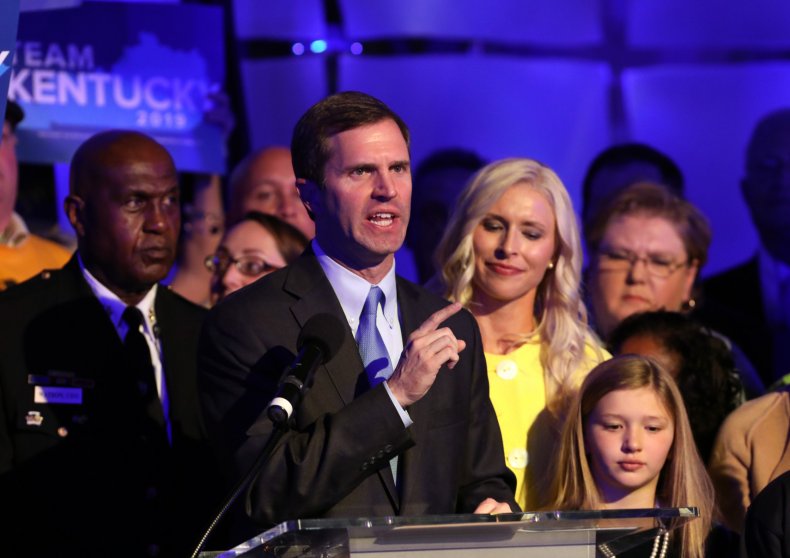 Businesses filed lawsuits against Beshear's restrictions, and two lower circuit courts in Boone and Scott counties found that the governor's orders violated the Kentucky Constitution's "strict separation of powers" requiring such laws to be passed through the state legislatures.
State Attorney General Daniel Cameron also filed a motion against Beshear's orders as well. Cameron criticized Beshear for not collaborating with his office and Republican legislators before issuing orders that affect so many citizens and businesses.
"Although there are nearly 4.5 million people in Kentucky, and state government is composed of three branches of government, with a general assembly composed of 38 senators and 100 representatives, right now nearly every aspect of the lives and livelihoods of those 4.5 million Kentuckian is purportedly governed by one man, and his political appointees: Gov. Andrew Beshear," Cameron's motion stated.
Beshear said his orders were necessary to prevent a worsening resurgence of coronavirus. The state's cases have been on the rise since July 3.
As of July 17, Kentucky has had 21,689 confirmed COVID-19 cases and 677 related deaths. The state ranks 35th among U.S. states with the highest overall number of cases.
"My orders are similar if not identical to virtually every other governor across the country. We're all doing the same things, we're all talking to each other, but I got the only AG in the country that's suing over them," Beshear said in a radio interview on Thursday.
Of the state Supreme Court ruling, Beshear said in his Friday coronavirus briefing, "I'm relieved because I've sat up the last two nights not sleeping worried about how many people would die if we didn't have any types of rules in place."