My husband and I are sound asleep when the alarms begin at one o'clock on the morning of December 11. We've only been in bed two hours.
First it's the emergency alert on my phone jarring us awake. Then the sirens start outside, ringing through the night like air raids. We don't hesitate. We jump up and get dressed. Shoes and coats too; just in case. We aren't running and we aren't frantic. But we know this is serious.
When we first moved to Bowling Green, Kentucky, in 2008, there were probably only one or two of these tornado warnings a year during the summer months. Never in December. Unsurprisingly, people in our town had been talking about this storm for hours on Friday.
Like most people in our region, we don't have a basement because of the seven-mile Lost River Cave system beneath our feet. Instead, we take shelter in the hallway off the bedroom. There are no windows in this hall, but also no air. It's hot. Too hot for December at 1.15am. All of a sudden, a feeling comes over me: this time our town will not be spared. Then the power goes out. There are no more weather updates. We are on our own now.
At 1.20am, the rain starts for real. It comes on fast. It's the loudest rain we've ever heard. It sounds like a thousand tiny hammers. Then something else starts hitting the roof. Something even louder.
"This is it," I say to my husband.
"It's just hail," he says. "It's not a tornado." I look at him with disbelief.
"Really loud hail."
I look into his eyes and say: "I think we're in trouble."
We sit without moving, frozen in fear and holding onto each other as if it will help. I hear debris hitting the roof, the street, even the trees. I hear things snapping. People always say it sounds like a freight train coming at you, and now I understand why. The sound rushes in your ears. You hear every noise at once. It's so overwhelming that all of your other senses fall away.
But then it all stops. Everything goes completely quiet.
"What time is it?" I ask. But it's too dark to see our watches. I pull the phone out of my coat pocket. Not even five minutes have passed. Later people will disagree about how long it lasted. It feels like three minutes to me, but others will say ninety seconds. We try to open Twitter to see if they've extended the warning, but neither of our phones has a signal.
We wait in the hallway another half-hour, peeking out every few minutes. At two o'clock the blue lights of a police cruiser flood the inside of our house. Everything else is darkness and an eerie quiet.
Out the picture window at the front of our house, we see people circle their houses with flashlights, searching for damage. We aren't brave enough to go outside. We walk the length of the house and see the power lines snaking down the driveway. When we get to the back door, lightning flashes, illuminating the telephone pole that's been snapped in two. The transformer dangles precariously. Power lines hang in loops across our backyard, creating a maze we won't be able to breach for days. The detached garage and our cars are unreachable.
But we are alive. We are okay.
We stay up more than two hours answering calls and texts, calling and texting. We connect with almost everyone we know in our town. We learn from a friend married to a firefighter that all emergency crews have been called in. Search and rescue missions, she tells us. That's what the police are looking for. People to save. They've already found bodies. People have already died.
We finally go back to bed at four, fall asleep thirty minutes later. At 6.30am, our phones start beeping again. More calls. More texts. This time from out-of-town friends. We need to check my mother's house. Thankfully she's out of town. But we can't get to our vehicles. A friend who lives in the county is driving into town. She's in my driveway ten minutes later.
"Have you seen your street?" she asks when I climb into the cab of her truck.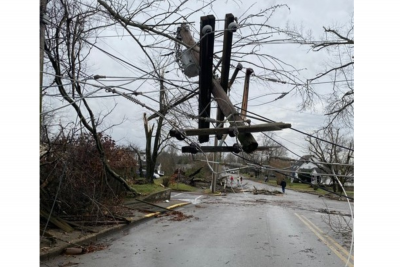 It's unlike anything I've ever seen. It looks like a bomb went off. Downed trees and fallen branches cover the pavement. We zigzag through the wreckage. Five houses down from ours, a tree has landed on a friend's roof. After that it gets worse. The rest of the street comes into focus. Fallen trees slice houses in half. Sheds and garages are flattened. Trampolines sit overturned in the wrong yard. There are black roof shingles littering every lawn. A stop sign lies in the road. It looks like the kind of destruction you only see on the news. But this time it's on our street.
For a block, there is nothing but total devastation. We live in a neighborhood built in the 1950s. Every yard has dogwood and pear trees that turn lovely pinks and whites in the spring and oaks that blaze with oranges, yellows, and reds in the fall. But for an entire block, not a tree stands. It is unrecognizable.
We go several blocks out of our way. Half the streets are unpassable, and we have to reverse course more than once.
But in my mother's neighborhood, there is not one tree down, not one branch in the road. It's only a mile from the devastation on our street, but the lights still burn brightly. It's like nothing ever happened.
A neighbor stands in his yard and asks me what is going on. I look into his face and see only confusion. "Do you really not know what happened?"
I tell him that the tornado hit Bowling Green.
"People have died," I tell him. "Houses have been leveled. You're lucky you have power."
This scene repeats itself all day. Another friend who lives in the county tells us she didn't know what happened until her ex-husband banged on her door at two in the afternoon because she wasn't answering her phone.
My friend has to get back to her elderly mother. She can't stay to help. Another friend, an insurance agent, screeches into the driveway on her way to work. A different neighbor follows us inside my mom's house to help us investigate an alarm going off. Yet another friend picks me up. We've known for years how lucky we are to live in such a close-knit community, but I'm really feeling it now.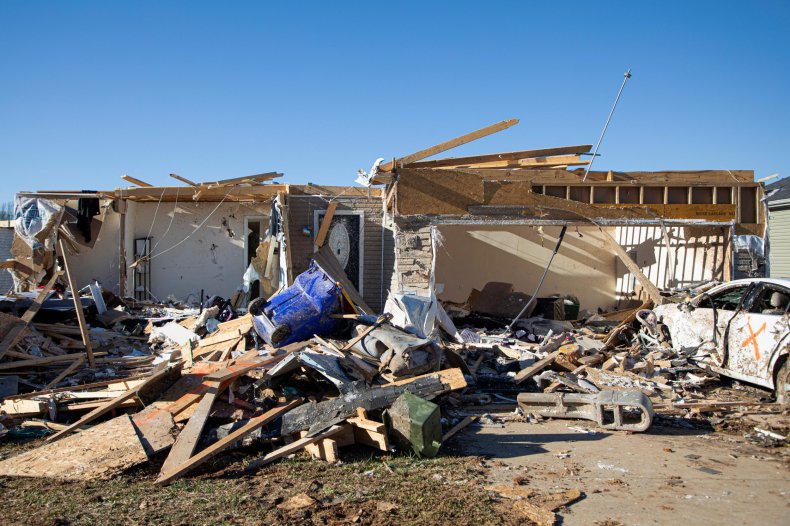 Back at home, I pull my husband close. I know we are lucky to be alive.
We walk down the block to check on the neighbors. Volunteers are here too. Dozens of them. And there will be even more the following day. They dress for weather that has gone cold overnight in knit hats and thick flannel. They carry chainsaws and blue plastic tarps. They bring pizza, sandwiches, and donuts. The local brewery puts out a free dinner of tacos, hamburgers, and cupcakes. People want to help.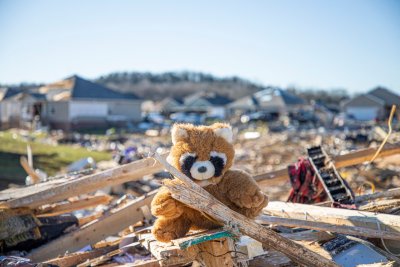 Volunteers work the rest of Saturday and all day Sunday. Clearing trees, chopping wood, removing debris, covering holes, feeding those without power. The neighborhood sounds like a lumber yard and smells like a bonfire. Everyone relies on an alternate source of heat. Before the weekend is over, nearly every yard has a giant wood pile at the curb, every corner a charging and coffee station. There's still no power in our neighborhood, but the utility crews from neighboring towns have arrived with brand new telephone poles. They work late into the night.
For 72 hours, people call, text, message, and email us constantly. They've heard about Bowling Green on the news. When I finally get my mother on the phone, she asks about a candle factory and an Amazon distribution center. But we've heard nothing about this. We are in a media blackout. It's surreal to be part of the news but unable to watch or hear it ourselves. We know everything about the people who live in our square mile, but we barely know what's happening on the other side of town.
We see only bits and pieces during the few minutes a day we get internet on our phones. A friend's house was flattened while she was sheltering in the basement. A whole row of houses leveled a few miles away. A friend of a friend thrown from his bedroom. Dozens of small businesses destroyed. The names of the fifteen people in our town who have died so far. That more than a dozen are still missing.
But mostly it's just stories we hear in person. After one of the most intense experiences of our lives, we're more connected to our community than we've ever been. I suddenly have the same realization that has likely hit people I've previously only seen on the news: This is just the beginning. The storm and its aftereffects, both physical and psychological, will be with all of us for a very long time.
Molly McCaffrey is a writer living in Bowling Green, Kentucky. You can follow her on Twitter @MollyMcCaffrey and find out more about her work, including her book The Chaperone, at www.mollymccaffrey.com.
All views expressed in this article are the author's own.