A Kentucky woman who narrowly escaped death during the tornado outbreak that affected six states last weekend has been reunited with her dog, having feared that the pet had been killed.
Mayfield resident Deanna Badillo managed to survive despite the fact that a tornado destroyed her home as she was trying to find cover, WHAS11 reported.
The woman believed her dog had died in the devastation, but fortunately a neighbor managed to find the pet and look after it.
"It's the little things that matter—that little dog every bit of her matters," Badillo said.
The woman said she was fortunate to be alive after the tornado wrecked her home.
"My friend and I both said we've cheated death. I think it's because of God's grace and I'm not done on this planet," she said.
The woman said she and the friend had just managed to make into the hallway of her home when the tornado struck. She described what happened next as an out-of-body experience.
"I didn't see anything... but what I felt I can't explain that to you. I can't explain what it feels like to stand here and tell you what I went through."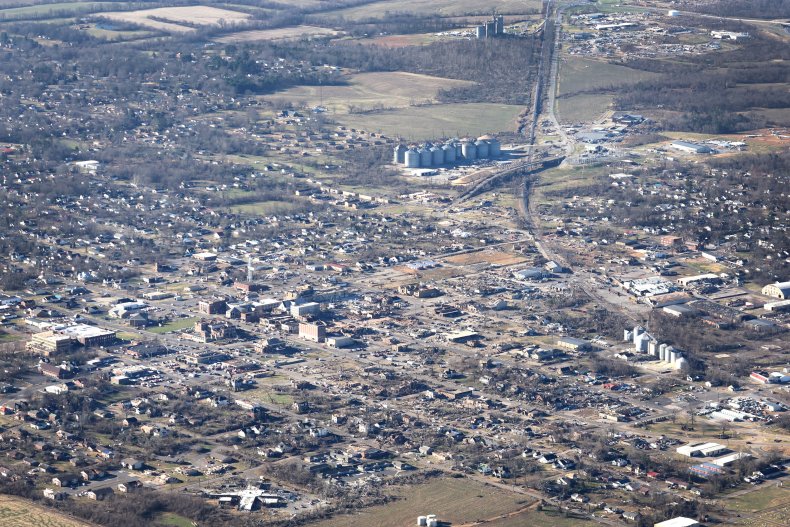 While Badillo and her friend managed to survive, a 4-year-old boy died after being trapped in rubble only two streets away.
Survivors of the tornadoes are now cleaning up the wreckage and making plans to rebuild. Volunteers are helping those most in need.
Graves County resident Lorie Delapp is among those volunteering to help the affected families. She said: "There's people that lost everything, lost family, people that haven't been found yet. We're so blessed and I hate for those families and I'm praying for them."
The tornado outbreak last weekend tore through six states—Arkansas, Illinois, Kentucky, Mississippi, Missouri and Tennessee—last Friday causing widespread destruction.
At least 88 people across five states were killed amid the extreme weather event, with more than 100 still unaccounted for.
On Tuesday, Kentucky Governor Andy Beshear said at a press conference: "I still expect that we will find at least some more bodies."
Most of the deaths occurred in Kentucky where at least 74 people have been confirmed dead—including eight victims who were killed at a candle factory in Mayfield. The deceased in Kentucky range from two months to 98 years old.
In Illinois, six people were killed at an Amazon warehouse when a tornado caused the walls and roof to collapse.