Kentucky Flash Flood Warning Update: People Missing as Homes Washed Away
Kentucky has been hit by severe weather conditions that have resulted in flash flooding, causing chaos in communities on Thursday.
Videos of the flooding from early morning Thursday and Wednesday night have begun circulating on social media as residents battle with fast moving water through their streets.
FOX 56 Weather chief meteorologist Chris Johnson shared a video on Twitter showing dirty water moving quickly through a street and cars almost being completely submerged.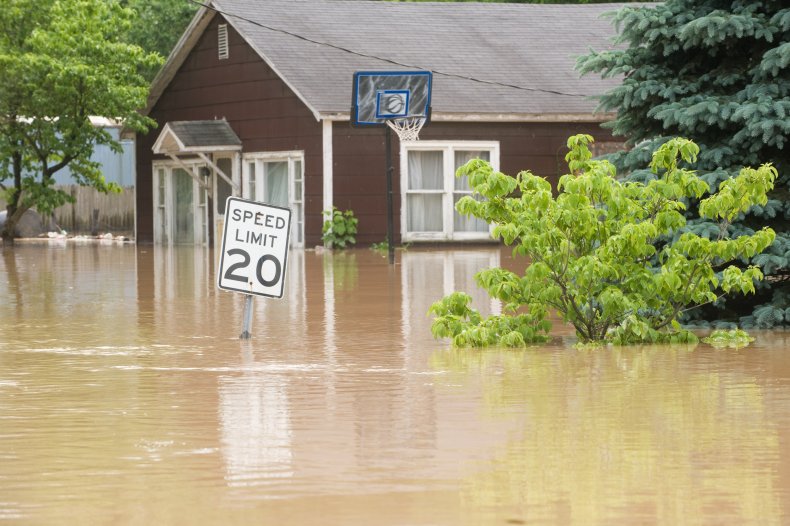 "Flooding in SEKY [South Eastern Kentucky] overnight has reached a very dangerous level," Johnson said. This is McRoberts, KY... that's portions of Letcher County. Catastrophic flooding ongoing for portions of SEKY right now."
CBS News meteorologist Zach Covey also took to Twitter on Thursday to reiterate the danger posed to people in Kentucky due to the extreme weather.
"A Flash Flood Emergency has been issued for Hazard, Kentucky this morning. Move immediately to higher ground. This is a life threatening situation," he tweeted.
Another video, posted by Twitter page RawsAlerts, showed fast-moving water and debris moving through a street.
The video was captioned: "A flash flood emergency has issued for Hazard KY where 10+inches of rain has fallen with reports of multiple homes being severely flooded with cars being washed away by flooded rivers."
The National Weather Service (NWS) for Jackson, Kentucky, also tweeted about the severity of the situation.
"Flash Flood Emergencies are still in effect for portions of Breathitt, Perry, Owsley, Knott, Clay, and Letcher counties. More heavy rain is occurring over these areas. DO NOT venture out if you live in these areas. This is a VERY DANGEROUS situation."
The flooding is a result of storms dropping at least 10 inches of rain overnight, according to a Mail Online report.
Kentucky Governor Andy Beshear also issued a warning to Kentucky residents as he shared an NWS update.
"Kentucky, please be weather-aware. Heavy rain is expected across the commonwealth through Friday, with possible flooding in the eastern part of the state," the governor tweeted. "Please stay alert and take all precautions to keep yourself and others safe."
The key messages from the NWS for rain through to Friday said that there could be several more inches of rainfall towards the end of the week. The heavy rain falling over areas with already saturated soils could prove to be an issue and cause flooding.
The NWS also noted that higher amounts of rainfall are possible in areas that see repeated rainfall. It also told residents to keep up to date with the latest weather announcements in order to help them stay safe.
Beshear also held a press conference on Thursday to give an update on the flooding situation in the state, clarifying that people were missing and that some homes would be without power.
"We've got right now, a little over 23,000 state-wide without power, that is not just in this eastern area but certainly the worst of it is there," he said.
"The counties that have declared states of emergency include Floyd, Breathitt, Clay, Owsley, Letcher and Pike.
"The situation right now is tough, there are a lot of people in eastern Kentucky on roofs waiting to be rescued.
"There are a number of people that are unaccounted for and I am nearly certain this is a situation where we are going to lose some of them.
"But we are going to do everything we can to help as many people as possible. This is what we do."
Update 7/28/22 10:12 a.m. EDT: This article has been updated with comment from Kentucky Governor Andy Beshear.