Kentucky Woman Points Gun at Child Through Truck Window, Police Hunt Suspect
Police in Kentucky are hunting for the grinning driver of a white pickup truck and his female passenger who pointed a gun at a child before driving off.
The child's terrifying ordeal unfolded at around 3.18 p.m. on Thursday in Goshen. Police say the elementary school student had just got off the bus when a white pickup truck pulled up alongside them in the 10000 block of Taylor Lake Road.
The Lousiville Courier Journal reported that a woman, who was a passenger, then pointed a black rifle at the child while a man sat alongside her looking at the child and grinning. The terrified child raised their hands in the air and the truck drove away.
Oldham County Police Department is appealing for help to find the duo. The truck's driver is described as a white man of medium build with brown hair and a long brown beard.
The woman involved is described as a "tanned white female with white hair, which may have been dyed white."
Police told local media that because the alleged victim is a minor, police will not be releasing their age and gender.
Anyone with any information is asked to contact the Oldham County Police Department on 502-222-1300.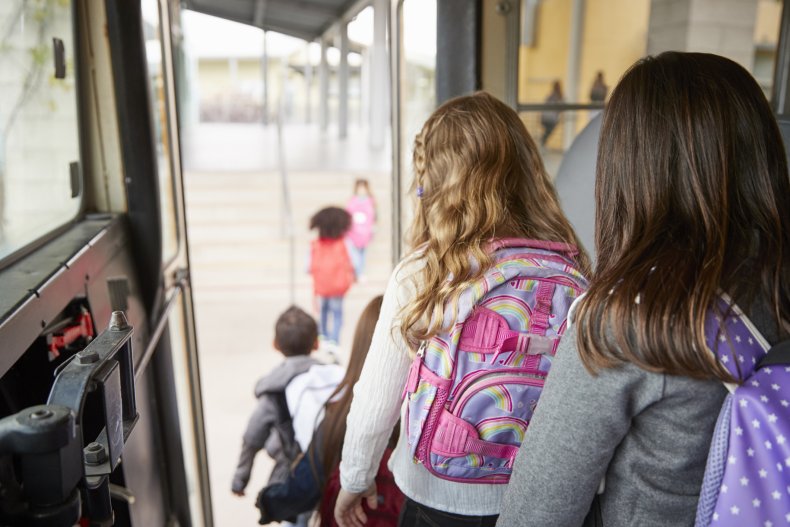 Police in Kentucky have been dealing with a growing number of violent incidents of late.
In Louisville, which has been the scene of a number of clashes between police and protesters, a video went viral last month after it appeared to show shields, water and banners being handed out to demonstrators from the back of a rented U-Haul truck.
The clip posted by Daily Caller reporter Shelby Talcott to Twitter, notched up 4.9 million views, and was recorded ahead of violent clashes which saw two police officers shot.
The Louisville officers were wounded during the widespread demonstrations in the aftermath of the Breonna Taylor verdict.
In the clip, a woman can be heard repeatedly shouting: "We've got shields! We've got shields," prompting those nearby to run over and grab provisions.
One man picks up a sign which reads Abolish The Police and he shouts: "Somebody with me on this!"
This video and others filmed on the same night have sparked some to speculate that rather than a group of ad-hoc supporters looking to demonstrate, the subsequent riots that took place in Louisville were organized.
The footage appears to show a man unloading the rented van near the protest's frontline and passing supplies to protesters who were demonstrating after the criminal indictment of a police officer involved in the March 13 shooting death of Taylor, a Black 26-year-old medic in Louisville.