Transgender girls in Kentucky are in danger of being barred from playing girls' sports after the State Senate passed a bill on Wednesday that inches the measure closer toward becoming law.
Under the bill, called the Save Women's Sports Act, the Kentucky High School Athletic Association Board of Control would be directed to ban those identified as males on their birth certificates from engaging in girls' team sports.
To become law, the bill will have to go through the Kentucky House Representatives, first before a committee then the entire body. If no, changes are made, the measure will go to the governor for final sign-off.
Kentucky Governor Andy Beshear, a Democrat, has been supportive of LGBTQ+ rights over his tenure, speaking out against sexual orientation and gender discrimination during a rally at the state Capitol in 2020. However, if he were to veto the bill, just a simple majority is needed to override his decision.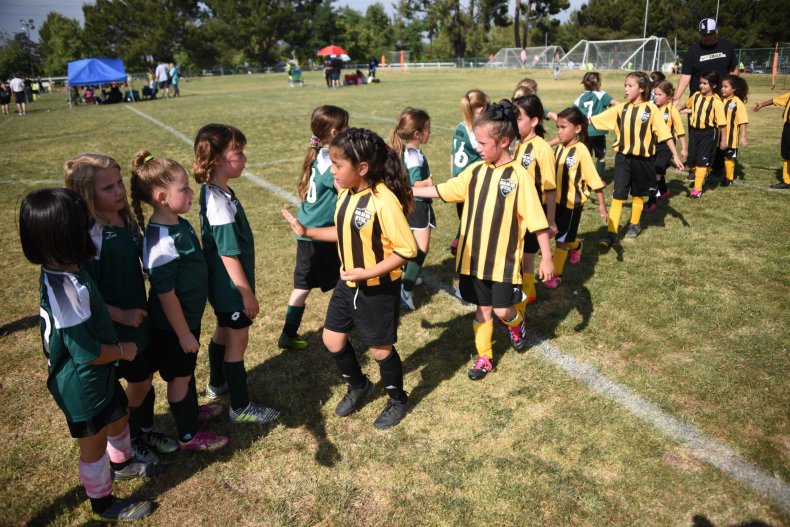 Human rights groups were quick to condemn the Senate's decision to push the bill closet toward law. ACLU of Kentucky Spokesperson Samuel Crankshaw said the bill "violates" the U.S. Constitution by going against protections offered in the Title IX of the Civil Rights Act. He said if it goes through, it could present a real danger to trans children.
"Excluding trans students deprives them of opportunities available to their peers and sends the message they are not worthy of a full life," Crankshaw said in a statement. "If this becomes law, it will jeopardize our children's mental health, physical well-being, and ability to access educational opportunities comparable to their peers."
Human Rights Watch was also swift to condemn the measure, noting that by preventing trans children from engaging in team sports, it denies them the "physical and emotional benefits" of the game that are "especially important" as the country emerges from the COVID-19 pandemic.
"By passing this bill the Kentucky State Senate has put misinformation and disapproval of transgender youth ahead of the best interest of the kids of the Commonwealth," Human Rights Campaign State Legislative Director and Senior Counsel Cathryn Oakley said in a statement. "Legislators have failed to provide examples of any problem in Kentucky related to trans kids playing sports alongside their peers—the only justification for this bill is discrimination against kids who are different."
Other states, including Idaho and West Virginia, have implemented similar bans which currently face legal challenges in federal court. A judge in Connecticut tossed a suit that similarly looked to block trans athletes from competing.
In 2021 the trans community faced historic levels of violence in the U.S. Over the year, Human Rights Watch counted at least at least 55 transgender or gender non-conforming people who were fatally shot or killed in other violent manners. This was the highest number the agency has reported since it started tracking the figure in 2013.
Updated 02/16/2022, at 5:50 p.m. ET: This story has been updated with additional information and background.