Kenya Bans Forced Anal Examinations of Suspected Gay Men in Landmark Decision
A court in Kenya has ruled that the controversial use of forced anal examinations on men suspect to be gay is unlawful, in a historic decision for the East African nation.
The Court of Appeal in Mombasa ruled in favor of the National Gay and Lesbian Human Rights Commission that the practice violates human rights. The gay rights charity brought the case forward following the arrest of two men who were accused of having sex in Kenya, where homosexuality is illegal, and subjected to anal examinations and HIV tests.
"The NGLHRC has long argued that the tests are a violation of rights to privacy and dignity and amount to torture," the organization said in a statement following the ruling.
The NGLHRC described the examinations as violating and included "being made to lie with legs up in a humiliating position and having instruments forced into your rectum, are widely accepted to have no medical merit."
A High Court in Monbassa previously ruled in 2016 that the tests were constitutional and within the boundaries of acceptability by authorities. Judge Alnashir Visram overturned the decision.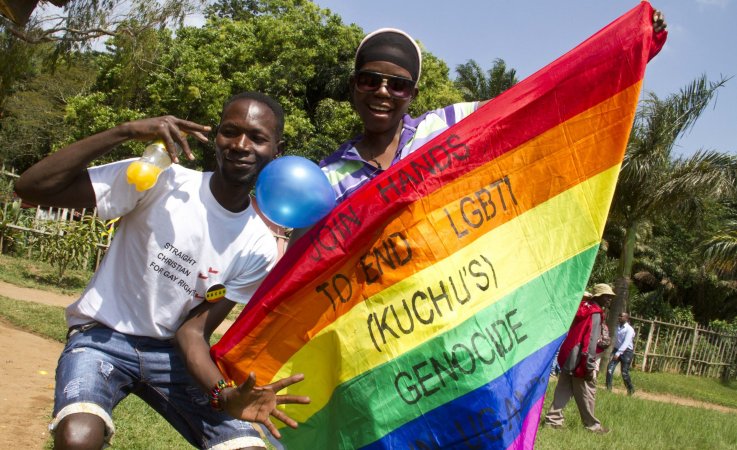 "The ruling is a tremendous step not only in upholding the dignity of homosexuals who'd been subjected to the indignities of anal examinations but also to the rule of law in Kenya," NGLHRC Executive Director Eric Gitari told the Associated Press.
"The humiliation and pain caused by these useless anal examinations will follow our clients for the rest of their lives," added NGLHRC's Head of Legal Affairs Njeri Gateru. "However, we are emboldened to see our constitution at work, ensuring that all Kenyans have the right to dignity."
Neela Ghoshal, a senior LGBT rights researcher at Human Rights Watch, called the ruling tremendously significant. "The ruling affirms the dignity of the two Kenyan men who were subjected to these horrific exams, and it reinforces the understanding that the constitution applies to all Kenyans, regardless of their sexual orientation or gender identity," she said.
Homosexuality in punishable in Kenya with 14 years in jail. Until the ruling on 22 March, it was one of eight countries which allowed forced anal examinations. Examinations are still allowed in Cameroon, Egypt, Lebanon, Tunisia, Turkmenistan, Uganda and Zambia, according to Human Rights Watch.
According to official figures from the Kenyan government, there were 595 people who were prosecuted under the "unnatural offenses" law between 2010 and 2014
However, according to Gitari, most of these cases included bestiality and rape—crimes seen as comparable to consensual gay sex in Kenya and listed together in the legislation.
Gitari told Vice News in 2016 that there has only been one person convicted of homosexual activity since 2011.
Kenya Bans Forced Anal Examinations of Suspected Gay Men in Landmark Decision | World