Kenya is Voting in Six Elections And, With Violence in the Air, They All Matter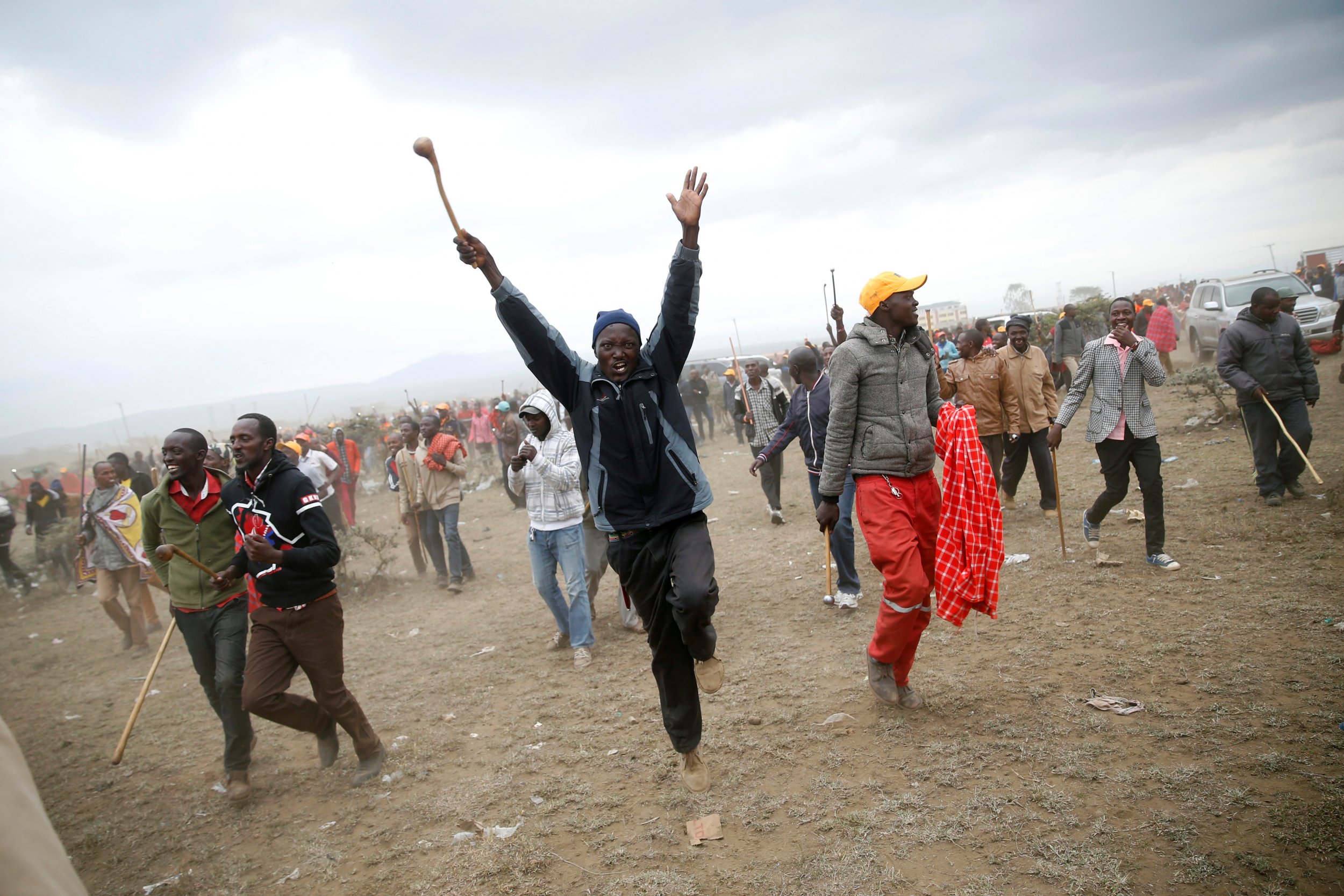 Updated | Kenya's elections are scheduled for August 8, and the presidential campaign is intense. The two principal rivals, Uhuru Kenyatta and Raila Odinga, are drawing huge crowds to rallies across the country. Helicopters carry them from one venue to another, and the country is awash with branded T-shirts, caps and posters.
The opinion polls suggest a tight race, and Odinga has repeatedly accused Kenyatta of planning to rig the election; relations are further strained by the mysterious and brutal murder of a senior electoral commission official.
The U.S. ambassador has offered the help of the FBI to investigate that murder. That may seem surprising, but it is part of a consistent, discreet, diplomatic effort to keep the elections on track and to deliver a peaceful credible outcome. Kenya has long been a key partner of the U.S. and its allies both economically and strategically given its prominent role in East African affairs and the deployment of troops in Somalia, a key battleground in America's war on terror.
The flawed elections and subsequent violence of 2007/8 were a severe shock to the international community. The 2013 elections saw relatively little violence, but problems in the electoral process left Odinga and his supporters—the losers in that race, as in 2007—aggrieved and suspicious. This time around, Kenya's partners are hoping for polls which are credible as well as peaceful.
Read more: A brutal murder in Kenya highlights why its election matters to the U.S.
The tight presidential race is not the only challenge to realizing those hopes. On August 8, each Kenyan voter will have six ballots: alongside the president, they will choose a member of the National Assembly for each constituency; a women's representative from each of Kenya's 47 counties; a senator from each county to sit in the upper house of parliament; an executive governor to run the devolved government of each county; and a member to sit in the county assembly, for each of the 47 counties has its own elected legislative body. Altogether, almost 2,000 Kenyans will be elected (or re-elected) to public office on that day.
This profusion of elected positions is the consequence of the devolved constitution introduced in 2010. That constitution has changed Kenya's politics, but not entirely—and that pattern of change and continuity is key to understanding the 2017 elections.
The new constitution was supposed to make the president less powerful. In fact, the presidency is still the ultimate focus for political ambition; but the 47 county governors also now have power, and substantial budgets; some have emerged as national political figures in their own right. The county assembly members, each representing 10,000 or so voters, have established themselves as local figures of influence. Asked in a nationwide survey which elected position was most important to them, most respondents named the president—but the humble assembly member was the second most popular choice, with governor third. Seats in the county assemblies are hotly contested; in many wards, there are 10 or more candidates vying for each. Party structures are weak, and many official candidates are running against independents who insist that they are strong supporters of either Kenyatta or Odinga.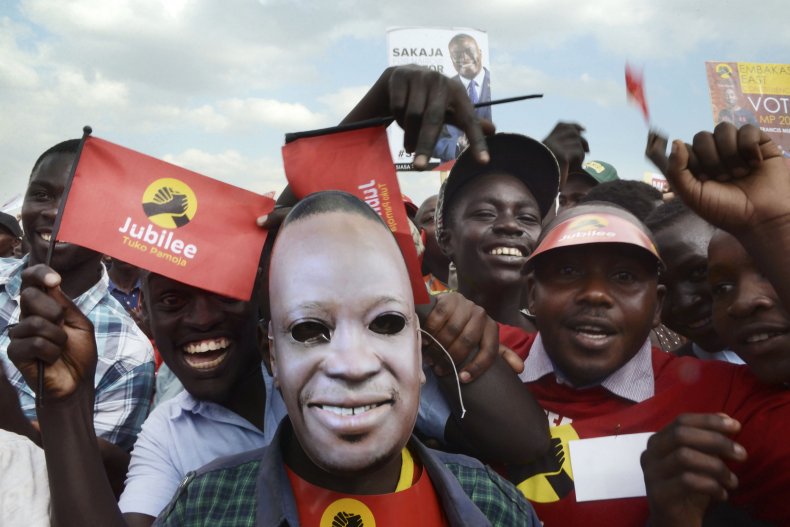 They must do that because, while all these elections are distinct, they are all connected. Voters and politicians agree that the purpose of government is to bring development, and all candidates promise this. Nationally, presidential candidates pledge development for all; locally, the role of the politician—county governor, member of national assembly, or member of county assembly—is to see that their constituents enjoy at least an equal share of development spending. Will they have the personal wealth, or the connections in county and national government, that will bring a new school, or a new dispensary? This is not in itself new—even under one-party rule, elections for members of parliament were often very competitive in Kenya, as local rivals sought to persuade voters that they could deliver development. The difference now is that there are more potential intermediaries—and more patrons, because county governments can also do development.
In many areas, these multiple other elections may well act to mitigate the tension over the presidential election, which looks dangerously likely to lead to violence. In 2013, many of Odinga's allies won in county elections including in prominent places like the capital, Nairobi; they had reasons to celebrate the results, even though Odinga suspected that he had been cheated of victory at the national level. Some subsequently built new relationships with Kenyatta's government, justifying this not as personal opportunism, but as a way to ensure that the development needs of their constituents would be met. This time too, there will be winners and losers among the supporters of each of the presidential contenders.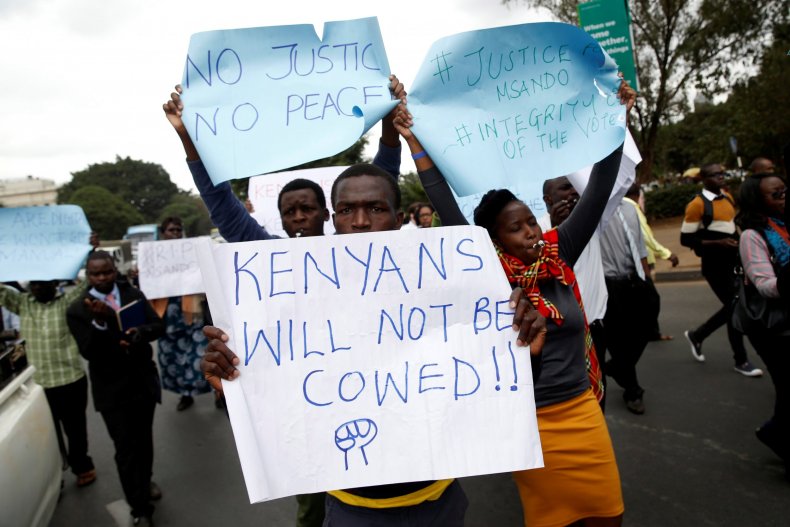 But in other areas, intense competition may increase tension and the risk of violence, especially if particular communities suspect cheating at both the local and national level. Tense races include the gubernatorial race in Bungoma in western Kenya, which has already led to violent clashes between the supporters of opposition and government-aligned candidates. Then there is the capital city, Nairobi, where the incumbent governor—standing on Odinga's party ticket—faces the Kenyatta-aligned Mike Sonko who has become well-known for his populist politics. Elsewhere the danger is that local outcomes will store up resentment for the future. In the cosmopolitan counties of Nakuru and Uasin Gishu in the Rift Valley, the alliance between Kenyatta and his deputy, William Ruto, and their respective ethnic communities, the Kikuyu and Kalenjin—who have historically been at the epicenter of episodes of political unrest —is under strain as a result of competition between party and independent candidates.
Kenyans will be keeping a keen eye on all six races next week; local races may mitigate, or exacerbate, any frustration and anger around the presidential race. Indeed, it may be that the outcomes of these other races shapes the presidential result itself; the parties with popular candidates for governor and other county positions will be better able to get supporters of their presidential candidate to the polls. In Kenya, then, all politics really is local.
Justin Willis is professor of History at Durham University, U.K. Nic Cheeseman is professor of Democracy and International Development at the University of Birmingham, U.K. Gabrielle Lynch is professor of Comparative Politics at the University of Warwick, U.K.
The headline of this article has been updated.