Orphaned Elephant Visits Keeper Who Raised Her After 8 Years, Brings Newborn Calf Along
The heartwarming moment an elephant returned to the humans who raised her on the day she gave birth to "say hello" and introduce her calf has gained attention online, four years after it happened.
Sunyei was raised by the Sheldrick Wildlife Trust (SWT) in Kenya after being orphaned as a baby. As with many elephants at the conservation center, she was rehabilitated into one of the ex-orphan wild herds once fully grown in 2009. Ex-orphan herds with calfs tend to stay in close proximity to the units, whereas ones with male elephants will often roam further afar.
In 2017, Sunyei became a mother herself and returned to the trust on the very same day to "say hello" to her beloved head keeper Benjamin, who hand-raised her.
The Sheldrick Wildlife Trust shared the video of the encounter on Twitter at the end of August, showing Sunyei greeting Benjamin with her trunk. Popular Instagram account Global Positive News shared the moment just two days ago, gaining over 37,000 likes.
Workers at the trust soon realized that Sunyei's daughter, who they named Siku, was just a few hours old. Sunyei took Siku to the western side of the compound, where she let the keepers interact with her calf.
Executive director of Sheldrick, Rob Brandford, described via email the moment to Newsweek as "heartwarming and special, but perhaps no surprise as we've actually seen this happen before!"
"One time, an orphan (Emily) even gave birth right in front of our Keepers, clearly understanding she was in a safe place. Whenever an orphan returns to introduce a new baby to the human family that raised them, to us, it is an acute reminder of their intelligence and their sense of family. Though Sunyei has grown up calling Benjamin and our Keepers her family, even so, any interactions her Keepers enjoy with her are always on her terms. That's what makes this moment so very special... that she chose to share this moment with us."
As a tiny infant, Sunyei arrived at the conservation center, having fallen down a hole in a river. She was raised by keepers, before eventually moving to the Ithumba Unit, the trust's second center for elephants growing out of the nursery, in 2005. Once grown to full maturity, ex-orphans are integrated into the wild once more, often joining with other ex-orphans in a herd—as Sunyei did in 2009.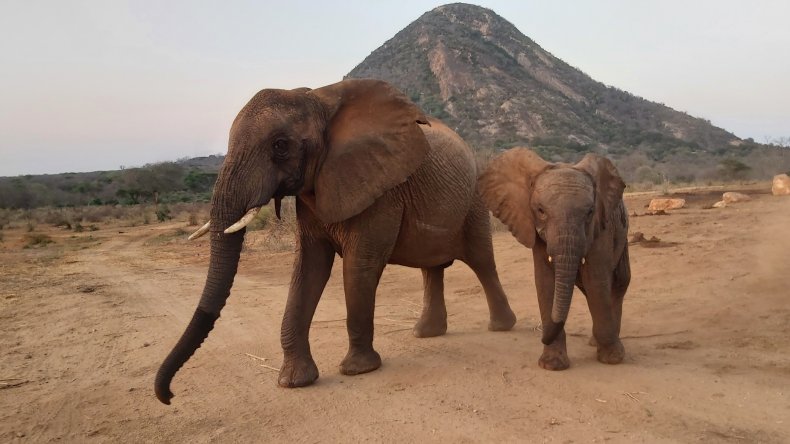 "Sunyei and her baby Siku continue to thrive and we've been lucky to see them and their herd on and off during July and August after an absence of three months. At the moment, the clever crew tend to coincide their visits with the times that our Keepers lay out lucerne, or alfafa, which we leave out for the orphans and wild elephants as a supplement during the drier months. Both mum and daughter are a picture of health and Siku has lots of playmates—since her birth, other orphans in the herd have also had calves, leaving her with lots of playmates," said Brandford.
"As the saying goes, elephants never forget and the orphans know they can always circle back to the Reintegration Units whenever they want. Sometimes it might be to just say 'hello' or interact with the orphans still dependent on our care. Other times, it might be to return for water—SWT water holes are filled up daily—or to take advantage of the lucerne hay we leave out," he added.
"On the odd occasion, we have even had orphans travel over 80km [nearly 50 miles] for help for injuries. Further still, ex-orphans have decided to hang around and sleep outside the stockades and, when this happens, we are treated to a slumber party of sorts as these gentle giants lie down to sleep in safety," he said.
"In Sunyei's case, while it might have been more than a decade since she returned to the wild, it seems she has never forgotten the kindness that was shown to her and she visits frequently in the company of her herd, and often with other wild elephants or bulls in tow too!" said Brandford.
UPDATE 10/15/21 7:05 a.m. ET: This article was updated to include comments from the Sheldrick Wildlife Trust.
Update 10/16/21 4.55 a.m. ET: This article has been updated with a new video.