Incredible Photos Show Baby Giraffe Riding Barge To Escape Flooding Island
A rescue project to save a group of critically endangered giraffes from a flooding island has been completed after the last two animals were safely removed, conservationists said Monday.
Noelle, a young giraffe calf born over Christmas, and her mother Ngarikoni were rescued via barge from a shrinking area of land in Lake Baringo, Kenya, and taken to a wildlife conservation site.
The two giraffes were the last of nine Rothschild's giraffes to be taken away from the area in a rescue effort spanning over a year. The first giraffe, Asiwa, was saved in early December, but planning had been underway for months before that.
Photos of the rescue efforts can be seen below.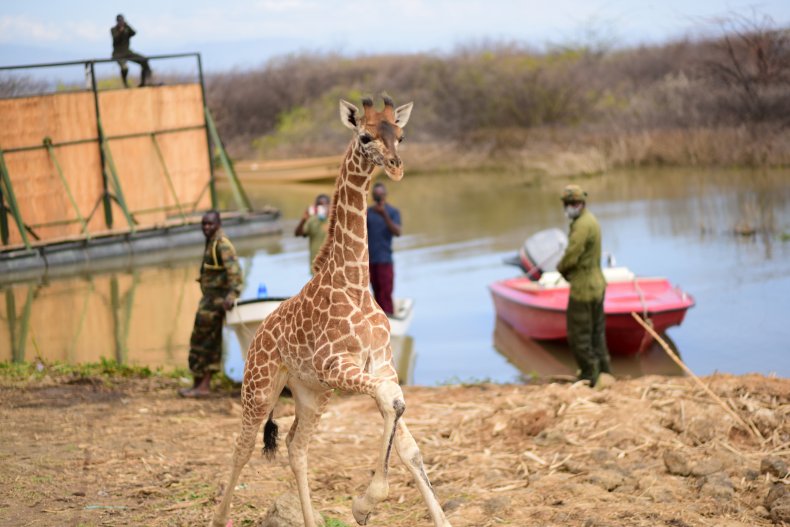 In Focus
The young giraffe, Noelle, running after being rescued from the island and dropped off on the mainland.
Launch Slideshow

3 PHOTOS
There are thought to be just 800 or so of the subspecies left in Kenya, while the entire population is estimated to be less than 2,500.
The groups involved in the rescue—Save Giraffes Now, the Kenya Wildlife Service, Northern Rangelands Trust and the Ruko Community Conservancy—were up against the clock to relocate the rare giraffes.
Water levels have been rising in Lake Baringo for some time, though the rate increased in 2020, threatening wildlife and flooded nearby businesses and homes. In December, rescue groups said water levels were rising six inches every day amid heavy rains.
Prior to the rescue efforts, the Ruko Community Conservancy had attempted to aid the giraffes by supplementing their diets as water increasingly cut them off from natural food sources. However, this proved financially unsustainable and a rescue effort became necessary.
The Kenya Wildlife Service granted approval to move the giraffes and the Ruko community set aside an area of dry land on which to build a new 4,400-acre sanctuary for them. The groups also built a floating steel barge—nicknamed the GiRaft—to float the animals one mile to dry land.
Next, Ruko community rangers had to build up a level of trust with the animals to ensure they stepped onto the barge when they needed to. This was achieved by parking the barge nearby and regularly leaving treats on board so the animals got used to getting on and off on their own.
The Ruko Community Wildlife Conservancy was created after the Il Chamus and Pokot communities came together, ending years of conflict. Rebby Sebei, manager of the Ruko Community Conservancy, said in a statement: "Ruko is an example of how much peace is linked to everything else—conservation, livelihoods, business, gender equality, governance. It all starts with peace."
Dr. Isaac Lekolool, senior veterinary officer for the Kenya Wildlife Service, said: "The management of Ruko Sanctuary, in collaboration with the local community, has done a commendable job in efforts to conserve this rare species."
And David O'Connor, president of Save Giraffes Now, said: "Not only did this groundbreaking project save these giraffes, but it also marks their reintroduction to the mainland for the first time in 70 years. This rescue is a significant success for both of those reasons."