How Kenya Can Break its Cycle of Corruption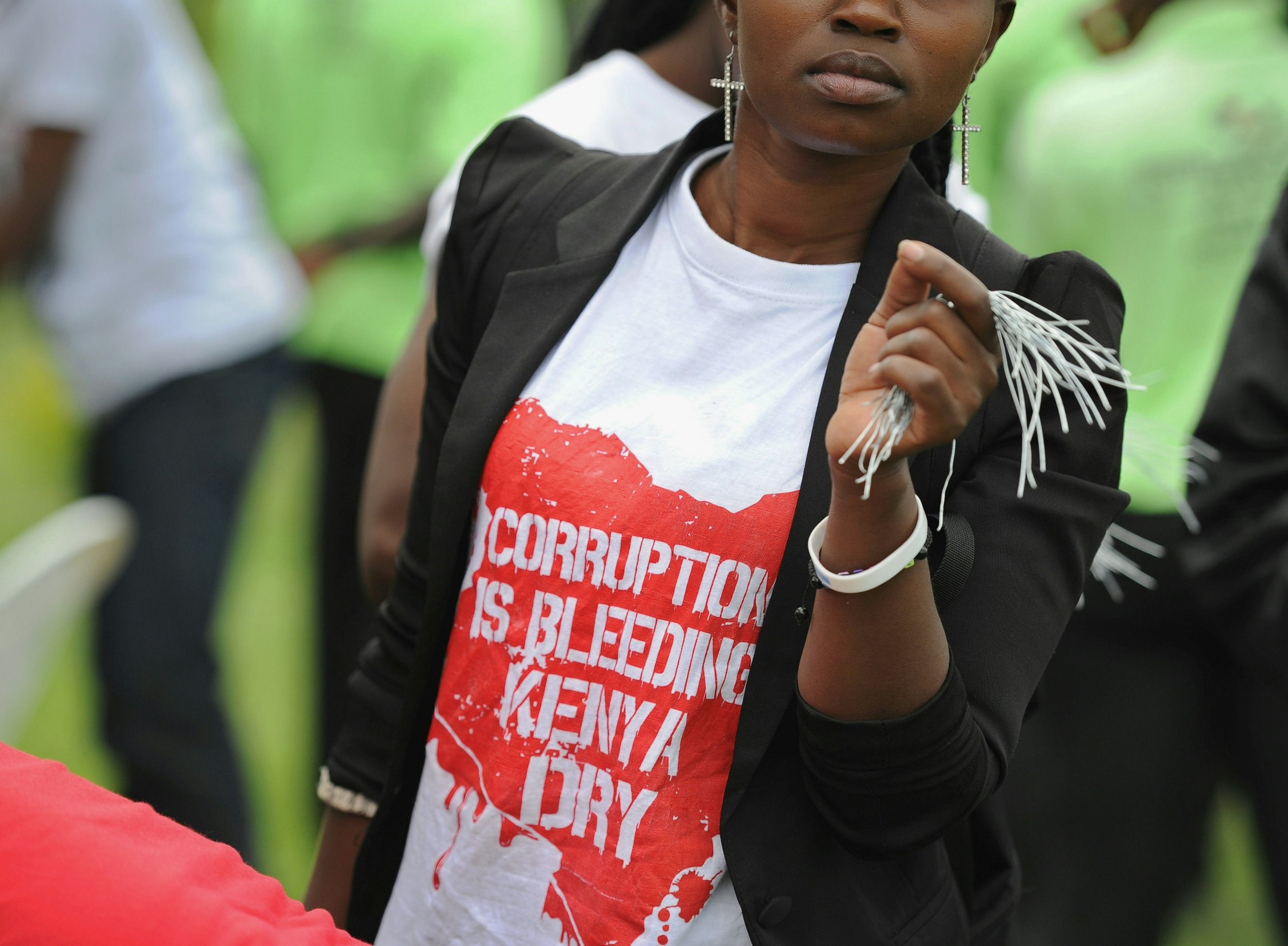 Kenyans were bemused earlier in March when former long-serving dictator Daniel arap Moi decried the scale of graft in the country.
During his tenure as president from 1978 until 2002, Moi engineered one of the most sophisticated and ruthless political patronage machines on the continent—patronage that was fed by graft. A 2007 Wikileaks expose showed that more than $2 billion of government money was looted under Moi's rule.
Since President Uhuru Kenyatta and his Deputy William Ruto took office in 2013, the corruption has widened and deepened. A report by Kenya's Ethics and Anti-Corruption Commission released this month found that 74 percent of Kenyans believe corruption is rife in their country and that it has increased during the past year of Kenyatta's rule.
Corruption invariably crops up in most conversations about the national condition and its effects have started to grind away at some of the country's most vital institutions. Indeed, the president himself declared corruption to be a "national security threat" in his State of the Nation speech in November 2015.
However, beyond well-written speeches on the subject, little in the way of inspiring action has been forthcoming. Indeed, a theatrical performance that saw over 20 officials forced to resign has been cynically normalized in a context where many believe the theft of public resources has never been worse. A recent survey by auditors PricewaterhouseCoopers (PwC) found Kenya to be the world's third-most corrupt country in terms of the prevalence of economic crimes.
In part, the conclusion that Kenyatta's is the most corrupt regime in Kenya's history was confirmed by a $2.7 billion Eurobond commercial loan the country borrowed for recurrent and development expenditure in 2014. Kenya's most credible independent experts can't conclusively tell if this money ever arrived in the country in its entirety and, if it did, it wasn't immediately "eaten," as Kenyans say. The sheer scale of this scandal and others that have filled newspapers for three years staggered citizens.
The regime's reaction to the resultant public questioning and opprobria in the face of these scandals has only served to further convince Kenyans that the country feels as if it's in the process of being mugged by its leaders. Journalists have been intimidated and even fired, reportedly at the direct insistence of the president.
What would the president have to do to recover a modicum of credibility and avoid the taint as one of the continent's most corrupt rulers? For starters, he hails from the richest family in the country with a highly diversified portfolio of investments. As such, the government is his client in a manner so seamlessly incestuous that conflict of interest has been normalized.
Secondly, his friends and relations are repeatedly mentioned in some of the most egregious scandals and a wall of impunity appears to protect them. For example, Kenyatta has been accused of failing to act over a scandal in which some 180 million shillings ($1.8 million) was swindled from the government-run Youth Enterprise and Development Fund (YEDF). Bruce Odhiambo, a close friend of Kenyatta's, was the YEDF's chairman and did not lose his job despite being heavily implicated in the scandal, instead finally voluntarily stepping down on Thursday in order "to allow investigations to continue." Ridding himself of these relationships would be a first place to start. Transparency regarding familial conflict of interest would be the next.
Since Kenyatta came to office, government procurement and contracting—especially the really large contracts in the rail and security sectors, where the biggest kickbacks usually hide—have been shielded by a veil of impenetrable opacity. The awarding of a 14.9 billion shilling ($165 million) contract to mobile firm Safaricom to construct a communication and surveillance system, for example, was seen as a done deal awarded without an open bidding process. Hugely inflated consultancy contracts by state corporations and ministries ran by the president's appointees are similarly secretive.
What eventually emerges is almost always bad news vis-à-vis the thieving of public funds. The regime has made much of using technology for transparency but it has also been a testament to the fact that you can't digitize integrity. Transparency in this entire area would do much to complicate life for those intent on theft. In the short term, clarity and truth unencumbered by the campaigning of private and service sector interests with a stake in the corruption—specifically, with regard to the Standard Gauge Rail Project linking Nairobi with Mombasa, which has been mired in scandal since it was commissioned with Chinese help in May 2014; Eurobond; and assorted security contracts with foreign entities—would also help.
The harassment of media, civil society and political opposition, whose watchdog role is essential in maintaining even the outward appearance of accountability, simply feeds the narrative of an incorrigibly corrupt and intolerant regime with a host of scandals to hide. All the more so when this harassment coincidentally intensifies whenever a major scandal has been uncovered. It also undermines important democratic developments Kenya has made over the past decade of a deepening democratic recession that seems particularly apparent in the Horn, East and Central Africa.
Finally, Kenya goes into a general election in August 2017. Traditionally, major episodes of corruption accompany polls. Unprecedented scandals have taken place already and worse is thus expected. The machinery available to the president to deal with graft—the police, anti-corruption agency, chunks of the judiciary, public prosecutor's office, the State Law Office and the presidency itself—are urgently in need of an overhaul.
A start in this direction would help bolster public confidence, but only if preceded by the removal of individuals linked to a president tainted by scandal and the credible prosecution of some of the senior figures behind these scandals. This is a best-case scenario. No one is holding their breath.
Kenyatta can borrow a leaf from his neighbor, President John Magafuli of Tanzania, who was recently elected and hit the ground running against corruption. His efforts have captured the imagination of the continent and, ironically, Kenyans most of all.
John Githongo is the chief executive of Inuka Kenya, an anti-corruption organization in Kenya. John tweets @johngithongo.