Post-Election Unrest in Kenya Leaves Eleven Dead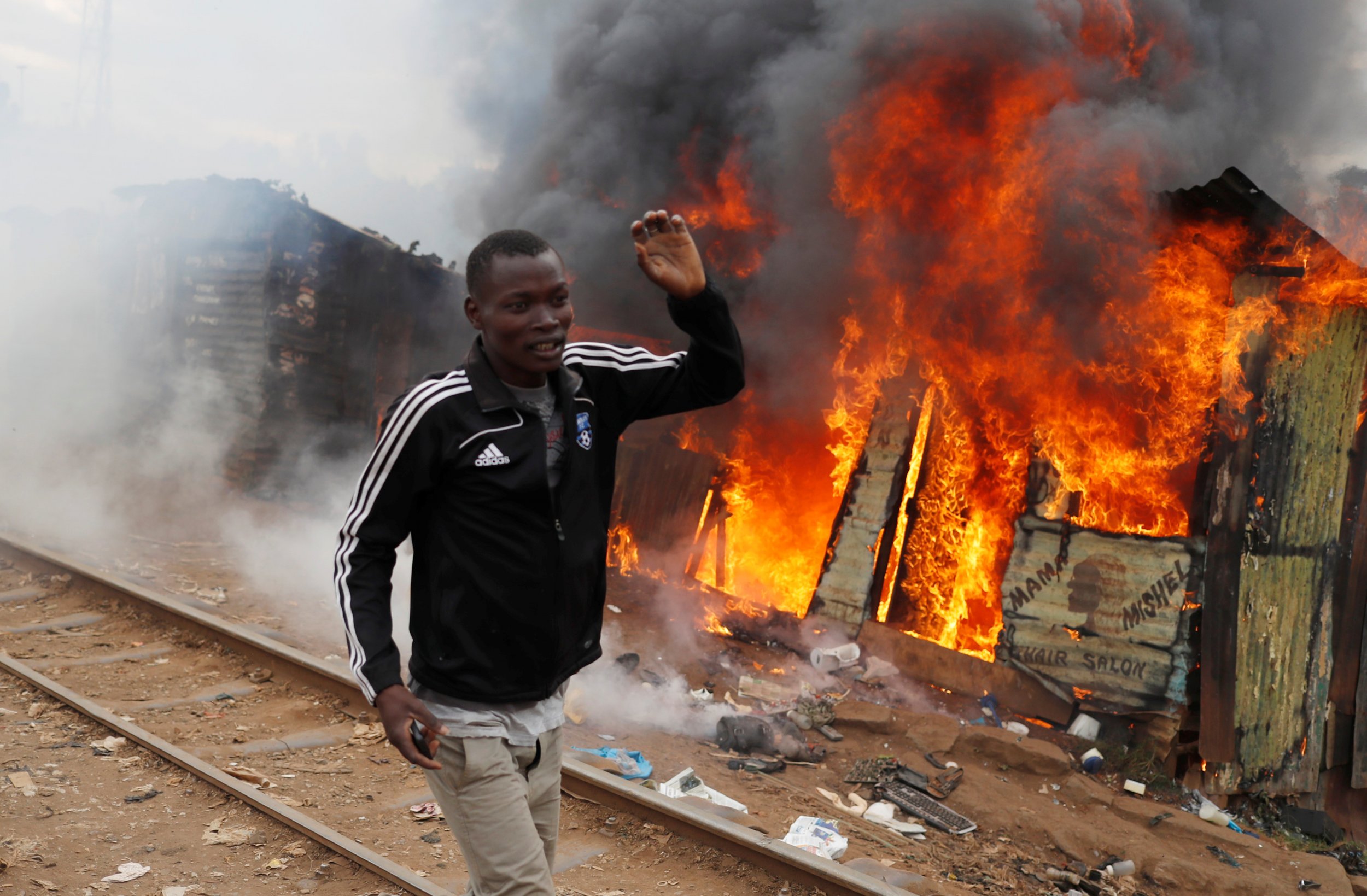 Kenyan police killed at least 11 people in a crackdown on protests as anger at the re-election of President Uhuru Kenyatta erupted in the western city of Kisumu and slums surrounding the capital, officials and witnesses said on Saturday.
However, the NASA opposition coalition, led by four-time presidential hopeful Raila Odinga, put the death toll at more than 100, including 10 children, albeit without providing evidence. Odinga has rejected the poll and its result as "massive" fraud.
Reuters was able to confirm 11 deaths, including one girl, in the space of 24 hours, and the Kenya National Commission on Human Rights said 24 people had been shot dead by police since Tuesday, election day.
Top Odinga lieutenant Johnson Muthama said police had been packing corpses into body bags and dumping them, remarks likely to exacerbate the tensions that followed Friday night's official announcement that Kenyatta had won, with 54.3 percent of votes.
The eruption of violence has revived dark memories of a decade ago, when Odinga, 72, lost an election in controversial circumstances that sparked a wave of ethnic unrest in which 1,200 people were killed and 600,000 displaced.
Interior Minister Fred Matiang'i said the trouble was localized and blamed it on "criminal elements" rather than legitimate political protest. He also denied accusations of police brutality.
"Let us be honest - there are no demonstrations happening," he told reporters.
"Individuals or gangs that are looting shops, that want to endanger lives, that are breaking into people's businesses – those are not demonstrators. They are criminals and we expect police to deal with criminals how criminals should be dealt with."
"State Terror"
However, James Orengo, another top NASA official, said the killings were part of a carefully laid plan by 55-year-old Kenyatta's Jubilee party and the security forces to rig the poll, crush dissent and then hide the evidence.
"This violence, this state terror is being executed following very meticulous preparation," he said.
"It's like they knew what they were going to do. They knew they were going to steal an election. They knew the people would be unhappy, and therefore all the instruments of violence were put in place."
He and Muthama urged Odinga supporters to stay calm and out of harm's way but, ominously, said there would be no backing down. "We will not be cowed. We will not relent," Muthama said.
As with previous votes in 2007 and 2013, this year's elections have exposed the underlying ethnic tensions in the nation of 45 million people, the economic engine of East Africa and the region's main trading hub.
In particular, Odinga's Luo tribe, who hail from the west, hoped an Odinga presidency would break the Kikuyu and Kalenjin dominance of central government since independence in 1963. Kenyatta, the son of Kenya's first president, is a Kikuyu.
Most of the trouble has been in the western city of Kisumu, an Odinga stronghold, and the large, ethnically mixed slums on the outskirts of Nairobi.
The bodies of nine young men shot dead in the capital's run-down Mathare neighborhood were brought to the city morgue, a security official said. A young girl was also killed by a stray bullet in Mathare, according to a witness.
A government official said one man had been killed in Kisumu county. A Reuters reporter in the city heard tear gas grenades and gunshots overnight and on Saturday morning.
In addition to the deaths, officials at Kisumu's main hospital said they had treated 26 people since Friday night, including four with gunshot wounds and others who had been beaten by police.
"This is Just a Warm-Up"
One man, 28-year-old Moses Oduor, was inside his home in Kisumu's impoverished district of Obunga when police conducting house-to-house raids dragged him out of his bedroom and set about him with clubs.
"He was not out fighting them. He was rescued by my sister who lives next to him," said his brother, Charles Ochieng. "She came outside screaming at the police, asking why they are beating people."
In Nairobi, armed police backed by water cannon moved through the rubble-strewn streets of Kibera, another pro-Odinga slum.
At one point they fired volleys of tear gas and live rounds to force a convoy of pick-up trucks containing senior NASA officials to retreat, a Reuters witness said. It was not clear why they were going to Kibera.
Fleeing Odinga loyalists vowed to vent their rage at the seat of Kenyatta's administration in central Nairobi.
"This is just a warm-up. Tomorrow we will go to State House and they can kill us there," shouted Felix Oduor, 18, as he ran from clouds of tear gas along Kibera's railway line. "They can't kill us all," those around him shouted in response.
Even before the official result was declared, NASA had rejected the poll's outcome, saying the election commission's systems had been hacked, the count was irregular, and foreign observers who endorsed the poll and the count were biased.
NASA provided no evidence for any of its accusations but singled out former U.S. Secretary of State John Kerry and former South African president Thabo Mbeki - who both led teams of observers - for criticism.
In addition to the thumbs-up from foreign monitors, Kenya's ELOG domestic observation group, which had 8,300 agents on the ground, published a parallel vote tally on Saturday that conformed with the official results.
ELOG's projected outcome put Kenyatta on 54 percent with a 1.9 percent error margin, and its chairwoman said there was no evidence of manipulation.