Kenyan Leaders Respond to Obama's Support for LGBT Rights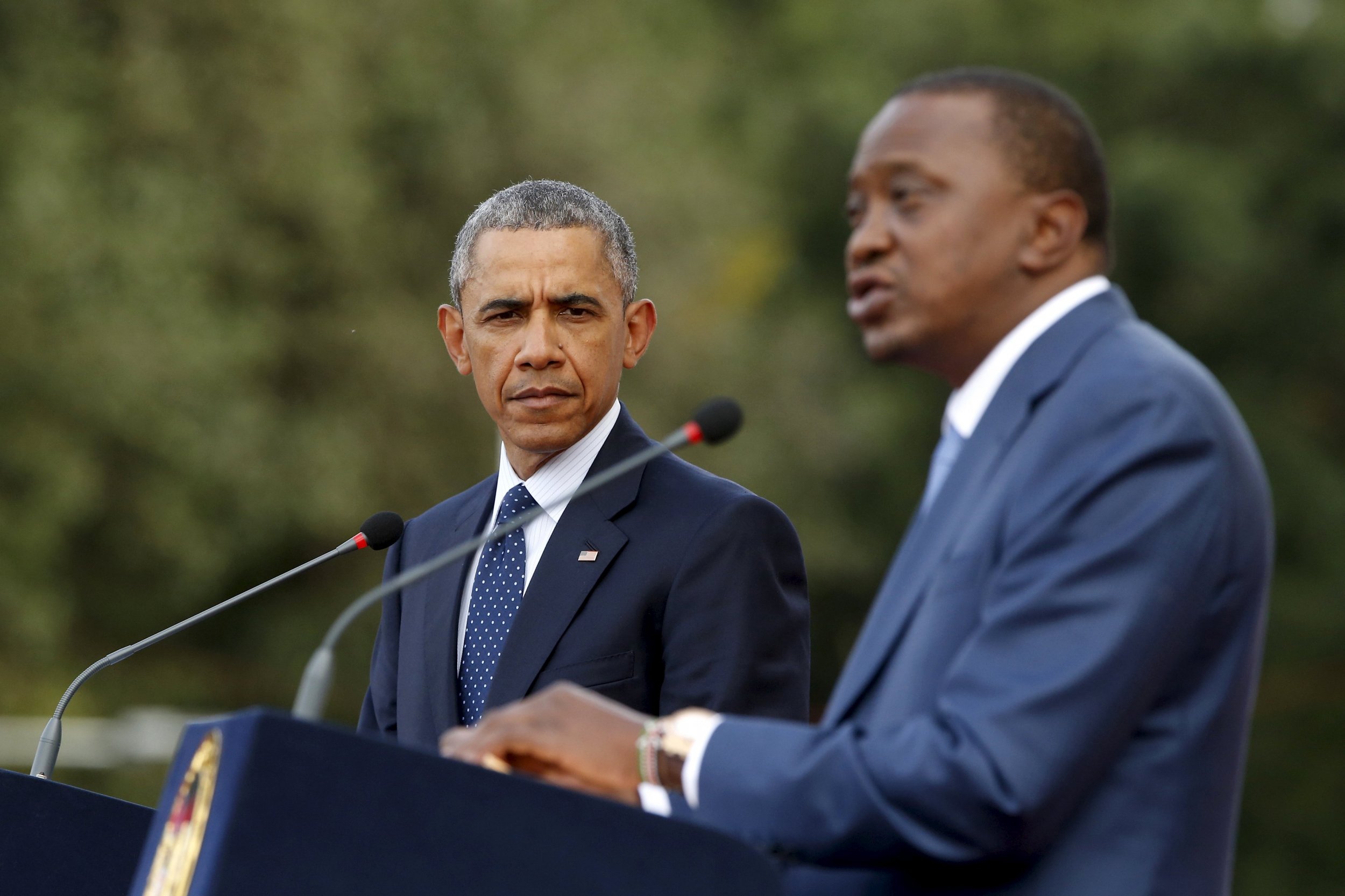 Kenyan politicians and church leaders have praised President Uhuru Kenyatta's dismissal of gay rights as a "non-issue" during President Barack Obama's recent state visit to the country, local media report.
Obama arrived in Kenya for a two-day visit on Friday, his first visit to his father's homeland as president, before heading to Ethiopia on Sunday for a one-day visit. During a joint press conference with Kenyatta on Saturday, Obama said the country should not discriminate against people based on their sexual orientation.
"If you look at the history of countries around the world, when you start treating people differently, not because of any harm they're doing anybody but because they're different, that's the path whereby freedoms begin to erode," Obama said at press conference. "As an African-American in the United States, I'm painfully aware of the history of what happens when people are treated differently under the law," he said.
Kenyatta responded during the same press conference, saying that despite the U.S. and Kenya sharing some values such as "love for democracy, entrepreneurship [and] value for families," there are some things Kenyan culture and society do not accept, and calling gay rights a "non-issue."
"The fact remains that this issue is not really an issue that is in the foremost mind of Kenyans," Kenyatta said.
Homosexuality is illegal in Kenya, as it is throughout most of the African continent. Gay sex, defined in the Kenyan penal code as "carnal knowledge of any person against the order of nature," is criminalized with a maximum penalty of 14 years in prison. The State Department highlighted discrimination against LGBT persons in Kenya in its annual human rights report this year and said discrimination and violence against LGBT groups is "widespread."
Kenyan media reports that senators and church leaders were encouraged by Kenyatta's "firm but respectful" stance on gay marriage.
"He never fumbled. His body language, posture and demeanor carried the sovereignty of our people. He made us proud as Kenyans," Senator Kipchumba Murkomen, of the United Republican Party, told Kenya's Daily Nation. "It demonstrated that we are a sovereign nation and we are not living as underdogs."
Senator Mutula Kilonzo Jr., of the Wiper Democratic Movement, told the Daily Nation that marriage equality is not an important issue in Kenya. Kenyatta is the leader of the National Alliance political party. MPs Jamleck Kamau and John Muchiri said Obama should respect Kenyan culture by not speaking about LGBT rights. On Tuesday, Vincent Kidala, the leader of Kenya's Republican Liberty Party, told The Star that he supported Kenyatta's comments
"Obama should know that gay rights is Western. When in Africa he should value our rights," he said.
Kenyan church leaders also praised Kenyatta's comments. Methodist Church of Kenya Presiding Bishop Rev. Joseph Ntombura said by calling gay rights a "non-issue," Kenyatta showed respect for Kenyan culture and religions.
The National Gay and Lesbian Human Rights Commission, which advocates for the rights of lesbian, gay, bisexual and transgender people in the country, said they were concerned about the comments made by Kenyatta, according to a statement posted on Twitter by Gabe Joselow, East Africa bureau chief for Voice of America.
"We are worried that [Kenyatta's] relegation of 'gay rights' as a 'non-issue' could be interpreted to mean that he condones violations and acts of violence against gays and lesbians in Kenya," the group said in the statement.
Obama's state visit was highly anticipated by Kenyans and Ethiopians; while he visited Kenya as a senator, it was his the first trip he took to the country as president. But his views on equal rights for gay people is one issue he and his African host countries disagree on.
Anti-gay activists held a protest ahead of Obama's visit urging him not to discuss gay rights. Religious leaders and MPs were among the protesters, Kenya's The Star reports.
Obama also faced criticism for his decision to visit Ethiopia due to its poor human rights record, which includes the jailing of journalists. Human Rights Watch said the country "doesn't deserve" a visit from the president, which will be used to lend legitimacy to the government. Homosexuality is illegal in Ethiopia and same-sex sex acts are punishable by up to three years in prison.
In an interview with the BBC published Thursday, Obama said he has been direct when addressing African leaders about human rights issues.
"When we combine blunt talk with engagement, that gives us the best opportunity to influence and open up space for civil society," said Obama. "We want to make sure we're there, so that we can have this conversation and point in a better direction."
Obama was previously criticized by Kenyatta and his deputy, William Ruto when he mentioned LGBT rights during a state visit to Senegal in 2013.
Evan Wolfson, founder and president of Freedom to Marry, the New York–based nonprofit supporting marriage equality, tweeted his support for Obama's comments supporting LGBT rights.
The Human Rights Campaign, a Washington-based LGBT civil rights organization, also issued a statement supporting activists in Kenya and applauded Obama's "tremendous leadership" on the issue.