Free Press in Kenya: Persecution of Journalists Is Threatening the Elections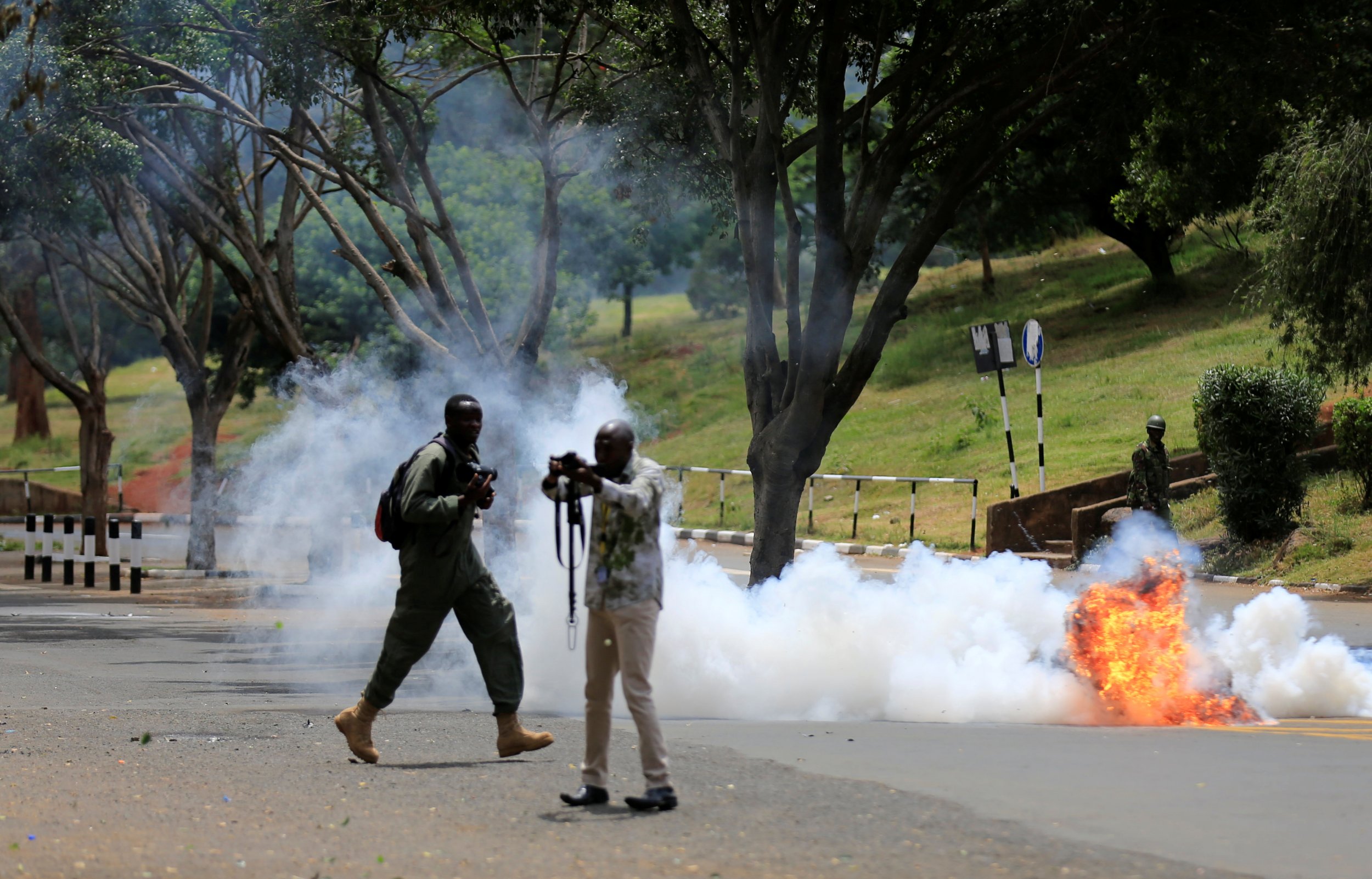 One evening in 2015, Florence Wanjeri Nderu, a Kenyan human rights and anti-corruption blogger, drove to a neighborhood shopping center in southeastern Nairobi. When she returned to her car, a man she had noticed earlier rushed toward her.
Before she could roll up her car windows, she says, he hit her in the eye so hard with brass knuckles that doctors were surprised she didn't lose the eye. The attacker, apparently referring to Wanjeri's tweets on government corruption, had a warning for her: "Shut up, or we shut you up."
Wanjeri said that even though she made a detailed police report about the attack, police have failed to investigate the case. "They have never even visited the scene of my attack or followed up with me," she told Human Rights Watch. "Yet I have since seen the same man who attacked me four times around the same place. I shudder each time I see him."
The attack wasn't an isolated incident. Since 2015, men she believes are security officers have been tailing her daily. "It is mostly the same people who follow me everywhere I go, at daytime and at night, sometimes breaching our neighborhood security to come up to my residence to ask about me," she said. "I have seen them so many times that we now know each other. We even wave at each other. They no longer try to hide they are tailing me."
But Wanjeri's ordeal is just one among many cases of threats, intimidation, harassment, unlawful online and phone surveillance and, in some cases, physical assaults experienced by journalists and bloggers in Kenya. These reporters have expressed concern that such abuses could undermine Kenyans' ability to freely share information and discuss issues in advance of the August presidential and general elections.
Human Rights Watch with NGO Article 19 Eastern Africa released a report in May about the threats to free expression since 2013 based on interviews with 92 journalists, human rights activists, bloggers and government officials. We found that Kenyan police, who have also been implicated in abuses against journalists, have rarely investigated the attacks. This further compounds concerns about the ability of Kenya's police to respond effectively to threats to free expression in the election period.
Altogether we documented 17 incidents in which 23 journalists and bloggers were physically assaulted by government officials or people believed to be aligned with government officials. We also identified 16 cases of direct death threats against journalists and bloggers and 14 arrests of journalists without charges, an apparent effort to silence them. Although journalists, bloggers and their families have reported the attacks and threats to the police, there was no follow-up in most of the cases.
And, over the past five years, Kenyan authorities have also enacted restrictive laws that go against Kenya's international legal obligations and make it difficult for journalists to do their job. With Kenya's history of election violence and a rather tense election coming up, journalists and bloggers have told us that they no longer consider it safe to report on sensitive issues such as corruption, security, irregularities in land acquisition and accountability for the 2007–2008 post-election violence. They worry that the pressure will increase as the elections get closer.
For Kenya's August elections to be fair, the media needs to be able to report on pressing issues of national interest without fear of reprisals. As the United Nations Human Rights Committee has noted, "a free uncensored and unhindered press or other media is essential in any society to ensure freedom of opinion and expression and the enjoyment of other … rights. It constitutes one of the cornerstones of a democratic society."
It's in the government's interest to make sure that the August elections are credible and fair, and a free press is an essential part of that process.
President Uhuru Kenyatta should publicly condemn attacks on journalists and bloggers and ensure that the media is able to report freely and inform the Kenyan public about the platforms and histories of the various aspirants and political parties. The government should ensure that anyone who threatens, harasses or arbitrarily arrests journalists is held to account.
Otsieno Namwaya is Africa researcher and Saida Ali is an Africa intern at Human Rights Watch.