Kenya's Risky Attack on Somali Terrorists and Pirates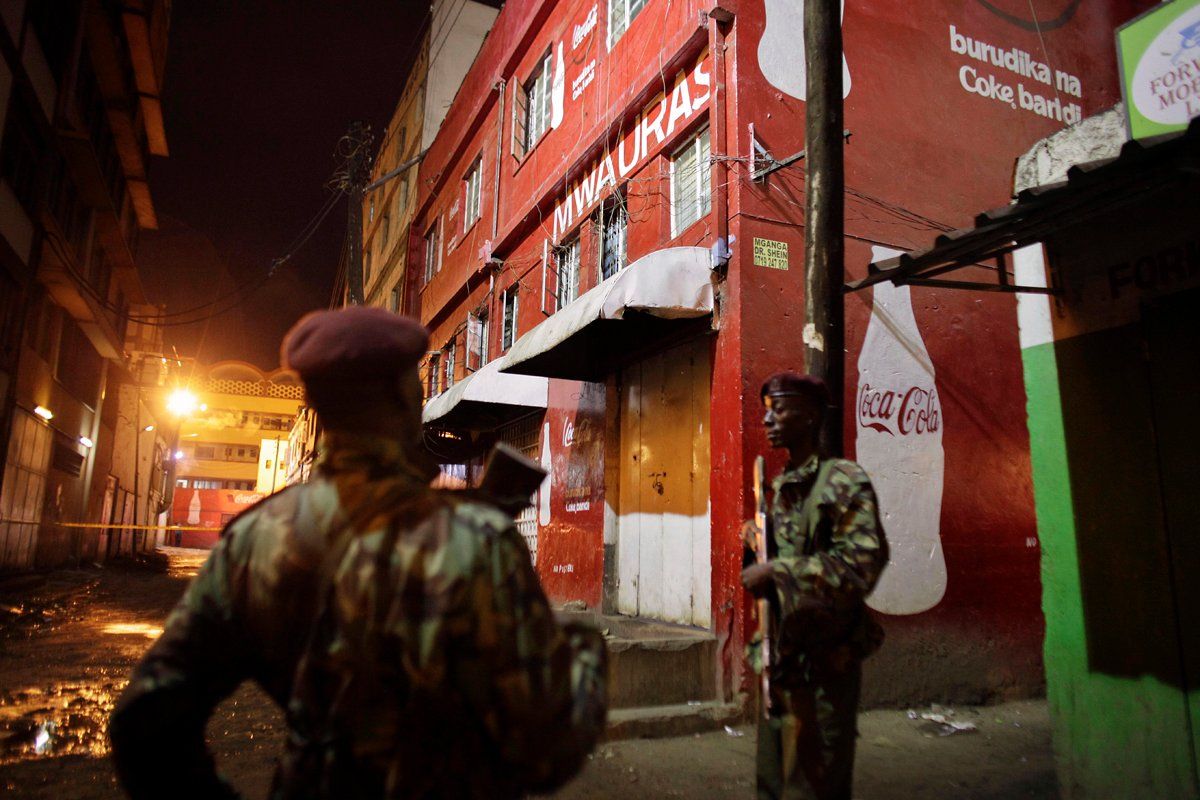 In retrospect, Kenya might have done better to wait until after the rainy season before sending tanks, aircraft, and troops into Somalia. Now those troops are quite literally mired down. All the same, muddy roads may ultimately turn out to be the least of Kenya's problems, as it risks being bogged down far more substantially in its neighbor's civil war.
Kenya can scarcely be blamed for running out of patience. Two decades of runaway civil war in Somalia had already sent hundreds of thousands of desperate Somalis fleeing across the border into Kenya—and that was before the Islamic extremists of Al-Shabab began blocking emergency food deliveries to their own countrymen in Somalia's famine-ravaged countryside. The devastation is reflected 100 kilometers inside Kenya, at the tent city of Dadaab, which is now the world's largest refugee camp, with more than 400,000 Somali refugees. Besides presenting massive humanitarian concerns, those newcomers constitute a serious security risk: mixed in among the throngs of legitimate refugees are smugglers, arms merchants, and militia members. As if that weren't enough, there are Somalia's pirates, elusive at sea and practically untouchable on land, who pose a relentless threat both to Kenya's cruise tourism and to commercial shipping throughout the region.
And then the kidnappings began. One night in mid-September, Somali gunmen invaded a Kenyan beach resort, murdered an English tourist, and hauled his wife away with them. Less than three weeks later, a group of armed Somalis abducted an elderly Frenchwoman from her seaside winter home on the Kenyan island of Manda. And just 12 days after that, two Spanish relief workers from the medical NGO Doctors Without Borders were grabbed from the Dadaab refugee camp. The Frenchwoman, a wheelchair-bound cancer patient, died after a few days without her medication. The other three hostages are believed to be held prisoner deep inside Somalia.
Kenya's military has spent years preparing for a showdown with Somalia's militants. In the wake of the kidnappings, the Kenyans went into action. The exact scope and intent of their intervention remain difficult to ascertain. The Kenyan military says it's classified information, and public statements from civilian officials haven't done much to clarify things. At first the plan seemed to be to establish a buffer zone along the border, but the troops kept pushing on toward Kismayo. The Somali seaport town is controlled by Al-Shabab, which receives significant revenues from port fees. Cutting off that income might help to weaken the extremists.
Al-Shabab issued dark threats of retribution. Early last week, more than a dozen people were injured in a grenade attack at Mwaura's Bar, an after-hours pub in downtown Nairobi. Hours later, a second grenade attack killed one and injured 16 others at a nearby bus stop. Although Al-Shabab issued a statement denying any involvement in the attacks, police in Nairobi soon arrested a man who confessed in court to the bus-stop attack, claiming to be a member of Al-Shabab. But such small-scale attacks aren't typical of Al-Shabab, and in fact the group was not impressed: Shabab leader Sheik Muktar Robow called for "big, painful blows" against Kenya rather than hand grenades.
Somalia's nominal government publicly objected to Kenya's military presence. Sharif Ahmed, the president of the Transitional Federal Government (TFG), as it's called, said that although Kenya's logistical support and other advice were appreciated, Kenyan troops were not welcome. But Kenyan officials insisted that the troops were invited. Foreign Minister Moses Wetangula, who narrowly avoided a Shabab bomb attack during an Oct. 19 official visit to Mogadishu, said the TFG had explicitly asked Kenya for assistance against the extremists. "We have not invaded Somalia," he said at a press conference in Nairobi. "We are only giving backup to the TFG soldiers whom we have trained here in Kenya." Government spokesman Alfred Mutua told the press that the military would hunt down the kidnappers, but that it also aimed to track down and destroy Al-Shabab.
The worry is that the military intervention in Somalia may be too little, too late—and not sufficiently thought through. Rooting out a militant group like Al-Shabab is no easy job, as America has painfully and expensively learned in its recent land wars. If pressed, the militants will almost surely resort to guerrilla tactics. And the danger won't be limited to Kenya's troops in Somalia: Kenya itself has a large ethnic-Somali community in Nairobi and elsewhere across the country, as well as in Dadaab. Security officials express legitimate concerns that Al-Shabab and associated groups are already operating inside Kenya—and that's by no means a new development. But despite the risk of terrorist attacks ever since Al Qaeda's 1998 U.S. Embassy bombing, Kenya still has not built a domestic intelligence network that can counter the threat.
The sad truth is that Kenya has been consistently slow to confront dangers to the country. Shippers and security firms have long warned that the sea raiders might "diversify" from attacks on ships and begin abducting tourists. The first kidnapping proved that the government had taken no precautions. The second proved that even the first incident had not kicked local security forces into action.
And that's the worst of it: none of Kenya's security risks are new. In fact, most have persisted for years. While it would be impossible to address all the threats that emanate from Somalia, Kenya hasn't even managed to secure its border. Unlike other Kenyan security forces, the military is widely respected for its professionalism, despite its limited combat experience. But as long as the pirates can make a good profit—and as long as Somalia has no central authority strong enough to stop their attacks—the Kenyan military has little hope of solving that problem on its own.
Even if Kenyan troops do somehow manage to wrest control of Kismayo from Al-Shabab, practically everyone else in southern Somalia will be gunning for a chance to take the place over. They know what a valuable piece of commercial real estate the seaport is. Handing it over to the TFG would be no answer, either. The TFG may be officially recognized by the international community, but it's notoriously ineffective and corrupt, with little domestic support. To the people of Somalia, it's only one among many competing interest groups.
Both America and Ethiopia, by far the region's biggest military power, have tried and failed to tame Somalia. The conflict is too protracted and complex, not least because of the persistent fragmentation of Somalia along clan lines, with fiercely contested financial and political agendas. Many Somalis would dearly love to see the last of Al-Shabab and all its bloodthirsty intolerance. But no one should suppose that the group's demise would magically bring peace. Somalia has more than enough armed factions that will continue to battle anyone who gets in their way for the foreseeable future. The longer the Kenyans stay in Somalia, the more likely they are to learn what America and Ethiopia already know: outsiders will be fought—no matter how pure they may think their intentions are.
Editor's Note: The print version of this story misspelled the name of Kenyan government spokesman Alfred Mutua.