Kerala Flooding Continues: Rain Expected For Two More Days
Thousands of people are awaiting rescue in Kerala, India as the state battles heavy flooding, the worst Kerala has seen in 100 years, the Guardian reported Saturday. The rain is expected to continue through Monday.
More than 300,000 people are currently in relief camps and perched on high ground for safety.
Stranded families used social media to communicate their impending danger. One citizen shared a video, saying the water was rising to the second floor of his house. "Please pray for us," he said.
Another woman spoke of her family's decision to stay behind when rescuers had come to save them.
"It's a four-story house, but water started pouring in fast until it reached the second floor and stayed that way for two days," she said. "My relatives shifted to the top floor with all the stuff they immediately needed. An airlift came, but my 85-year-old grandmother had never taken a flight in her life and she was afraid to go. So the whole family stayed back. On Friday, rescuers came with motorboats and shifted them to a safe place."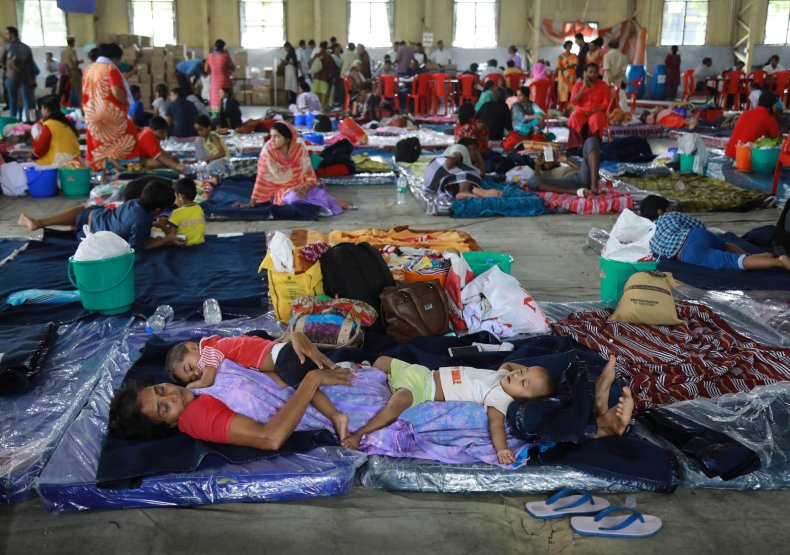 Kerala's Chief Minister Pinarayi Vijayan reported that 320 people have died in monsoon floods in the past two weeks. His number contradicts a count of just under 200 by the state emergency control room.
Aid and relief agencies are struggling to bring food, water and medicine to those in need. Rescuers continue to search for survivors on top floors and roofs of homes throughout the flooded areas.
Narendra Modi, Indian Prime Minister, declared his support in a Tweet. "The nation stands firmly with Kerala in this hour," he said. Modi pledged to bring aid and compensation to families in need.
Monsoons and flooding are not uncommon in Kerala as 70 percent of the state's annual rainfall normally happens within a four-month period. The rainfall this year, however, has been heavier than past years.
Keralan lawmaker Saji Cheriyan asked Modi to send help. "Please tell someone, please can you tell Modi. If helicopters are not brought in for rescue operations, we will die. Fifty thousand people will die. I am begging for your mercy, please help us."
A "heavy rainfall" warning is issued in 11 districts of Kerala.