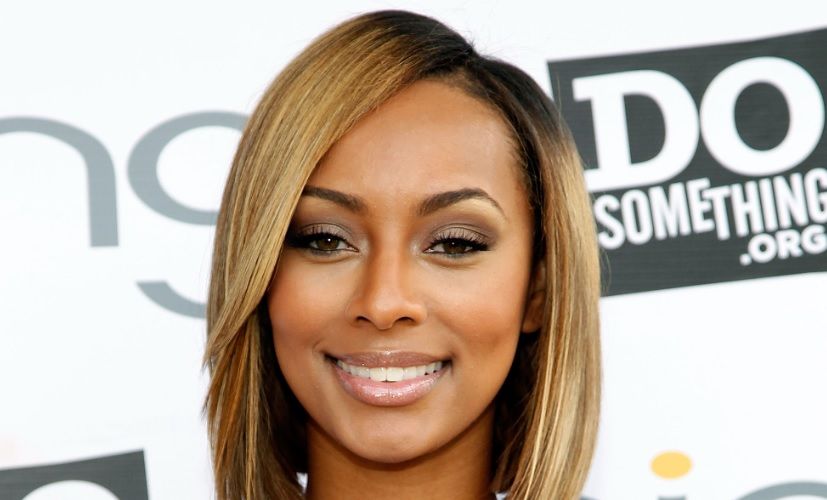 Former Seattle Seahawks player Ricardo Lockette announced his breakup from singer Keri Hilson on Instagram Saturday, but the news didn't become a top-trending Twitter topic until Tuesday. Thousands of people mentioned Hilson's name, saying she wouldn't have to try too hard to find her future beau.
"I want to inspire people. I want someone to look at me and say, 'Because of you, I didn't give up," Lockette wrote in his breakup announcement. "To be continued..... wish you the best beautiful."
As VH1 noted, Lockette likely wanted attention for his split: He tagged celebrity IG pages like The Shade Room, Baller Alert and MTV.
While the breakup seemed amicable on Lockette's side, that didn't seem to be the case for Hilson. "A 'mistake' is usually the word people prefer to use when it really was a RISK they DECIDED to take," she tweeted on December 10. "But word to the wise, make sure you can handle both outcomes."
Lockette retweeted her message. "Lol wish you the best!!" and "Never any shade, always love and the upmost respect for her. Everyday was a blessing. #Queen," he wrote on Tuesday.
Hilson didn't publicly respond to Lockette's post, though she did follow up her original tweet. "The ONLY thing we owe ourselves and others is to be 100 percent authentic to what we truly feel at all times," she wrote on December 12.
Last month, Hilson shared some "loner" selfies with her 1.6 million Instagram followers. "Today...that loner life = selfies," she penned. "Ironically, loners make the best companions… but what do I know?"
The "Pretty Girl Rock" singer dated Lockette over the summer, VH1 reported on Tuesday. Some were surprised about the relationship since Hilson said she wouldn't date a rapper, athlete or actor again.
Before Lockette, she dated NBA player Serge Ibaka, but told Rolling Out magazine she thought he was an "exception" like herself.
"I thought I found someone who's also an exception. It wasn't 'enthralling' for me to date an athlete. It was on my list of not to dos' — no rappers, no actors and no ball players. I broke my rule because I thought I found someone different," she said in November 2016. "It wasn't an attraction to the status and the money."
In the end, Hilson said she wants the same things in a partner that attracts everyone else. "I am no different from other women when it comes to attraction to qualities of a man. I am pretty level headed," she said. "I want someone who loves God genuinely and respects women, [is] loyal. All the same things every woman wants."